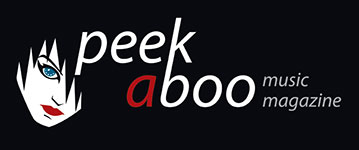 like this movie classics review
---
MICHAEL CIMINO
Thunderbolt And Lightfoot
Movie
•
Movie classics
Action
•
Crime
•
Road Movie
[72/100]

Second Sight
04/07/2014, Didier BECU
---
Hollywood still shivers when they're hearing the name of Michael Cimino. This perfectionist exaggerated so much during the filming of his epic Heaven's Gate that film company United Artists went bankrupt. The maker from The Deer Hunter can perhaps be accused of loosing touch with reality, but remains an excellent director. Clint Eastwood was the first one who saw this. When Cimino wrote for him the script of the Dirty Harry-classic Magnum Force, he also delivered him the one from Thunderbolt And Lightfoot. Eastwood was interested but as he knew the man could direct too (he already made some commercials), he insisted that Cimino would take place behind the camera. This not only resulted in the forgotten road movie Thunderbolt And Lightfoot, but according to Cimino Clint Eastwood made him discover that he could direct.


It's kind of bizarre that no one speaks about Thunderbolt And Lightfoot when mentioning Eastwood. Even if it's Jeff Bridges who steals the show, the movie stays one of his strongest from the 70's. Lightfoot (Jeff Bridges) is a car thief who saves unwanted the skin from a man named Thunderbolt (Clint Eastwood). The two get along with each other and Lightfoot quickly finds out that his new mate is one of America's most wanted bank robbers. Thunderbolt is on the run for his former gang mates Red Leary (George Kennedy) and Eddie Goody (Geoffrey Lewis) who want their share of the money. But that's impossible as on the place on where Thunderbolt has hidden the cash now stands a building. Suddenly Lightfoot has an ingenious idea: repeat the heist. No one expects that those crooks will commit the same crime, and as they already know the drill, it must be an easy piece of cake!


That's about all what happens. It's clear that Cimino found his inspiration in Easy Rider, and probably even more in Midnight Cowboy. The attraction is both the funny dialogues and the magnificent desolate shots from Idaho like only Cimino can make. Jeff Bridges was nominated for an Oscar as Best Male Supporting Role (even if he was doing the leading role), but didn't win. Because of the huge success of the Dirty Harry-movies, Thunderbolt And Lightfoot soon ended up among the big heap of Eastwood-films. Thank God that today movie buffs have rediscovered the genius of Cimino.


Earlier this year the British Second Sight released Heaven's Gate and now the turn has come for Thunderbolt And Lightfoot. A very nice transfer, only a pity that the movie doesn't contain English subtitles. There is no extra material included.
Didier BECU
04/07/2014
---
In Hollywood beeft men nog steeds als men de naam Michael Cimino hoort. Door zijn overdreven perfectionisme tijdens het draaien van de superflop (maar superfilm) Heaven's Gate zorgde hij er immers voor dat United Artists op de fles ging. De maker van The Deer Hunter had misschien wel een grondig gebrek aan realiteitszin, toch blijft hij een schitterende regisseur. Clint Eastwood was de eerste die dat merkte. Toen Cimino voor hem het script van de Dirty Harry-klassieker Magnum Force schreef, kwam hij tevens met Thunderbolt And Lightfoot op de proppen. Eastwood was geïnteresseerd, maar omdat hij wist dat hij ook kon regisseren (hij had immers al heel wat reclamespotjes op zijn actief staan) stond de steracteur erop dat Cimino achter de camera's zou staan. Het leverde niet alleen de vergeten roadmovie Thunderbolt And Lightfoot op, Cimino ontdekte ook dat hij een geboren filmregisseur was.


Bijna niemand spreekt over Thunderbolt And Lightfoot wanneer hij het over Eastwood heeft. Dat is raar, want ook al is het in feite tegenspeler Jeff Bridges die de show steelt, blijft het desalniettemin één van Eastwoods beste films uit de 70's. Lightfoot (Jeff Bridges) is een autodief die ongewild het vel van Thunderbolt (Clint Eastwood) redt. De twee kunnen het vrij snel met elkaar vinden. Vrouwenversierder Lightfoot komt er achter dat zijn nieuwbakken maatje eigenlijk één van Amerika's meest beruchte krakers is. Thunderbolt is op de vlucht voor zijn gewezen trawanten Red Leary (George Kennedy) en Eddie Goody (Geoffrey Lewis) die hun deel van de poen willen. Maar dat is onmogelijk, want op de plaats waar de buit lag verscholen staat nu een gebouw. Plots krijgt Lightfoot een ingenieus idee: de kraak opnieuw uitvoeren. Er is immers niemand die verwacht dat de boeven nog eens dezelfde misdaad zullen herhalen.


Veel gebeurt er niet in het verhaal, toch is het duidelijk dat Cimino zich liet inspireren door klassiekers als Easy Rider, en waarschijnlijk nog meer Midnight Cowboy. De aantrekkingskracht van deze misdaadkomedie (die eigenlijk geen komedie is) ligt zowel in de grappige dialogen als de prachtige desolate shots uit Idaho zoals alleen Cimino ze kan maken. Jeff Bridges werd genomineerd voor een Oscar voor Beste Mannelijke Bijrol (ook al speelt hij eigenlijk de hoofdrol), maar kon deze uiteindelijk niet verzilveren. Gaandeweg verdween Thunderbolt And Lightfoot door het gigantische succes van de Dirty Harry-films tussen de grote hoop Eastwood-films. Vandaag heeft men echter (gelukkig!) begrepen dat Cimino een grote cineast is waardoor men zijn prenten herwaardeert.


Eerder dit jaar bracht het Britse Second Sight Heaven's Gate als Blu-ray uit, en nu is het de beurt aan Thunderbolt And Lightfoot. Een puike transfer, alleen jammer dat er geen Engelse ondertiteling aanwezig is.


De versie bevat ook geen extra geen materiaal.
Didier BECU
04/07/2014
---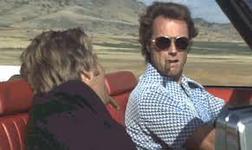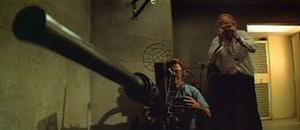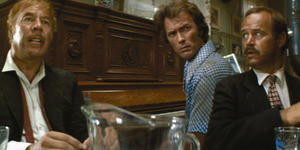 ---