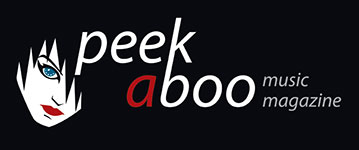 like this cd review
---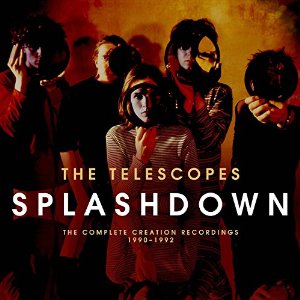 THE TELESCOPES
The Complete Creation Recordings 1990-1992
Music
•
CD
Noise
•
Shoegaze
[79/100]

Cherry Red Records
04/02/2016, Didier BECU
---
Anyone who once saw The Telescopes (do it!) knows that this band from Burton upon Trent has a shoegaze past, but that it does not really fit into this category. That has a lot to do with front man Stephen Lawrie who always refused to compromise. On stage, The Telescopes sounds like self-mutilation, covered by sheer noise. The sound level meters are in the red and the band literally lies on the floor. We heard these elements in the earlier material (To Kill A Slow Girl Wanking on What Goes On), but Creation boss Alan McGee was convinced that he could do with The Telescopes what he did with Primal Scream (making shoegaze from dirty rock!). The band ended up on Creation in 1990, undoubtedly the best indie label then.
Four EP's were released and music journalists diligently tried to link their psychedelic compositions with Ride or Slowdive. That was certainly no problem for the main tracks: Precious Little, Everso, Celeste and Flying. Four dream songs for every DJ who wanted to fill the dance floor with people who like psychedelic music with shoegaze guitars. But the rest of the EPs was quite different. Never Hurt You, Wish Of You or I Sense are wonderful songs, but they sound like the most difficult stuff by My Bloody Valentine, laced with heavy MC5-guitars. Wonderful compositions, but everybody knew that The Telescopes would never be a group that would fit into McGee's plan. Moreover, by listening to the EP's you knew that The Telescopes would never make a hit album. Let alone that they would make an record the hit parade audience would listen to! It sounds strange now, but thirty years ago The Telescopes were on Top Of The Pops and played at mega-festivals like Reading.
In May 1992, after four EP's, the first album finally appeared on Creation (three years before they released the debut Taste on What Goes On). The second album (simply named The Telescopes) was a disappointment for many 'fans". The sole shoegaze track was Flying from the eponymous EP, but the rest was psychedelic (almost experimental) noise that you could compare with Spacemen 3. Of course, there's nothing wrong with that, but at that time shoegaze was at its highest peak and the public wanted hand-made songs. Most shoegaze fans lost interest in the band and so, the Creation story was over. Ten years later, the band was back with Third Wave and no not one shoegaze track was included.
How would Stephen Lawrie assess his Creation-days? Fact is that he hardly plays any song of that period these days, even though there are a lot of fans who want to hear them. It might be a closed chapter for the band, the recordings remain ingenious and (oh irony!) they all have a sacred place in the record collection of every shoegaze fan.
This month, Cherry Red Records releases a sublime double CD that includes all the EP's and the (difficult) second album. Also included are seven bonus tracks (Candy Says by The Velvet Underground and The Good's Gone by The Who both once on various compilations), plus the Peel Sessions from 15th September 1991.
Splashdown is a brilliant compilation of a band that ended up in a category it never was part of (except for those few indie hits). 36 songs of psych-rock, an assault on the ears. Delicious!
Didier BECU
04/02/2016
---
Wie ooit The Telescopes aan het werk zag (doen!), die weet dat dit collectief uit Burton upon Trent een shoegazeverleden heeft, maar dat het helemaal niet in deze categorie past. Dat heeft heel veel met frontman Stephen Lawrie te maken die altijd weigerde om compromissen te sluiten. Op het podium is The Telescopes bijna zelfverminking door pure noise. De geluidsmeters staan in het rood en de band ligt (!) bijna op het podium. Deze kenmerken hoorden we al in het vroeger materiaal (To Kill A Slow Girl Wanking op What Goes On), maar Creation-baas Alan McGee was ervan overtuigd dat hij met The Telescopes kon doen wat hij met Primal Scream deed (van vuile rock perfecte shoegaze maken!). De band belandde uiteindelijk in 1990 op Creation (wat toen zonder twijfel het beste indielabel was).

Er werden vier ep's uitgebracht en muziekjournalisten probeerden naarstig om hun psychedelische composities in hetzelfde hokje als Ride of Slowdive te steken. Dat was zeker geen probleem voor de hoofdtracks: Precious Little, Everso, Celeste en Flying. Vier gedroomde tracks voor iedere dj die de dansvloer onveilig wil maken met psychedelische toegankelijke muziek vol shoegazegitaren. Maar de rest van de ep's was heel andere koek. Never Hurt You, Wish Of You of I Sense zijn heerlijke songs, maar ze klinken als het moeilijkste van My Bloody Valentine ,dat bovendien doorspekt is met loodzware MC5-gitaren. Heerlijke composities, maar iedereen wist toen al dat The Telescopes nooit een groep zou worden die in het stramien van McGee zou passen. Meer nog, door het beluisteren van de ep's wist je dat The Telescopes nooit een hit-lp zou maken. Laat staan dat het er eentje zou uitbrengen waar het hitparadepubliek naar zou luisteren! Het klinkt anno 2016 vreemd, maar bijna dertig jaar geleden stonden The Telescopes in Top Of The Pops en speelden ze op megagrote festivals als Reading.
Na vier ep's verscheen in mei 1992 uiteindelijk de eerste lp op Creation (drie jaar eerder hadden ze hun debuut Taste op What Goes On uitgebracht). Hun tweede plaat (simpelweg The Telescopes) was voor heel wat "fans" een ontgoocheling. De enige shoegazetrack die je er op kon vinden was Flying van de gelijknamige ep, maar voor de rest bestond de plaat uit psychedelische (bijna experimentele) noise die je eerder met Spacemen 3 kon vergelijken. Natuurlijk is daar niets mis mee, maar op dat moment was shoegaze op zijn hoogste piek belandt en verlangde het publiek kant-en-klare songs die het op fuiven kon meebrullen. De meeste shoegazefans lieten de band links liggen en daarmee was ook het Creation-liedje uit. Tien jaar later was de band er opnieuw met Third Wave, en neen, geen enkele seconde dacht je aan shoegaze.
Het is koffiedik kijken wat Stephen Lawrie denkt van zijn Creation-dagen, feit is dat er op de huidige optredens nauwelijks een nummer uit die tijd wordt gespeeld, ook al zijn er heel wat fans die net dat willen horen. Het is misschien een afgesloten hoofdstuk voor de band, toch blijven het geniale platen die vandaag onvindbaar zijn en die (oh ironie!) een heilige plaats hebben in de platenkast van iedere shoegazefan.
Cherry Red Records brengt deze maand een sublieme dubbel-cd uit waarop je alle ep's vindt, alsook dat (moeilijke) tweede album waar niemand raad mee wist. Daarnaast krijg je ook zeven nooit eerder bonustracks (waaronder Candy Says van The Velvet Underground en The Good's Gone van The Who, die op diverse verzamelaars stonden). Ook krijg je nog de Peel Sessions die op 15 september 1991 zijn opgenomen.
Splashdown is een geniale verzamelaar van een band die door toeval in een hokje terechtkwam waarin het eigenlijk nooit thuishoorde (op die paar indiehits na). 36 songs vol heerlijke psych-rock die soms toegankelijk is, maar die voor het overgrote deel een aanval op de oren is. Heerlijk!
Didier BECU
04/02/2016
---