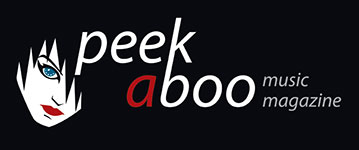 like this cd / vinyl / digital review
---
EVI VINE
Black Light White Dark
Music
•
CD / Vinyl / Digital
Alternative Rock
•
Indie Rock
•
Shoegaze
16/01/2019, Kevin BURKE
---
EVI VINE returns with what promises to be a soul-shattering new release in the highly-anticipated "Black Light White Dark". Staring out from the abyss, EVI has a gift of weaving tracks together which tumble through the ether and collide gracefully under the spell of her delicate voice.

Ever since 2011 and EVI VINE's self-released debut album '..And So The Morning Comes' , there has been an expectation of greatness, after a route of slow-burning, the sound of the debut travelled from the underground to the alternative-hungry audiences. The second long-player in 2015 garnished even more attention, to'Give Your Heart To The Hawks' was co-produced by Richard Formby (Mogwai, Spacemen 3) and mixed by the legendary Phill Brown;(Talk Talk, Led Zeppelin, David Bowie, Throwing Muses). These credentials alone made the album a dark, eerie masterpiece and galvanized her following.

Though her motives behind the songwriting standout delve further into the spectrum of the human psyche, clearly evident with VINE as the latest track unfolds, the somber, haunted-orchestration of "Sabbath". This track has been unleashed to build excitement for the upcoming long-player, it is a clever, otherworldly slice of divine magic which floats in an atmosphere of virtuosity for over nine-minutes. What may strike the average listener at first glance is an overlong, epic track, whilst it may in part epic it certainly is not overlong, as "Sabbath" is a track which you wish could continue on.
"I know a lot of people are being shaped by experiences in our lives, ghosts of childhood, self-destructive pain and sorrow, all our personal struggles, doubt, and change. I can feel the earth dying and it makes me so sad. We write reflective songs about the circular patterns of man, and reflecting beauty and violence in the world,"; says Evi Vine.

There is extra dimension which is given to the song, it comes from the inclusion of two heavyweights, The Cure's Simon Gallup on bass and Peter Yates from Fields of the Nephilim providing guitar-sonics. This is a twisted approach to the shoe-gaze era, skillfully delivered with reflective lyrics which bite-deep at your senses;
"Loosen yourself
I don't mind
A little lie
Goes deeper still
We build a wall
Close in the pain
I shed my skin
It goes deeper".

On February-nineteenth, the most anticipated album so far of 2019 will not disappoint, at EVI VINE's most reflective she still holds drama and excitement. As her last two albums brought her into the world and established the band, this is the release which will place the name EVI VINE on a pedestal.

Track List;
1. I am the Waves
2. Afterlight
3. Sabbath
4. My Only Son
5. We Are Made of Stars
6. Sad Song No.9

The Players;
Evi Vine – Vox, Guitars
Steven Hill – Guitars, Keyboards
Matt Tye – Bass
David 'GB' Smith – Drums
Simon Gallup – Bass-guest
Peter Yates – Guitar-guest

Release Date: February 22nd, on CD, Download and Limited Edition Signed Vinyl.
http://evivine.com

Evi Vine will perorm at Black Easter 2019 in Belgium (April 20 + 21)
Kevin BURKE
16/01/2019
---