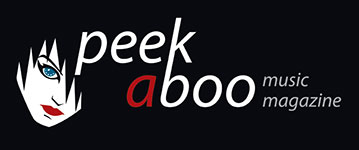 like this cd review
---
EFFTER
Bilateral 602
Music
•
CD
Industrial
•
Metal
[63/100]

Danse Macabre
27/05/2011, Didier BECU
---
Always quite funny to see the names that arists come up with. With Effter, its Frank F and JQR.

Having said that, we have our doubts that they ever will conquer the world with their sounds as on the whole, it's a bit extreme.
Perhaps even a bit extreme for regular Peek-A-Boo readers from whom we expect to have heard quite a lot of brutal things in their life.
You see, the Italian Effter is the kind of indusband who like guitars and even the kind of guitars that seems to come straight from a black metal-album.
These two Italians who are now living in Berlin are inspired by movies, poetry, literature and psychology.
From the very first notes, it's quite clear that they prefer the stuff which is related to horror whereas we tend to think that their sound would be the ideal soundtrack if you ever visited a slaughterhouse, not that we ever have thought about doing such disgusting things though!
Harsh vocals, banging indusbeats which are of course inspired by Nine inch Nails, metalriffs and a atmosphere that they compare with SPK and Coil.
Ièm not entirely sur that we agree with that last statement but "Bilateral 602" is indeed the kind of record which is inspired by the agression of human nature.
For those of you who like industrial noise with some metal influences…and yes, sometimes that can be fun!
Didier BECU
27/05/2011
---
Of Frank F en JQR (hoe komen ze er toch op) ooit de wereld gaan veroveren valt sterk te bewtwijfelen want daarvoor klinkt hun muziek net iets te extreem.

Misschien zelfs een tikkeltje te extreem voor de gemiddelde Peek-A-Boo lezer waarvan we nochtans van verwachten dat hij het één en ander gewend is.
Deze uit Italië afkomstige Effter is een indusgroep die dweept met gitaren en dan van het soort die uit één of ander black metal-album zijn geplukt.
Deze twee Italianen die tegenwoordig in Berlijn wonen lieten zich inspireren door films, poezie, literatuur en psychologie.
Vanaf de eerste klanken lijkt het overrduidelijk dat ze voor het soort gaan dat verbonden is met horror want hun muziek klinkt net alsof je één of ander slachthuis binnen treedt, ook al is dat iets wat we tot dusver nog nooit hebben gedaan.
Harsh stemmen, beukende indusbeats die (hoe kan het ook anders) geinspireerd zijn op Nine inch Nails, metalriffs en een atmosfeer die ze zelf vergelijken met SPK en Coil.
Nu ja, of we daar met akkoord gaan is weer een andere zaak want het is overduidelijk dat deze "Bilateral 602" een plaat is die vooral beroep doet op het agressieve in de mens.
Voor liefhebbers van industrieel lawijt met metaalneigingen dus....en soms kan zoiets best leuk zijn!
Didier BECU
27/05/2011
---