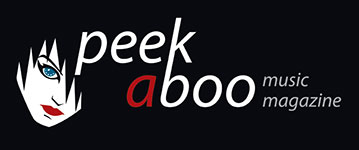 like this cd review
---
LISA CUTHBERT
Paramour
Music
•
CD
Dark Pop
•
Singer Songwriter
[95/100]

Self-released
16/02/2015, Wim GUILLEMYN
---
Lisa Cuthbert is an Irish singer and composer who has a powerful and unique voice that navigates between Irish folk, electronics and Rock-pop. You may already have seen her on stage, for example at the Amphi Festival in 2012, where she joined The Sisters Of Mercy during This Corrosion.
Meanwhile, this album is already out for a year, but I want to put this obscure gem under the spotlight. The lyrics are inspired by the stories of former convicts, prostitutes, mentally ill and unmarried mothers from Ireland, who worked in the so called Magdalene Launderies. Surely not the finest time you can imagine, a mood that you hear on the album as there is a quite dark atmosphere that dominates the sound.
Opener Destitute almost last eight minutes and immediately shows what she is capable of. The song develops into an Irish traditional as we know them from Clannad, while the piano accompanies the ethereal and mystical music. There are some poppy influences of Tori Amos, Kate Bush or Sinéad O'Connor.

Coils of blue is a piano song with strings, that is sung in a very intense way. That is also the case in Run and Jump, but the strings are replaced by a sober organ. Gartan Mother's Lullaby is a beautifully Irish traditional.The Balancing Act begins as a tune from a music box, but turns out to be a dark song of about ten minutes. The Sooner You Know is again a song with a catchy chorus and the structure of a pop song. Party's Over begins with some light trip-hop beats and piano, a successful combination. An ideal end for an album full of pain and sorrow.
Wim GUILLEMYN
16/02/2015
---
Lisa Cuthbert is een Ierse zangeres en componiste met een krachtige en unieke stem die op haar tweede album moeiteloos laveert tussen Ierse folk, elektronica en rockpop. Misschien heb je haar al eens aan het werk gezien. Op het Amphi-festival stond ze in 2012 op het podium met The Sisters Of Mercy met This Corrosion.
Intussen is het album al een jaar verkrijgbaar, maar toch wil ik dit obscure juweeltje absoluut in de spotlights plaatsen. De teksten zijn geïnspireerd door de verhalen van o.a. ex-gedetineerden, prostituees, geesteszieken en ongehuwde moeders die in Ierland in de Magdalena-wasserijen werkten. Dat was geen prettige tijd en dat hoor je op het album, dat een donkere en beklemmende sfeer kreeg.
Met opener Destitute dat bijna 8 minuten duurt, geeft de zangeres meteen haar visitekaartje af. De song begint heel organisch met hier en daar wat tromgeroffel en dierengeluiden, en ontwikkelt zich tot een Ierse traditional zoals we die ook van Clannad kennen. De piano begeleidt de zweverige en mystieke muziek. Het nummer krijgt halfweg opeens een andere wending dankzij toegevoegde elektronica en drumwerk. Het tempo wordt opgevoerd en er komen popaccenten bij zoals we die ook van Tori Amos, Kate Bush of Sinéad O' Connor kennen.
Coils of blue is een pianosong met strijkinstrumenten, dat heel intens wordt gezongen, net zoals Run and Jump, maar de strijkers zijn vervangen door een stemmig orgeltje.
Gartan Mother's Lullaby is een mooi bewerkte Ierse traditional. Je snuift er de sfeer van het oude Ierland op dat toen nog onder de knoet van de Katholieke kerk zat.The Balancing Act begint als een deuntje van een muziekdoosje, maar ontpopt zich dan wel tot een donker nummer van zo'n tien minuten. Persoonlijk ligt de openingssong me nauwer aan het hart, toch is dat niet meer dan een kwestie van smaak.
The Sooner You Know is dan weer een nummer met een pakkend refrein, dat eerder de normale opbouw en structuur van een popsong heeft. Madame's Secret Pain is een beetje vergelijkbaar met Destitute, behalve dat de wending in het nummer hier meer op een traditionele manier verloopt.
Party's Over begint met wat lichte trip-hopbeats en piano, een geslaagde combinatie. Een ideale afsluiter voor een album vol pijn en smart.
Wim GUILLEMYN
16/02/2015
---