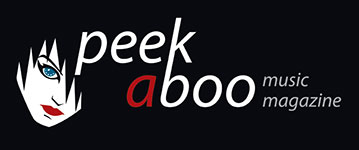 like this cd single review
---
MONICA JEFFRIES
In Circles EP
Music
•
CD single
Electronics
•
Synthpop
[72/100]

09/12/2016, Benny CALUWE
---
Loyal Peek-A-Boo readers know Monica Jeffries, the Polish artist who relocated to Hamburg, the city with the vivid music scene in northern Germany. In anticipation of her full album that will be released in the course of 2016, we found her In Circles EP in our mailbox. I would preferably call it a single. Next to the original In Circles track, there's also a remix and an acoustic version of this song.
This so called EP dates from March 2015 and was released about half a year after the Old Demons EP that I also reviewed on these pages. This Old Demons EP contained a nice cover version of Surrender No Resistance (Absolute Body Control) and was a fairly good record, but to distinguish it from the numerous synthpop projects and to be labeled "recommandable" it lacked sharpness. In Circles seems to sound tougher.
The original In Circles track does sound more haunting than her previous song material. The track is built with droning synths and some industrial sounds. The In Cirlces Rayaties Remix is more dance floor orientated. The beats sound more prominent. But In Circles (acoustic version) is less successful. As usual in acoustic versions, the focus is more on the vocals. Monica's voice passes the test, but the actual song remains barely upright.
Those who want to see Monica Jeffries live can do this on April 9th in Sittard, where Monica is programmed next to Agent Side Grinder and Grausame Töchter.
Benny CALUWE
09/12/2016
---
Trouwe Peek-A-Boo-lezers hebben al kennis gemaakt met Monica Jeffries, de knappe blondine van Poolse origine, die zich in de Noord-Duitse stad Hamburg met haar levendige muziekscene vestigde. In afwachting van haar in de loop van 2016 te verschijnen full album, vonden we haar ep In Circles in onze mailbox. Het is eerder een single waarop naast het originele In Circles ook nog een remix en een akoestische versie van die song te vinden zijn.
Deze zogenaamde ep dateert al van maart 2015 en verscheen dus ongeveer een half jaar na de ep Old Demons, die ik ook besprak op deze pagina's. Wat er te horen viel op Old Demons - die ook een aangename cover van Surrender No Resistance (Absolute Body Control) bevat - was best wel aardig, maar om zich te onderscheiden van de talrijke synthpopprojecten en het stempel "aanbevolen" te krijgen, diende Monica straffer uit de hoek te komen. En In Circles klinkt wel degelijk straffer dan haar voorgaande prodcuctie.
De originele In Circles-song klinkt alleszins dreigender dan het materiaal op Old Demons. De track is opgebouwd met dreunende synths en heerlijk industrieel aandoende klanken. De In Circles Rayatis Remix is meer gericht op de dansvloer. De beats zijn nadrukkerlijker aanwezig. In Circles (acoustic version) is echter minder geslaagd. Zoals gebruikelijk in akoestische versies, ligt de nadruk meer op de vocalen. Monica's stem doorstaat de test, maar van de eigenlijke song blijft amper wat overeind.
Zij die Monica Jeffries live aan het werk willen zien, kunnen zich op zaterdag 9 april naar Sittard begeven. Monica staat er geprogrammeerd met het Zweedse Agent Side Grinder en Grausame Töchter.
Benny CALUWE
09/12/2016
---