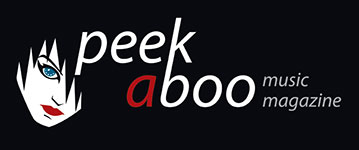 like this cd review
---
ONMENS
Witruimte
Music
•
CD
EBM
•
Industrial Rock
•
New Beat
•
Noise
[84/100]

Self-released
09/12/2016, Benny CALUWE
---
After reading some positive reviews about their debut Misdracht, I was curious to discover Onmens. A good starting point is Witruimte, the sophomore album of the Genth-based duo Kasper Van Esbroeck and Sigfried Burroughs (aka Bert Minnaert, drummer of noise rock bands Kapitan Korsakov and The K).
How to describe the sound of Onmens? In reviews of colleagues often appear the names Front 242, Atari Teenage Riot and The Soft Moon. But those mainly electronic names don't cover the content completely, as Onmens is also a rock band that plays a sort of industrial rock and sounds as the young lunatic nephews of The Neon Judgement. Acid noise rock (is there such a thing?). Acid in more than one sense. Corrosive retro-electronics.
It's clear that the music of Onmens isn't suitable for everyone, but adventurous music fans who aren't discouraged by electronic violence and abrasive guitars, will discover a fascinating band.
Witruimte takes a raging start with Unit 11. Delightful filthy electronics, shrieking guitars and a shouting vocalist who wants to say something! The last time I was blown away by the beginning of an album dates from Atari Teenage Riot's 60 Seconds Wipe Out. Just like Atari Teenage Riot, Onmens is aggressive, but Witruimte is more melodic. You hear it in Innerbitch and Whining Cross, in which Sigfried Burroughs uses clean(er) and varied vocals.
One of the highlights is Take A Life, an enthusiastic track with a catchy slogan that contains a fantastic EBM sequence and some demonic lalalalalas. I spoke of a highlight, but on the other hand there are no weak songs. Next to the short Voice Of God there are ten exciting tracks. It's an intense record, very into your face! Rebellious and inflammatory.
From The Sound Of Belgium, the documentary about the history of Belgian electronic music, I remember how foreign producers praised the idiosyncratic Belgian projects for fusing several styles into their own unique sound. In that respect, Onmens, with its explosive cocktail of noise rock, new beat, EBM and industrial, is a band that we Belgians can be proud of.
Benny CALUWE
09/12/2016
---
Na tal van positieve recensies over hun debuut Misdracht, was ik nieuwsgierig om Onmens te ontdekken. Dat deed ik middels Witruimte, het tweede album van het Gentse duo Kasper Van Esbroeck en Sigfried Burroughs (aka Bert Minnaert, drummer van noiserockbands Kapitan Korsakov en The K).
Hoe zou je de sound van Onmens omschrijven? In recensies van collega's vielen de namen van Front 242, Atari Teenage Riot en The Soft Moon. Namen waar ik me in kan vinden, maar die de lading niet (volledig) dekken. Alle opgesomde projecten zijn overwegend elektronisch, maar Onmens is evenzeer een rockband en speelt een soort van industrial rock die klinkt als het jonge neefje van The Neon Judgement tijdens een woede-aanval of een vlaag van zinsverbijstering. Acidnoiserock (bestaat dat?). Acid in meer dan één opzicht. Bijtende retro-elektronica.
Blaffende honden bijten niet, volgens het spreekwoord, maar in het geval van Sigfried Burroughs kan je er niet gerust in zijn. Als door een wesp gestoken, gaat hij schuimbekkend tekeer. Zijn (Wit)ruimte betreed je op eigen risico. Dat de muziek van Onmens niet voor iedereen is weggelegd, is duidelijk. Maar de avontuurlijke muziekliefhebber die zich niet laat afschrikken door elektronisch geweld en abrasieve gitaren, kan een boeiende band ontdekken.
Met Unit 11 neemt Witruimte een razende start. Lekker smerige elektronica, gierende gitaren en een schreeuwende zanger die keet wil schoppen. Het is sedert 60 Seconds Wipe Out van Atari Teenage Riot geleden dat ik zo overdonderd ben door de start van een album. Net als Atari Teen Age, komt Onmens agressief uit de hoek, maar Witruimte is wel melodischer. Dat hoor je onder meer in Innerbitch en Whining Cross, waarin Sigfried Burroughs gebruikt maakt van cleane(re) vocalen die voldoende gevarieerd zijn.
Eén van de hoogtepunten op Witruimte is Take A Life. een uitbundige song met een aanstekelijke slogan (Wanna take a life), die me al vreemde blikken opleverde aan de kassa in de supermarkt. De track bevat een heerlijke EBM-sequence en een hondsdolle Smurf komt enkele demonische lalalalala's meezingen. Ik sprak van een hoogtepunt, maar anderzijds zijn er geen dieptepunten. Naast het korte tussendoortje Voice Of God, staan er op Witruimte tien, stuk voor stuk, boeiende tracks. Het is een intense plaat, zéér into your face. Puur en onversneden, opstandig en opruiend.
Onmens doet wat met een mens. Witruimte wekt meer energie op dan alle reactoren van Doel en Tihange samen (al is dat gezien de actualiteit niet het meest doeltreffende beeld.) Doeltreffend is Witruimte anders wel, geschikter dan een straffe kop koffie om te ontwaken na het nachtelijke tobben.
Uit The Sound Of Belgium, een documentaire over de geschiedennis van de Belgische elektronische muziek, bleef me bij dat buitenlandse producers de eigenzinnige Belgische projecten prezen die vanop hun slaapkamer uit een potpourri aan stijlen een eigen uniek geluid distileren. In die optiek is Onmens met z'n explosieve cocktail van noiserock, new beat, EBM en industrial een band waarop wij Belgen trots mogen zijn.
Benny CALUWE
09/12/2016
---