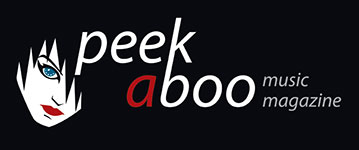 like this cd review
---
SIX COMM
Fleischmaschine
Music
•
CD
Industrial
•
Neofolk
[84/100]

Kenaz
28/10/2015, Didier BECU
---
Patrick Laegas is of course best known as one of the founders of Death In June. When he left the band in 1985, he formed Sixth Comm (as well ass Mother Destruction). Some of the records he released as Six Comm, such
as the first album Content with blood & the Neo-classical soundtrack Fruits of Yggdrasil with Runic shamanic poetess & writer Freya Aswynn, broke the dark wave & neo folk mould and took Six Comm beyond that genre. His later work, at the end of the 80s & early 90s as Mother destruction, saw Patrick L's music twist into tribal techno & soundtrack territory and a world away from his previous music.
Fleisch Maschine appeared two years ago, and is a collaboration between Patrick and his partner drummer Donadio. Musically, it's a part of his Schräge Musik project, in which Laegas shows his great interest in The Second World War conflict. It is not a glorification of war, it rather feels like a radio play that shows which barbarisms mankind was (is) able of,through the use of neofolk and industrial music. As a traveller & working with aid agencies and briefly as a sound recordist & photographer during the wars of the 80s in Afghanistan & East Africa, Patrick saw, just like his father before him, how mercilessly human lives can be reduced to the abyss.
Patrick largely made this recording with his own fathers & families experience during The Second World War as a sort of tribute to his own people, therefore many of the tracks are based on places such as Italy, Monte Casino, tNorth African campaign , the early fighting in Belgium & France.

Europa Gefallen begins with a sad trumpet sound, added with the militaristic drums by Patrick & Donadio and a frightened voice that talks about the suicide of Europa. A more heavier start for an album is impossible. Fleisch
Maschine is like an industrial version of classic Wagner: it's bombastic, a bit pompous, but it scares you. Casino Lost is poetry on the rhythm of destructive industrial, just like Sow The Wind.

Reap the Whirlwind sounds claustrophobic, and in a musically way you can hear the desperation and the terror of those who see bombers flying over the cities of Germany in vengeance.The abrupt end and the silence afterwards, they speaks for themselves.

Eternity Battle Mix is ​​a reworked version of the Sixth Comm single that appeared five years agor. The loud military drums and the beat of the marching soldiers give this song a kind of Laibach feeling. Asylum 39-45 (the title says it all) is a gripping musical story about the madness of war. Tommy Atkins Sweet 16 sounds like an innocent children's song with a harmonica, but the poignant lyrics are about a sixteen year old boy who realizes in the fields of Flanders that he never might come home. The album closes with State Laughter, which you obviously know as the debut single of Death In June, but although the classic is still very recognizable, there's more sadness in it and it has a larger impact.

Fleisch Maschine is definitely not an easy album, one that you will not even play every day because of the claustrophobic anxiety, but the album is amazingly strong and with an impact that mercilessly gnaws at your soul. Schrage Musik will release another work in 2016 title Drumfire.
Didier BECU
28/10/2015
---
Patrick Laegas is natuurlijk in de eerste plaats bekend doordat hij één van de oprichters van Death In June is. Toen hij in 1985 de band verliet, richtte hij Sixth Comm op, en de vele platen die hij met deze band uitbracht, vormen de basis van wat we vandaag neofolk noemen. Fleisch Maschine verscheen twee jaar geleden en is een samenwerking tussen Patrick en zijn oude kompaan, de drummer Donadio. Muzikaal is het een onderdeel van zijn Schräge Musik-project waarin Laegas zijn grote interesse voor de Tweede Wereldoorlog botviert. Let op, het gaat niet om verheerlijking van de oorlog, maar het is eerder een gevarieerd luisterspel waarin door middel van neofolk en industrial wordt getoond waartoe de mensheid in staat was (is). Net als zijn vader, zag ook Patrick met zijn eigen ogen als reservist hoe tijdens oorlogen mensenlevens genadeloos tot kanonnenvlees wordt gereduceerd.
Europa Gefallen begint met triest trompetgeluid, aangevuld met de militaristische drums van Donadio en een angstige stem die het over zelfmoord heeft. Zwaarder kan een album nauwelijks beginnen. Fleisch Maschine zet deze terreur voort, het is industrial dat naar Wagneriaans klassiek ruikt: bombastisch, een beetje pompeus, maar het jaagt je de stuipen op het lijf. Casino Lost is poëzie, verteld op het ritme van destructieve industrial, net als Sow The Wind.
Reap the Whirlwind klinkt claustrofobisch. Op een muzikale manier hoor je de radeloosheid en de angst van mensen die bommenwerpers over de stad zien vliegen. Het abrupte einde van de compositie de stilte daarna, ze sporeoenj voor zich.
Eternity Battle Mix is een herwerkte versie van de single die vijf jaar eerder verscheen. De luide militaire drums en de beat van een soldatenmars geven dit nummer een soort Laibach-gevoel. Asylum 39-45 (de titel zegt genoeg) is een aangrijpend muzikaal relaas over de waanzin van de oorlog. Tommy Atkins Sweet 16 klinkt als een onschuldig kinderliedje met een mondharmonica, alleen gaat de aangrijpende tekst over een zestienjarige jongen die in de Vlaamse velden beseft dat hij wellicht nooit meer naar huis zal terugkeren. Het album wordt afgesloten met State Laughter, wat je natuurlijk kent als de debuutsingle van Death In June, maar alhoewel het nummer nog uiterst herkenbaar is is het volledig herwerkt, met meer triestheid en zelfs meer impact.
Fleisch Maschine is zeker geen gemakkelijke plaat, en eentje die je wegens het claustrofobische angstgevoel zelfs niet dagelijks zal spelen (alhoewel), maar het resultaat is wel verbluffend sterk en de impact ervan knaagt genadeloos aan je ziel.
Didier BECU
28/10/2015
---