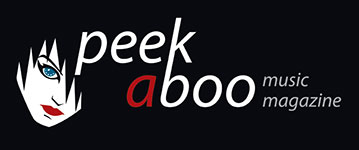 like this vinyl review
---
LA MUERTE
Murder Machine
Music
•
Vinyl
Noise
•
Rock
[90/100]

Mottow Soundz
09/12/2016, Wim GUILLEMYN
---
We are the Dark Side of Your Soul, says the band and who ever saw La Muerte live, can only agree. Since 2015, with a renewed lineup, the 30th anniversary was celebrated with a series of concerts, and you could feel the vibe and the renewed interest.
The concert was not a jukebox or some cash profit, but it showed that La Muerte still sounds relevant and that the new lineup, led by Marc Du Marais and Dee-J, stands like a rock. La Muerte is devilish. What was not planned previously, has become truth: there is new material by La Muerte.

Just as in the good old days, the band released an EP with three tracks. In January, the band went into the studio and on Record Store Day this EP became available. It opens with Wacked This Guy, a short energy bomb with all the ingredients of a solid song in the good old La Muerte tradition: uptempo, Marc's frenzy, pointed and sharp guitars, bone drums and solid bass.

Je Suis Le Destructeur is more dirty and sounds like pure rock n 'roll on kerosene. This song is even better than the opener. Get Whipped is the last and longest song: it is slowly with a heavy, lumbering pace. A sinister serenade by Du Marais as he is the devil himself who makes his speech at the pulpit.
The EP is a must-have for La Muerte fans or for those who love guitar violence with a dark touch. A confirmation of what we saw on stage. Available in clear or bloodbath vinyl with a download code.
Wim GUILLEMYN
09/12/2016
---
"We are the Dark Side of Your Soul", afficheert deze band en wie hem ooit live aan het werk zag, kan dit alleen maar beamen. Sinds in 2015, met een hernieuwde line-up, het 30-jarig bestaan werd gevierd met een reeks concerten, voelden we de vibe en de hernieuwde belangstelling voor de band. De concertreeks was geen jukebox of kassagewin, maar toonde aan dat La Muerte wel degelijk nog relevant klinkt en dat de nieuwe bezetting onder leiding van oerleden Marc Du Marais en Dee-J stevig in de schoenen staat. La Muerte is duivels, donker en het slaat en zalft (vooral slaan).
Wat vooraf niet de intentie was, is nu toch waarheid geworden: er is nieuw materiaal van La Muerte. Zoals in de traditie van de good old days in ep-vorm met drie tracks. In januari ging de band de studio in en op Record Store Day werd de ep uitgebracht.
De ep opent met Wacked This Guy, een korte energiebom met alle ingrediënten van een stevige song in de goede oude La Muerte-traditie: uptempo, de razernij van Marc, puntig en scherp gitaarwerk, bot drumwerk en een stevige bas. Je Suis Le Destructeur is nog iets vuiler en klinkt als pure rock n' roll op kerosine. Deze song is nog beter dan de opener en live rockt hij als de beesten. Get Whipped is de laatste en de langste song: hij wordt langzaam op gang getrokken en walst met een zware logge tred over alles heen. Heerlijk gitaarwerk, droog drumwerk en de onheilspellende serenade van Du Marais als ware het de duivel zelf die op de kansel zijn redevoering afsteekt.
De ep is een must-have voor de liefhebbers van La Muerte of van gitzwart gitaargeweld. Een bevestiging van wat we al zeiden: La Muerte leeft en verkeert in goeden doen. Verkrijgbaar op clear of blood bath vinyl met downloadcode. Je zou hem al in huis moeten hebben en om de vibe te voelen is het bijwonen van een concert essentieel.
Wim GUILLEMYN
09/12/2016
---