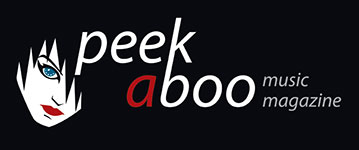 like this vinyl review
---
LINEA ASPERA
II
Music
•
Vinyl
Minimal
•
Noise
•
Synth Wave
[80/100]

Weyrd Son Records
29/10/2013, Philippe BLACKMARQUIS
---
This vinyl reissue of Linea Aspera's second EP, originally released on cassette, is the third release of Weyrd Son Records, the label created by my good friend Weyrd Son, aka Michael Thiel, the son of the late Micky Mike (Snowy Red).

I had introduced Michael to the music of Linea Aspera in January 2013 and we had been lucky to attend Linea Aspera's last concert in Amsterdam and to make a great interview with Alison Lewis, the band's singer. I am therefore very proud to have contributed, in a modest way, to the present release.
"II" was in a way Linea Aspera's "swan song", the epitaph of a legendary band which unfortunately separated much too soon. For Weyrd Son Records, it was therefore a must to do this last EP justice by releasing it on vinyl. And not any kind of vinyl: again, Weyrd Son produced a wonderful object, a single-sided clear vinyl with artwork printed on PVC sleeve and tracing paper insert.
The first song, Kinabalu, is amazing: the menacing, noisy intro leads into an upbeat rhythm of 147 BPM and a minimal sound that immediately evoke The Normal ("Warm Leatherette") and early Mute releases. Alison Lewis' repetitive vocals bathe in vintage reverb effects and we also think of Suicide. The atmosphere is eerie, industrial and after only 2 minutes the song is plunged in a sea of noises, analog explosions, and a clock ticking sound. This lasts for more than 4 minutes until the final shrieking feedback noises. I can't help thinking that this unleashed violence evokes another violence, that of separation.
The second track is a more 'classic' song on which Ryan Ambridge combines an EBM beat with 80ies synths sounds reminiscent of Depeche Mode and Yazoo. Lewis' sexy and emotional voice hovers beautifully over the music and you quickly find yourself dancing like crazy. A dancefloor killer!
The final track, "Royal Straight" brings back the "Mute" feeling: it's an instrumental featuring minimal analog sounds and drone noise effects, which end with a gunshot.
As a conclusion: a very strange final EP, which includes two must-have songs but the whole appears a bit like an "unfinished symphony". It makes us regret even more that this very promising band called it quits. Anyway, this beautiful vinyl is definitely a collector's item. Rush to buy it at Weyrd Son Records before the stock of 300 handnumbered albums is sold out.
Philippe BLACKMARQUIS
29/10/2013
---