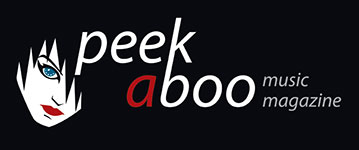 like this movie review
---
JERZY KAWALEROWICZ
Night Train
Movie
Arthouse
•
World Cinema
[73/100]

Second Run DVD
25/12/2013, Didier BECU
---
As we already mentioned before Second Run DVD is definitely the label to follow if you want to discover unknown gems from East-European cinema. When taking a peep in their catalogue you'll notice lots of obscure titles, but that's just the beauty of it all, not?
Night Train (also known as Baltic Express) is the sixth movie by director Jerzy Kawalerowicz. It's the first movie that actually gave him some international fame. Some say that it took so long because his previous works were focusing too much on typical Polish matters. Anyway, lots of critics (including maestro Andrzej Wajda) consider Kawalerowicz being one of the keyfigures of the Polish Filmschool. Night Train has to be seen literally as the director takes us 90 minutes long on a journey in a traincoach. The trip goes from Lodz to Hel where we meet lots of different personages. This idea actuallycame from leading actress (and his later wife) Lucyna Winnicka.
Despite what some say Kawalerowicz didn't make a thriller, even if there's a murderer hiding in some berth. The movie is an excellent mixture from nouvelle vague and socialistic realism, a bit like the early Fellini-films. Some sources say Kawalerowicz was inspired by Il Grido from Michelangelo Antonioni.
There's not a real story going in this. The red line is Jerzy (Leon Niemczyk) who looks with his dark sunglasses as a character from a Godard-movie. There's a young couple quarrelling, a woman who "forgot" to pay a ticket, a preaching priest, some cops who think they're better than the rest…
From the very first second you'll notice that Kawalerowicz is an excellent director. The photography is overwhelming, and above all…he has something to tell! At first you'll think this movie is a bit Tati-like, especially because of its funny jazzscore, but at the end the picture is getting more bleak. The scene in where the travelers are lynching the crook is one of the most brutal scenes you'll ever can watch.
To be short, Night Train is a must see. Just like it's always the case with Second Run, this movie is presented in an excellent restored version and a wonderful, interesting booklet that delivers all the answers to all the questions you had about Night Train, but never dared to ask!
Didier BECU
25/12/2013
---
Zoals we eerder al hebben gezegd is Second Run DVD de filmmaatschappij bij uitstek om Oost-Europese pareltjes te ontdekken. Het label gaat prat op kwaliteit. Het zijn miscchien niet meteen de grote titels die hun catalogus aanvoeren, doch wordt daardoor voor een cinefiel het filmplezier alleen maar groter.
Night Train (die ook bekend staat als Baltic Express) is de zesde film van cineast Jerzy Kawalerowicz. Het is evenwel de eerste prent die hem wat internationale bekendheid schonk. Volgens insiders is dat waarschijnlijk omdat zijn vorige werken net iets te veel de Poolse geschiedenis en politiek in het daglicht stelden. In ieder geval wordt vandaag Kawalerowicz terecht als één van de sleutelfiguren van de Poolse Filmschool beschouwd.

Night Train moet je letterlijk zien, want de Poolse filmmaker neemt je anderhalf uur mee op een nachttrein die zich van Lodz naar Hel verplaatst. Het was hoofdrolspeelster (en later zijn vrouw) Lucyna Winnicka die met deze gedachte kwam opdraven. Kawalerowicz maakte er wel geen thriller van (ook al zit er een moordenaar in de trein), weleen prachtig staaltje van zowel nouvelle vague als hsocialistisch realisme zoals we dat bijv. kennen uit de vroegere Fellini-films. Naar verluidt geraakte Kawalerowicz geïnspireerd door Il Grido van Michelangelo Antonioni.
Een echt verhaal moet je in deze film niet zoeken. Jerzy (Leon Niemczyk) lijkt met zijn donkere zonnebril uit één of andere Godard-klassieker te zijn gekropen. Dit personage is dan ook de rode draad van de film. Verder zijn er nog een jong koppeltje dat ruzie maakt, een vrouw die haar ticket heeft "vergeten" te betalen, de priester die iedereen de les speelt, wetsdienaars die zich boven de rest stellen en talrijke grijze (maar gevaarlijke) muizen aan boord.
Vanaf de eerste seconde merk je dat Kawalerowicz een grote filmmaker is. De fotografie is overweldigend en hij heeft iets te vertellen. De film begint (mede door de vrolijke jazzy score) als een iewat frivole Tati-film, maar eindigt op het einde in een bikkelharde misdaadprent. De scène waarin de reizigers op een verlaten kerkhof de moordenaar lynchen is visueel verbluffend en gedoemd om eeuwig op het netvlies van de filmfan gebrand te blijven.
Kortom, Night Train is een absolute mustsee. Zoals dat steeds het geval is bij Second Run is ook deze prent wederom prachtig gerestaureerd en vind je in het doosje een uitgebreid boekje terug met daarin alle antwoorden op vragen die je over Night Train had, maar nooit durfde stellen! Als dat geen mooie afsluiter is!
Didier BECU
25/12/2013
---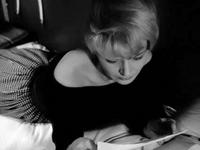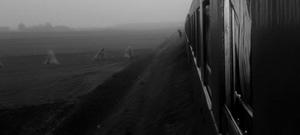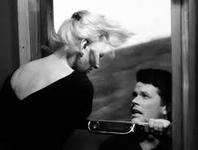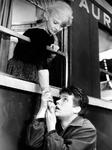 ---