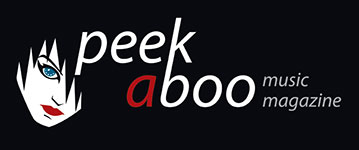 like this cd review
---
LYNCELIA
Forsaken Innocence
Music
•
CD
Cold Wave
•
Gothic Rock
[91/100]

Self-released
07/03/2017, Jurgen BRAECKEVELT
---
It has become evident in the past years that the dark genre in France is rampant. Lyncelia is another new name on the list of French bands. Founded in 2008 the band gets their inspiration and spice from bands like The Cure, Indochine, Clan Of Xymox, Paradise Lost and good old Sisters Of Mercy. So you can imagine the delightful dark sound, a mix of guitars and deep dark grave voices, we could expect. Wondering if that is really true...;
Gothic rock and coldwave of the purest sort, grown in the crypts of a dark humid basement lit by just a few candles. And yes, that is exactly how it sounds. A well looked after plate with fine ingredients that taste mighty nice when eaten in one bite. Blisfully drawn-out guitar sounds, drums that convulsively draw themselves through each song, unremittingly, pained. And a grave voice? No, not a clone nor a copy of the characteristic sound of Eldritch or conspecifics. But full of melancholy and dark. And above all very good.
The 9-track album Forsaken Innocence keeps us well entertained for over an hour. And we indeed recognize the bands that have inspired this album. Opener Blind and songs like Unbound Pleasure could be by Clan Of Xymox, a nice combination of melodic guitar battering and sparingly used synths. Distance is much darker and reminiscent of the early Cure, as is Sapphic Tears. We suspect the band thought that they should use all pedals at the same time to create guitars that sound like rusty metal doors opened one last time. Imagine epic femal vocals with that and a 1.5 minute intro before the song releases its demons...and lasts another 8 minutes: Insight gives us more than 9 minutes of pure pleasure. Psychedelic to the smallest fiber.
Coldwave is brought by Weep A Long Silence. Mean and shrill high guitarnotes and a rattling bass. Lost Anastasia, Answer My Fall and and epic 9 minute closure with female voices guides us to the coast where our boat quietly docks.
Lyncelia does not bring anything new. I don't really hear a unique sound or arrangements that make your head spin. But what does it matter when you can deliver an album like that! Because what it DOES bring is rock-solid gothrock with plenty of variation, animation and zeal. Thanks, Lyncelia!
Jurgen BRAECKEVELT
07/03/2017
---
Dat er in Frankrijk één en ander weelderig tiert in het donkere genre, is de afgelopen jaren heel duidelijk geworden. Lyncelia is alweer een naam die in het lijstje Franse bands komt prijken. De band ontstond in 2008 en haalt inspiratie en mosterd bij bands als The Cure, Indochine, Clan Of Xymox, Paradise Lost en good old Sisters Of Mercy. U kan wellicht vermoeden welk zalig donker geluid, in een mix van gitaren en diepdonkere grafstem we zouden kunnen verwachten. Benieuwd of dat ook zo is…;

Gothic rock en coldwave, van de pure soort, ontstaan in de krochten van een wellicht donkere vochtige kelderruimte waar zuinig enkele kaarsen een zweem van licht werpen. En ja zo klinkt het ook. Een verzorgd bordje met fijne ingrediënten die verdomd lekker smaken als je ze in één hap verorbert. Zalig uitgesponnen gitaargeluid, drums die zich krampachtig doorheen elke song slepen, niet aflatend, maar gepijnigd. En de grafstem? Nee, geen kloon, noch kopie van het karakteristieke geluid van Eldritch of gelijksoortigen, maar wel vol melancholie en donker. Maar vooral: goed.
Het 9 nummers tellende album Forsaken Innocence entertaint ons ruim een uur. En we herkennen inderdaad de bands die mee zorgden voor inspiratie. Opener Blind en songs als Unbound Pleasure zou van Clan Of Xymox kunnen zijn, een fijne combinatie van melodieus gitaargeram en synths die af en toe om de hoek komen loeren en eigenlijk zuinig meedoen. Distance is een stuk donkerder en dweept eerder met de vroegere Cure, evenals Sapphic Tears. Dan een donkerbruin vermoeden dat de band dacht: laat ons eens een resem pedalen tegelijk indrukken en gitaren laten klinken als verroeste metalen deuren die een laatste keer worden geopend. Denk daar epische vrouwelijke vocalen bij, in een intro van een dikke anderhalve minuut, vooraleer het nummer zijn demonen loslaat… en dat dat zo nog 8 minuten duurt: Insight is dik 9 minuten génieten. Psychedelisch klinkend tot in de kleinste vezel.
Coldwave krijgen we met Weep A Long Silence. Schriele, snerpende hoge gitaartonen en een ratelende bass.Lost Anastasia, Answer my Fall en een met female voices getinte epische afsluiter van nog eens dik 9 minuten voeren ons richting kust, waar ons bootje rustig aanmeert.
Lyncelia doet niet iets nieuw. Een echt eigen sound ontwaar ik niet. Arrangementen waar je van achterover valt ook niet. Maar wat maakt het uit, als je zo'n plaat aflevert! Want wat het wél is: steengoede gothrock, voldoende gevarieerd, bezield en doorleefd. Dankjewel Lyncelia !
Jurgen BRAECKEVELT
07/03/2017
---