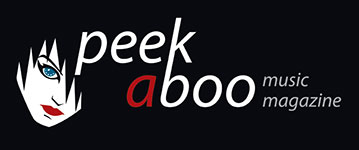 like this movie review
---
ABEL FERRARA
Pasolini (FilmFest Ghent 2014)
Movie
Arthouse
•
Biography
Filmfest Gent
21/10/2014, Didier BECU
---
Directing the life from a controversial filmmaker by an experimental director of course doesn't lead to a traditional biography. Anyone who except this better stay at home as otherwise you will probably belong to the huge part of the audience that gave up after 15 minutes during the screening of FilmFest Ghent.
Abel Ferrara creates a touching, but also pretentious portrait of the last days from Pier Paolo Pasolini (Willem Dafoe): the Italian artist no one could handle with. Ferrara mixes everything: for him a subject like time doesn't exist, and dreams and reality are just one unity. So yes, this is a quite difficult movie. We can even say that it is almost impossible for those who are not familiar with Pasolini's oeuvre, but then again you can ask yourself if others will buy a ticket for this. This is all about atmosphere with an excellent Willem Dafoe who even resembles to the Italian cinematographer. You learn nothing new about him: he was fond of boys (which was fatal for him) and wasn't loved by Italian journalist. So all things we know about the enfant terrible.
Pasolini is not the type of movie that will make many friends. It is daring, original, bombastic, but by times a bit boring and confusing. To be short, it is a typical Abel Ferrara-film: made with lots of laughter, but in the end nobody will care about, and maybe later we will agree that it isn't that bad after all!
Didier BECU
21/10/2014
---
Het leven van een controversiële filmmaker laten regisseren door een experimentele regisseur levert natuurlijk geen traditionele biografie op. Wie dat denkt blijft sowieso beter thuis, want anders zou je wel eens tot de grote hoop kunnen behoren die het reeds na een kwartiertje tijdens deze vertoning op FilmFest Ghent opgaven.
Abel Ferrara schetst op een tegelijkertijd rakende, maar tevens pretentieuze manier de laatste dagen van Pier Paolo Pasolini (Willem Dafoe): de excentrieke Italiaanse kunstenaar waarmee de media geen raad wist. Ferrara hecht geen enkel belang aan de begrippen tijd en realiteit. Alles loopt door elkaar. Toegegeven, wie niet vertrouwd is met Pasolini's werk zal het bijzonder moeilijk hebben om deze prent te volgen, alhoewel je je ook de vraag kan stellen of andere mensen deze prent überhaupt zullen willen zien. Veel kom je trouwens over de cineast niet te weten. Hij speelde graag met jongens (wat hem uiteindelijk ook fataal is geworden) en lag overhoop met de journalisten. Maar dat wisten we al. Dafoe speelt Pasolini op treffende wijze en met zijn zonnebril die hij zelden afzet lijkt hij zelfs enorm sterk op het Italiaanse enfant terrible.
Pasolini is zeker niet het soort film dat iedereen zal bekoren. Het is gewaagd, origineel, bombastisch, maar bij momenten gewoon saai en nodeloos verwarrend. Kortom het is een Abel Ferrara-film: met veel poeha gemaakt en waar wellicht geen haan naar zal kraaien om achteraf te beseffen dat het toch allemaal niet zo slecht is.
Didier BECU
21/10/2014
---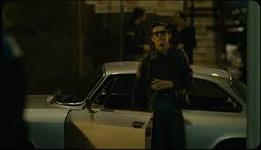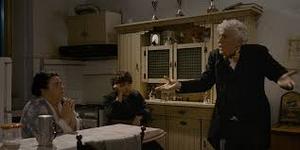 ---