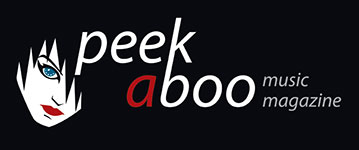 like this movie review
---
JEAN-LUC GODARD
Adieu Au Langage 3D (FilmFest Ghent 2014)
Movie
Abstract
•
Arthouse
•
Experimental
Filmfest Gent
21/10/2014, Didier BECU
---
In a way it sounds quite ridiculous: Jean-Luc Godard in 3D, not? But of course you don't have to panic because the man who hates his own myth doesn't use these techniques to overwhelm his audience with a movie about trolls that is full with (unnecessary) special effects. Nah, for him the 3D-technique is the start of another nouvelle vague and that when he's 83!
Even if he won in the price from the jury in Cannes, he absolutely refuses to attend any of these festivals. So no Godard in Ghent and in a way the organisators were forced to invite lead actress Héloise Godet so she could explain it all. The sympathetic actress couldn't. And in a way no one can, because Adieu Au Language is an audio-visual spectacle in where you discover every time something new (or some people perhaps nothing at all). During 70 minutes your eyes and ears are put in a collage. It has something to do with love, war and a dog named Roxy who happens to be the real dog from Godard. And the French wunderkind goes very far in exploring the inner soul of the animal as you can even watch the animal going to the toilet in 3D!
According to Hodet, Godard has watched almost all the 3D-films that are available as he wanted to absorb these new techniques and just like we're used from him, he went very far. There was a time that he simply put a camera on a bandwagon from a toy train. And yes, Godard also likes to joke with the viewer too. There is a very unusual noise that sounds like a mixture between Sibelius and Merzbow, and he also puts "wrong" images in the spectacle so you think your 3D-glasses are out of order. And those special effects in 3D? Well for Godard, that can be a windscreen wiper or a simple flower pot.
Adieu Au Langage is surely the talk of the day during FilmFest Ghent. There's not one journalist around who dares to attack the legend, but you won't find one who actually gets it. Godard is probably the one he always used to be: a charlatan, but a genius one!
Didier BECU
21/10/2014
---
Het klinkt een beetje potsierlijk: Jean-Luc Godard in 3D, niet? Maar niet getreurd, het Franse genie gebruikt deze camera's niet om kabouterfilms spectaculairder te doen lijken. Neen, Godard benut deze technieken om met een nieuwe nouvelle vague te beginnen, en dat op zijn 83ste!
Ook al won hij de juryprijs in Cannes weigert Godard steevast om naar festivals af te zakken en daarom nodigden de organisatoren van FilmFest Ghent (wellicht uit noodzaak) de hoofdrolspeelster Héloise Godet uit om het allemaal te komen uitleggen. De actrice kon het niet. En dat is ook niet mogelijk, want Adieu Au Language is een audiovisueel spektakel waarin je telkens iets (of sommige wellicht niets) kan in ontdekken. 70 minuten lang wordt je ondergedompeld in een collage van beelden. Het gaat over liefde, oorlog en een hond Roxy die in het echte leven ook de hond van Godard is. Je kan het dier zelfs zijn behoefte zien doen in 3D!
Godard heeft zo wat alle 3D-films bekeken die er op de markt zijn om er zo het zijne van te maken. Zo zette hij bijv. de camera gewoon op een speelgoedtrein. De Franse mythe houdt er ook van om geregeld de spot te drijven met de kijker, want heel wat beelden zijn opzettelijk verkeerd gemaakt zodat je gaat denken dat je 3D-brilletje stuk is. Verwacht ook geen special effects, Godard gaat gewoon een bloempot of een tikkende ruitenwisser in zijn 3D-visier brengen.
Adieu Au Langage is zonder twijfel de film waarover het meest is gesproken tijdens deze editie van FilmFest Ghent. Geen enkele journalist die het aandurft om de legende aan te vallen, maar er is ook geen een die het snapt. Godard is wellicht wat hij altijd was: een charlatan, maar wel een geniale!
Didier BECU
21/10/2014
---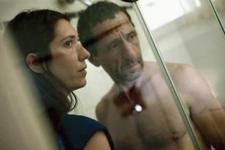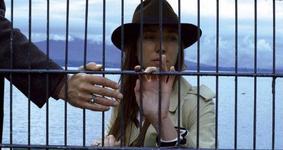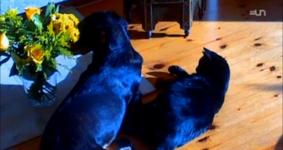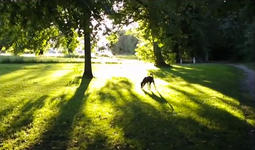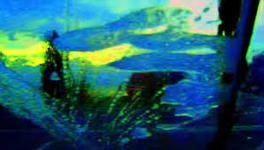 ---