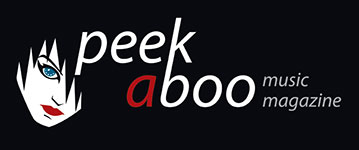 like this movie review
---
ZAK HILDITCH
These Final Hours (FilmFest Ghent 2014)
Movie
Drama
•
Horror
•
Thriller
Filmfest Gent
20/10/2014, Didier BECU
---
This year the organisators from FilmFest Ghent haven't forgotten the horror fan. There was for instance a concert featuring Goblin who were performing the Suspiria-soundtrack, but also a selection of fine independent releases that normally are never distributed over here. One of them is These Final Hours by Zak Hilditch. This Australian director is inspired by the current fact that the world is doomed to end. No, not Putin's nukes are a threat, but a meteorite will finish this earthly paradise. On his radio James (Nathan Phillips) hears that there's no hope left. West-Europe already disappeared and it will take exactly twelve hours before the apocalypse reaches the South-West coast from Australia.
Everybody is "enjoying" the final hours in their own way. Some pray, others hang themselves, there are those who organize a final party and there are even earthlings around who decide that the best thing to do is becoming a mass murderer. James who is otherwise a rough boy decides to do it differently. He cares about a kidnapped girl Rose (Angourie Rice) who convinces him that it is best to care about his pregnant girlfriend Zoe(Jessica De Gouw).
These Final Hours is a rather strange horror film. In a way you'll notice the drive from The Walking Dead (even if it are not zombies, but just lunatics on the loose), but sometimes he seeks a combination between the desolate atmosphere from Terrence Malick and Mad Max. Perhaps it would have been better to make some conversations shorter, but the brilliant performance make you forget that! The movie is filmed in a delicious (well, you know!) apocalyptic yellow light, with an end you'll never forget!
Didier BECU
20/10/2014
---
Dit jaar heeft FilmFest Ghent ook aan de horrorliefhebber gedacht, met zo waar een minifestivalletje waar je heel wat minder bekende producties kan ontdekken. Eentje daarvan is These Final Hours van Zak Hilditch. Deze Australische regisseur is duidelijk geïnspireerd door het heersende beeld dat de aarde weldra zal verdwijnen. Het zijn niet de kernbommen van Putin, maar wel een meteoriet die een einde zal maken aan het aardse paradijs. James (Nathan Phillips) hoort op de radio dat er geen hoop meer is. West-Europa is al lang van de kaart geveegd en het zal exact twaalf uur duren vooraleer de zuidwestkust van Australië van de wereldkaart zal worden geveegd.
De bevolking leeft zich op allerlei manieren uit. Er zijn er die bidden, je hebt er die zichzelf ophangen, anderen geven dan weer een finaal feest, terwijl je er ook hebt rondlopen die voor de kick aan het moorden slaan. De anders zo stoere James pakt het anders aan. Tijdens zijn laatste uren bekommert hij zich om het gekidnapte meisje Rose (Angourie Rice) die er hem dan weer van overtuigd dat hij maar betere zijn zwangere vriendin Zoe(Jessica De Gouw) opzoekt.
These Final Hours is een wat vreemde horrorfilm. Enerzijds heb je de schwung van The Walking Dead (ook al zijn het geen zombies, maar gewoon loslopende gekken), anderzijds verkiest Zak Hilditch een stijl die ergens tussen het desolate van Terrence Malick en Mad Max ligt. Soms verliest Malick wel eens de trappers door de conversaties net iets te melig of te langdradig maken, maar dat wordt ruimschoots goedgemaakt door knap acteerwerk.
De film baadt in een heerlijk (nou ja) apocalyptisch geel licht, met een einde dat je wellicht nooit zal vergeten.
Het is koffiedik kijken of deze release hier zal worden uitgebracht. Laat het ons hopen!
Didier BECU
20/10/2014
---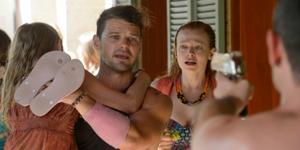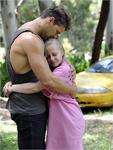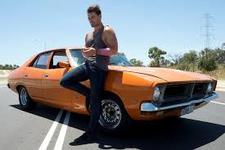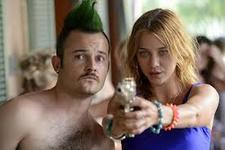 ---