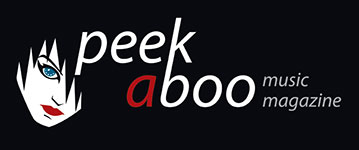 like this cd review
---
ECHO BEATTY
Nonetheless
Music
•
CD
Dark Pop
•
Indie
[88/100]

Waste My Records
09/12/2016, Didier BECU
---
Love at first sight exists, especially when Annelies Van Dinter stands behind the microphone. When I saw her five years ago in an almost empty venue, I knew that I was watching a great talent. Years later, a lot of music fans have embraced her. Even though the music of Annelies and Jochem Baeluis is not really difficult, it always has a mysterious atmosphere. Some hear David Lynch, and even though you can link all mysterious music to Twin Peaks, the second album Nonetheless could be an ideal soundtrack for the cult series. In every song Annelies takes you to a strange world, and you really won't know what is happening.
Echo Beatty has been in the underground scene for a long time, but this definitely will change after Nonetheless. Not that Echo Beatty is more commercial now, it's just a record that screams for attention, simply because of its quality. Nine songs and although they all bathe in the same darkness, they sound different one by one. Minimal pop that is focusing on Annelies' voice and an extraordinary atmosphere that sucks you in the unique universe of Echo Beatty.
In Ravel Ravel Annelies shows her inner soul; this masterful song could be in the repertoire of Nico and PJ Harvey. Indeed two legends we compare this Antwerp duo with, but that is how Echo Beatty sounds. Is it fear or hope, no one really knows. The fact is that Annelies sounds as a female Nick Cave in Soldier On Furlough. The accompanying instruments are frightening, it's music that wants to tell you something, musical notes which will penetrate your mind.
Just when you think Echo Beatty can't be any darker, Spastic Dancers begins. It's almost a shame that we make comparisons all the time, but this sounds like an unreleased track of Horses by Patti Smith. Again sublime! Knots is minimal singersongwriter pop with a lot of attention to the background noises, headphones are almost required!

Where do we go from here?, she wonders in Circles/Over The Plains. We do not know. All we know is that the pop noir (as Annelies and Jochem Baelus call the music) makes the hairs on our arms stand up. This is music that crawls under your skin. Poison.
In Hunger Hunger, the guitars knock you down. Although the song is radio friendly, we descend again in the inner depths of Annelies' soul. Sealskin closes one of the most beautiful albums of the year. Echo Beatty is magic, finding another word is impossible.
Didier BECU
09/12/2016
---
Liefde op het eerste gezicht bestaat, zeker als Annelies Van Dinter achter de microfoon staat. Toen ik haar een vijftal jaar geleden in een bijna lege Kinky Star aan het werk zag, wist ik dat naar een groot talent stond te kijken. Jaren later zijn ,heel wat muziekfans op de knieën gegaan voor haar aparte, vaak donkere stem die soms angstig, en (ook al is het zelden) hoopvol klinkt. Ook al zijn de composities van Annelies en Jochem Baeluis niet echt moeilijk, zweeft er altijd een mysterieuze wolk boven. Sommigen horen er zelfs David Lynch in, en ook al kan je eigenlijke zowat alle geheimzinnige muziek aan Twin Peaks linken, zou het tweede album Nonetheless een ideale soundtrack voor de cultserie kunnen zijn. In iedere song neemt Annelies je mee naar een vreemde wereld, zonder dat je echt beseft wat er aan de hand is.

Echo Beatty was lange tijd een band die je alleen maar in de undergroundscène aantrof, maar daar zal na Nonetheless beslist verandering in komen. Niet dat Echo Beatty plots commercieel klinkt, maar gewoon omdat het een plaat is die om aandacht schreeuwt, en dit wegens de kwaliteit.

Je vindt er negen liedjes op, en hoewel ze allemaal in dezelfde duisternis baden, klinken ze toch één voor één verschillend. Minimalistische pop waarin de nadruk op Annelies' stem ligt, en een aparte atmosfeer die je volledig meezuigt in het aparte universum van Echo Beatty.

In Ravel Ravel legt Annelies meteen haar ziel bloot; deze magistrale song zou zo uit het repertoire van Nico en PJ Harvey kunnen komen. Het zijn inderdaad twee ferme namen waarmee we dit Antwerpse duo vergelijken, maar zo klinkt Echo Beatty nu eenmaal. Is het angst of hoop, wie zal het zeggen in deze tijden. Feit is dat Annelies zich in Soldier On Furlough in deze song als een vrouwelijke Nick Cave ontpopt. De begeleidende instrumenten klinken angstaanjagend. Het is muziek die je iets wil vertellen, muzikale noten die in je geest willen dringen. Het is grootse magie van een frêle vrouw met ontzettend veel talent.

Net op het moment dat je denkt dat Echo Beatty niet donkerder kan, wordt Spastic Dancers ingezet. Het is bijna een schande dat we steeds maar vergelijkingen maken, maar hier dwaalt werkelijk de geest van Patti Smith van Horses rond. Opnieuw groots dus. Knots is minimalistische singersongwriterpop, let vooral op de achtergrondgeluiden, bijna wordt een hoofdtelefoon hier verplicht!

Where do we go from here?, vraagt Annelies zich af in In Circles/Over The Plains. We weten het niet. Wel zorgt de noir pop (zoals Annelies en Jochem Baelus hun muziek zelf omschrijven) ervoor dat de haren op onze arm rechtstaan. Dit is muziek die onder je huid kruipt.

In Hunger Hunger slaan de gitaren je murw. Alhoewel de song radiovriendelijk is, dalen we wederom af in het diepste van Annelies' ziel.

Sealskin is de afsluiter van één van de prachtigste platen van het jaar. Echo Beatty is pure magie, andere woorden vinden we niet meteen!
Didier BECU
09/12/2016
---