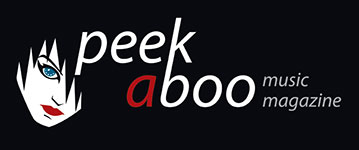 like this vinyl review
---
TWILIGHT RITUAL
The Ritual
Music
•
Vinyl
Dark Ambient
•
Minimal
•
Synth Wave
[85/100]

Onderstroom Records
05/05/2015, William LIÉNARD
---
Behind the name Twilight Ritual hides a Belgian duo. Minimal Synth Masters Geert Coppens and Peter Bonne were involved in projects like Autumn and Linear Movement in the 80s, but their own work appeared only on cassette (1982). Now, more than thirty years later, their mysterious dark synthpop songs, club music and the epic and almost 14 minutes long Up to Now are available on an LP, thanks to the efforts of Onderstroom Records. The album contains 10 songs.
Splintered Images of Oz is a tasty and good sounding repetitive synths composition, topped with guitar-like strumming. Unfortunately it is very short. Surrounded starts darker and after a short intro a quiet bobbing electro melody follows with pounding drum sounds and vocals, complemented with small sounds and voices in the background: simple and melodious. Webb-man gets more beats. It's hectic and layered with electro-instrumental sounds and beautiful keyboards accompanied by a tight drum pattern. They We Are sounds darker and chooses a slower pace with low sounding synth sounds and quiet vocals, interrupted by voices, abrasive synths and then again warm electro. Ever Changes continues at the same quiet pace. The voice is more up front and weaves a dreamy and relaxed atmosphere through the track. The electro drums sound emphatically with patches of a subtle keyboard sound on top. It sounds beautiful, melodious and well-balanced. Fading Me begins with synth sounds and is supported by thin and dark drones. The voice meanders gently between the drums and metallic clicks and creates a dreamy and brooding atmosphere. Quiet, andante and intoxicating.
We remember that the material is on an LP, and as a consequence A Chrome Entrance is the starter on the other side, a short track with only electro drumming. Elegy is in the same category as Ever Changes and Fading Me, with great vocal harmonies, dark electro and drum sounds, followed by gurgling synths. Our favorite on this release! Up To Now takes nearly 14 minutes and is the pièce de résistance of this album. It starts with warm and buzzing electro and midtempo drums that evolve into a range of growling and snarling voices, washed away by a short lingering melody and then a horny and menacing electro tune that initially sounds like an electric harpsichord, patched with high electronics in the background. Halfway through the composition, the inarticulate metallic voices return, followed by synths à la Vangelis, after a while complemented by dark drum drones, electro wisps, and after the eleventh minute with lingering vocals, a piano-like melody, gurgling synths and dark voices. Impressive. The Final track Filters of Density has dreamy synths and gentle noise, bubbling and fragile. Surely the most experimental track on the album with clock-like drones and buzzing voices, mantra-like and sober.
Be quick, because releases of Onderstroom Records are limited!
Tracklist:
1. Splintered Images of Oz
2. Surrounded
3. Webb-man
4. The Are We
5. Ever Changes
6. Fading me
7. A Chrome Entrance
8. Elegy
9. Up to Now
0. Filters of Density
William LIÉNARD
05/05/2015
---
Achter de naam Twilight Ritual gaat een Belgisch duo schuil. Minimalsynthmeesters Geert Coppens en Peter Bonne waren in de jaren 80 betrokken bij projecten als Autumn en Linear Movement, maar hun eigen werk verscheen alleen op cassette (1982). Nu, meer dan dertig jaar later, zijn hun mysterieuze darksynthpopsongs, clubmuziek en het epische en bijna 14 minuten durende Up to Now dan toch beschikbaar op een wat handigere drager (lp) dankzij de inspanningen van Onderstroom Records. Het album bevat 10 composities.
Splintered Images of Oz bijt de spits af. Lekkere repetitieve en goed klinkende synths met bovenop gitaarachtig getokkel. Jammer van de korte duur. Surrounded begint donker en krijgt na een korte intro een rustig dobberende elektromelodie, bonkende drumgeluiden en vocals, aangevuld met kleine geluidjes en stemmen in de achtergrond: eenvoudig en welluidend. In Webb-man wordt het aantal beats opgedreven. Het is jachtige en gelaagde elektro-instrumental met prachtige keyboards en een strak drumpatroon. They We Are klinkt donkerder en kiest een trager tempo met lage synthsounds en rustige vocals, onderbroken met stemmen, schurende synths en dan opnieuw warme synthgeluiden. Ever Changes gaat op hetzelfde rustige tempo door. De stem zit meer vooraan en weeft een dromerige en ontspannen sfeer door de track. De elektrodrums klinken nadrukkelijk met flarden flinterdunne keyboards bovenop. Mooi welluidend en evenwichtig opgebouwd. Fading Me begint met ijl synthgeluid en donkere drones ter ondersteuning. De stem meandert voorzichtig tussen de drums en de metaalachtige clicks en bouwt opnieuw een dromerige en mijmerende sfeer. Rustig, andante en bedwelmend.
We vergeten uiteraard niet dat het materiaal op een lp is verzameld en dus mag A Chrome Entrance de spits afbijten op kant 2, een korte track met blikachtige elektrodrums. Elegy sluit naadloos aan bij Ever Changes en Fading Me, maar krijgt prachtig echoënde polyfone vocalen, donker elektrodrumgeluid en suizende synths. Zonder meer onze favoriet op deze release! Up To Now duurt zoals eerder vermeld bijna 14 minuten en geldt zowat als het pièce de résistance van dit album. Het begint met warm en zoemend elektro en echoënde midtempo drums die na drie minuten plaatsmaken voor een palet van brommende en grommende stemmen, op hun beurt weggespoeld door een korte slepende zanglijn en dan een hitsige en dreigende elektromelodie die aanvankelijk klinkt als een elektrisch klavecimbel met flarden hoge elektronica op de achtergrond. Halfweg de compositie keren de onverstaanbare metaalachtige stemmen terug, gevolgd door synths à la Vangelis, na anderhalve minuut aangevuld met donkere echoënde drumdrones, slierten elektro en omstreeks de elfde minuut met een slepende zangpartij, een pianoachtige melodielijnen, ruisende synths en donkere stemmen. Indrukwekkend. Filters of Density sluit de lp af met dromerige synths en voorzichtige noise, borrelend en breekbaar. Zowaar de meest experimentele track van het album met klokachtige drones en zoemend gefezel, mantra-achtig en sober.
Wees er snel bij, want de oplagen van Onderstroom Records zijn beperkt!
William LIÉNARD
05/05/2015
---