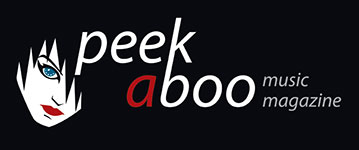 like this vinyl review
---
ADAMENNON/ALTAJ
Split LP
Music
•
Vinyl
Ambient
•
Drone
[75/100]

Boring Machines
26/10/2015, William LIÉNARD
---
Altaj is the ambient/drone project of guitarist Francesco Vara. He uses field recordings, guitars and effects. His Inspiration comes from the Siberian shamanism and the Asian highlands. Adamennon started in 2006 as a black ambient project and a tribute to the French scene of "Les Legions Noires". His sounds are influences by Italian prog music and they are a blend of black metal sonorities from the early nineties and obscure dark ambient, drone and industrial sounds. For this Split LP with Altaj, he was inspired by Asian animism and stories from the nomad populations of Tibet and Mongolia.
But Split LP hardly contains any world music. What you hear are dark industrial tracks, dominated by metallic drones, albeit with a certain semi-ecstatic mood. Manvantara begins the album with rather quiet crackling noise and low buzzing drones, atmospheric and rather cautious, and in the slow Niranyagharba dark monotonous drones are replaced by rapidly advancing whistling drones after hardly half a minute: pure industrial, but never cacophonous. Pralaya gets humming drones and high-pitched drones that sound like the sound of birds, repetitive and monotonous, plus metallic drones and synths that sound like distorted voices, menacing and ominous.
On the B-side Syngaaga begins fairly quiet with the sound of rumbling drones and again high-pitched drones that sound like birds, but also with some silence, a track for sparse spirits in a high country with churning cloud formations and the play of light and dark. Halfway the track is darker, with a continuous flow of brooding and dark drones, a fair amount of bird sounds and gentle noise, again with room for quiet reflection, and resonant drones that sound like human voices: restrained and controlled. The best track of the album. In Teletskoje we hear the influence of Buddhist temples and meditating monks. The drones sound like exotic bells, others like distorted choral chants, with whistling synths underneath and in the background darker and throbbing drones and noise.
To our surprise Split LP sounds surprisingly varied. A must for lovers of the genre.
Tracklist:
A1 Manvantara
A2 Niranyagharba
A3 Pralaya
B1 Syngaaga
B2 Teletskoje
https://www.youtube.com/watch?v=Rjg3ZkYsUtY
https://www.youtube.com/watch?v=0Xkn3OzrvXM
William LIÉNARD
26/10/2015
---
Altaj is het ambient-/droneproject van gitarist Francesco Vara. Hij gebruikt field recordings, gitaren en effecten. Zijn inspiratie komt uit het Siberische sjamanisme en de Aziatische hooglanden. Adamennon begon zijn carrière in 2006 als een blackambientproject en een eerbetoon aan de Franse "Les Legions Noires". Zijn geluiden zijn beïnvloed door de Italiaanse progmuziek en ze zijn een mix van blackmetalklanken uit de vroege jaren negentig en obscure dark ambient, drone en industriële geluiden. Voor deze split met Altaj, liet hij zich inspireren door het Aziatische animisme en verhalen van de nomadische bevolking van Tibet en Mongolië.
Een wereldmuziek-achtige album wordt Split LP desalniettemin niet, want wat u hoort zijn donkere industriële tracks waarin metaalachtige drones overheersen, zij het met een zekere semi-extatische sfeer. Manvantara begint het album vrij rustig met knisperende noise en laag zoemende drones, atmosferisch en eerder afwachtend, maar in het langzaam binnen sijpelde Niranyagharba worden de donkere monotone drones al na anderhalve minuut weggedrukt door snel oprukkende fluitende drones en vervolgens aangevuld met metaalachtige drones in verschillende toonaarden. Pure industrial maar nooit echt kakofonisch. Pralaya krijgt brommende drones en scherpere drones die klinken als het geluid van vogels, repetitief en monotoon, aangevuld met metaalachtige drones en synths die klinken als vervormde stemmen, dreigend en onheilspellend.
Op de B-kant begint Syngaaga vrij rustig, met het geluid van rommelde drones en hoge vogelgeluidachtige drones, maar ook met redelijk wat stilte, een track voor ijle geesten in een hooggelegen landschap met woelende wolkenformaties en het spel van licht en donker. Halfweg wordt de track donkerder, met een aaneengesloten formatie van broeierige en donkere drones, nog redelijk wat vogelgeluiden en voorzichtige noise, met ruimte voor stilte en bezinning en galmende drones die klinken als verwaaide menselijke stemmen: ingehouden en beheerst. De beste track van het album. In Teletskoje klinkt de invloed van boeddhistische tempels en mediterende monniken het best door. De drones klinken als exotische bellen, andere als vervormde koorgezangen, met onderaan fluitend synths en op de achtergrond donkerdere en bonkende drones en noise tussendoor.
Je verwacht het niet van een drone-album, maar Split LP klinkt verrassend gevarieerd. Een aanrader voor de liefhebbers van het genre.
William LIÉNARD
26/10/2015
---
---