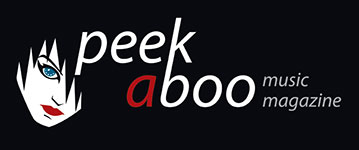 like this movie review
---
JIM MICKLE
Cold in July (FilmFest Ghent 2014)
Movie
Crime
•
Thriller
Filmfest Gent
21/10/2014, Didier BECU
---
Don Johnson at FilmFest Ghent? I never thought that this would happen. Sadly enough, we didn't see Sonny Crockett arriving with his Ferrari at the entrance of Kinepolis, but he was featured in the newest movie by Jim Mickle. Agreed, it sounds less spectacular to say, but it's ace though! Especially because you can say that Cold In July is the revelation of this year in the indiethriller circuit, just like Blue Ruin was last year.
This young American director has caught Michael C. Hall (of course that's Dexter) to take part in this impressive cast. Hall performs a normal housefather who shoots (without wanting it) a burglar. The local police felicitates the man, but once the dad from the crook (Sam Shepard) and sheriff Jim Bob (Don Johnson in an amazing cowboy outfit) show up, things turn out to be totally different.
Saying more about the adaption from this Joe R. Landsdale-book would be a total sin. Mickle knows very well how to make an ingenious thriller and it shows that artists like William Friedkin were his inspiration. The acting is sublime and even if it's hard to understand the mumbling from Don Johnson, you can see what an underrated actor this man is. We love (no we adore!) Miami Vice, but in a honest world there should be more for Don than just that! So yes, Cold In July belongs to the top of 2014 and is an absolute must see!
Didier BECU
21/10/2014
---
Don Johnson op FilmFest Gent? Dat we dat nog mogen meemaken! Neen, jammer genoeg kwam Sonny Crockett niet in levende lijve met een Ferrari op de rode loper afgestormd, maar we zagen hem wel aan het werk in één van de knapste thrillers van dit jaar. Was verleden jaar Blue Ruin de indierevelatie in Gent dan is dat deze keer ongetwijfeld Cold In July: de nieuwe Jim Mickle.
Deze jonge Amerikaanse regisseur kon Michael C. Hall (Dexter, natuurlijk!) strikken voor een heel andere soort rol. Een brave huisvader die plots zonder dat hij het wil een inbreker omver maait. De lokale politie feliciteert hem met de vangst, maar wanneer zowel de vader van de overleden boef (Sam Shepard) als sheriff Jim Bob (Don Johnson in cowboyoutfit) op de proppen komen lijkt het verhaal een heel andere wending te krijgen.
Meer vertellen over deze verfilming van het Joe R. Landsdale-boek zou zonde zijn. Mickle weet perfect wat een goede thriller inhoudt en grijpt graag terug naar de grote voorbeelden uit de jaren 70 en 80. William Friedkin is dus nooit ver weg. De acteerprestaties zijn schitterend en ook al kun je niet altijd het gemompel van Don Johnson begrijpen zet hij alweer een staaltje acteerkunst van de bovenste plank neer. Een film die je in de gaten moet houden als hij in roulatie komt, want Cold In July behoort tot de top van 2014.
Didier BECU
21/10/2014
---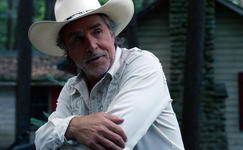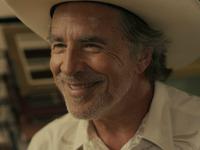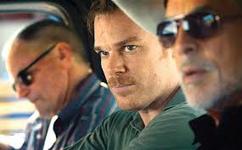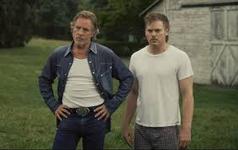 ---