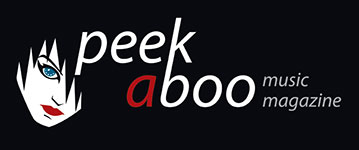 like this tv series review
---
BRAQUO - SEASON 2
Movie
•
TV series
Crime
•
Thriller
•
TV Series
[85/100]

Just Bridge
13/12/2014, William LIÉNARD
---
At the end of season 1, Eddy Caplan and his three-man team were caught red-handed when they tried to liquidate a criminal released by another police department. What they did not know is that the man was bugged. The trap snapped shut and escape was impossible, while they only tried to clear the name of their deceased college Rossi. In the first episode of season 2 we find the incorruptible, but sometimes harsh inspector Eddy Caplan, chain smoker Roxane Delgado and the criminal-looking but good-hearted Walter Morlighem in the backseat of a police car. Their colleague Théo Vachewski managed to escape, but he was wounded by a police sniper and ends up in hospital with a bullet in the shoulder. Caplan takes on all the blame and faces a prison sentence of at least 15 years. Vachewski is eventually fired, Delgado and Morlighem are demoted: she is assigned to the counter of a Paris police department to do the dirty work, and he ends up in the garage of the police station to wash and refuel police cars. Caplan is in prison waiting for his trial, but in the meantime 10 men are killed in a confrontation between two criminal gangs. In the Paris headquarters they have a problem because there is no one who can take care of a case of that magnitude… except, you guessed it: Eddy Caplan.
However, Caplan refuses the assignment. Only when his team mates are released, is he willing to cooperation. By the time he accepts the mission, new dead bodies are found and a man called Gaetan Merks, an ex-mercenary from Angola who was once involved in an coup and seems to have been at the scene of the shooting, is locked up in jail. Eddy Caplan is sent to the prison and instructed to escape with Merks in order to infiltrate into the mob of the ex-commando, a dangerous mission because the criminals involved are professional killers with a strict code of honour and an equally strict hierarchical structure. The plan succeeds, but Caplan finds out that he is caught in a tangle of conflicting interests: during the recent shooting 500 kg of gold was looted of Flemish diamond dealers and the thiefs are looking for a buyer. A former Angolan colonel is prepared to swap the gold for euro's. Caplan asks Roxane Delgado and Walter Morlighem to give him a hand, but Théo Vachewski refuses to collaborate and only comes into action again when Delgado's life appears to be in danger...
Unfortunately, no one in Paris is able to pay for 500 kg of gold in cash and so money of a new robbery is used to pay the Flemings (in fact they only receive half of the original price). Capan and his colleagues have gone quite far in the affair and they try to gather evidence of their innocence. But their old enemy, Attorney Vogel, is of a different opinion and he seeks revenge…
In Braquo - Season 2 the pace is again very high. The series is often called the French version of The Wire and The Shield, not only because it is very violent and dark, but also because new and surprising developments are constantly inserted in the scenario, always with Eddy Caplan and his three police officers in the centre of the action. In season 2 the four of them are cornered and competing police and hierarchical chefs want them to be put behind bars, not so much because of the bad name they gives the French police force, but mainly because of their successes in criminal affairs that seem to be insoluble and their successful infiltrations in environments known as very violent and almost impenetrable. Capan feels responsible for the dire professional and financial situation of his team members, and in season 2 he takes risks that may at any time cost him his life.
Strong Holders of the series are of course the members of the Caplan team lead by Jean- Hugues Anglade as the often brutal but very passionate Eddy Caplan, who is responsible for the intelligent and audacious solutions to seemingly unsolvable situations and who always tries to protecting his team against his superiors and against criminal elements that threaten their safety. Nicolas Duvauchelle assumes the role of Théo Vachewski , the youngest in the team. Joseph Malerba plays the tough guy Walter Morlighem, but appearances are deceptive, because when his wife runs off with his son and daughter, he feels miserable. The female beauty in Braquo is Karole Rocher, but with non-washed hair and leather jacket Roxane Delgado looks more like a rascal than a sexy police woman and that is exactly what this noir series aims at.
William LIÉNARD
13/12/2014
---
Op het einde van seizoen 1 liepen Eddy Caplan en z'n driekoppig team definitief tegen de lamp toen ze een door een andere politieafdeling vrijgelaten crimineel probeerden te liquideren die voorzien was van afluisterapparatuur. De val stond open en ontsnappen was onmogelijk, want de goede naam van hun overleden college Rossi stond al te lang op het spel. In de eerste aflevering zien we de onkreukbare, maar soms hardhandige inspecteur Eddy Caplan, kettingrookster Roxane Delgado en de kale, een beetje als een echte crimineel uitziende, maar goedhartige Walter Morlighem terug in de boevenkar. Hun collega Théo Vachewski is weten te ontsnappen, maar die wordt door een politiescherpschutter met een kogel in de schouder geveld en belandt in het ziekenhuis. Caplan, Delgado en Morlighem draaien de bak in en Caplan, die alle schuld op zich neemt, kijkt aan tegen een gevangenisstraf van minstens 15 jaar, want daarvoor zal procureur Roland Vogel zorgen, de man die de val heeft gezet. Vachewski wordt uiteindelijk ontslagen, Delgado en Morlighem worden gedegradeerd: zij mag aan de balie van een Parijs politiebureau het vuile werk opknappen, hij mag politieauto's wassen en tanken. Caplan wacht in de gevangenis op z'n proces, maar ondertussen zijn tijdens een confrontatie tussen twee criminele bendes 10 mannen omgelegd. In Parijs zitten ze met de handen in het haar, want ze hebben niemand die een zaak met een dergelijke omvang in handen kan nemen… behalve, u raadt het al: Eddy Caplan.
Caplan weigert evenwel om op een voorstel van z'n voormalige bazen in te gaan. Pas als eerherstel voor hemzelf én z'n team beloofd wordt, is hij bereid om z'n medewerking te overwegen. Tegen de tijd dat hij in actie komt zijn in Parijs her en der nog een aantal slachtoffers gevallen en is ene Gaetan Merks in de gevangenis terechtgekomen, een ex-huurling die in Angola ooit betrokken was bij een poging tot staatsgreep, van wie werd aangenomen dat hij de confrontatie met vijandige milities niet had overleefd. Eddy Caplan krijgt de opdracht om met Merks uit de gevangenis te ontsnappen en te infiltreren in het milieu van de ex-commando, een gevaarlijke opdracht, want de betrokken criminelen zijn professionele doders met een strenge erecode en een al even strikte hiërarchische structuur. Gauw merkt Caplan dat hij in een kluwen van tegengestelde belangen terecht is gekomen: blijkbaar is tijdens de recente schietpartij 500 kg goud buit gemaakt van Vlaamse diamantairs en proberen de nieuwe eigenaars, een voormalige Angola-kolonel en z'n manschappen, het goedje om te ruilen voor euro's die ze onder de weduwen van hun overleden collega's willen verdelen. Ze treffen het echter niet met de ev. kopers van de partij goud, want die hebben banden met hún voormalige vijanden in Angola, waarvan sommige leden ondertussen hoge posten bij de Franse inlichtingsdienst en in het politieke milieu bekleden. Caplan roept Roxane Delgado en Walter Morlighem ter hulp, maar Théo Vachewski wil niets meer met de politie te maken hebben en komt pas weer in actie als Delgado's leven in gevaar blijkt te zijn...
Jammer genoeg is niemand in Parijs in staat om 500 kg goud in baargeld te betalen en dus gaan de gedoodverfde kopers op zoek naar vers geld, waarvoor ze zich tot de Vlamingen wenden: die kunnen de helft van hun goud terugkrijgen voor de prijs van de hele partij. Een nieuwe golf van intriges komt op gang en dit keer lopen de contactlijnen tot net voor de deur van de Franse president, een gevaarlijk spelletje waaruit alleen Eddy Caplan nog wijs schijnt te geraken. Bovendien brengt de president van Angola net op dat moment een bezoek aan Parijs, waar hij opgewacht wordt door vijandelijke commando's die destijds het onderspit hebben gedolven en die op wraak azen. Capan en z'n team moeten overuren maken en met het uur slinkt de kans dat ze ooit genoeg bewijsmateriaal verzamelen voor hun eigen onschuld in de affaire. Aartsvijand procureur Vogel is ondertussen op non-actief gezet, maar ook hij zint op wraak en dat is een probleem dat het Caplan-team niet aan ziet komen…
In Braquo – Seizoen 2 ligt het tempo opnieuw heel erg hoog. De serie die vaak het Franse alternatief voor The Wire en The Shield wordt genoemd, is niet alleen zeer gewelddadig en donker, nieuwe en verrassende ontwikkelingen in het scenario zijn voortdurend aan de orde van de dag, altijd met Eddy Caplan en z'n drie politiemedewerkers in het centrum van de actie. In seizoen 2 zit het viertal in het nauw, want het moet zich bewijzen van uit een zeer oncomfortabele positie en bovendien zijn er concurrerende politiediensten én hiërarchische chefs die het Caplan-team met plezier voor altijd achter de tralies willen zien verdwijnen, niet zozeer wegens de slechte naam dat het de politie bezorgt, maar vooral wegens de successen dat het keer op keer boekt in criminele affaires die schijnbaar onoplosbaar zijn of wegens de geslaagde infiltraties in milieus die als zeer gewelddadig en zo goed als ondoordringbaar bekend staan. Omdat hij met de rug tegen de muur staat en zich verantwoordelijk voelt voor de benarde professionele en financiële situatie van z'n teamleden, neemt Eddy Caplan in seizoen 2 risico's die hem op eender welk moment het leven kunnen kosten, want z'n vijanden in eigen kring laten al heel vroeg uitlekken dat hij een infiltrant is, waardoor hij verplicht wordt om z'n criminele broodheren beloftes te doen en garanties te geven die voorlopig buiten z'n invloed liggen, maar waarvoor hij op een later moment een sluitende afspraak met z'n politieoversten hoopt te kunnen maken. Z'n werkomstandigheden zijn m.a.w. weinig rooskleurig, de afloop van z'n onderneming op z'n minst problematisch.
Wie vreesde voor een flauwe remake van seizoen 1 is, moet z'n mening al in de loop van aflevering 1 bijsturen, want de uitgangspositie van het Caplan-team is niet alleen compleet anders, de makers introduceren ook een hele batterij nieuwe gezichten en verleggen de actie van een eerder interne aangelegenheid in seizoen 1, naar een veel ruimer intrige met uitlopers naar Angola en Vlaanderen, waarbij ze er niet voor terugschrikken om de Vlamingen Nederlands te laten praten en te ondertitelen, wat zelden gezien is in een Franse productie. De Brusselaar Vincent Grass (Pallieter, 1975) en de in het Henegouwse Baudour geboren Eric Godon (Matroesjka's, 2005; Flikken – Seizoen 8, 2007) nemen de honneurs waar en ze doen dat met een echte Vlaamse tongval. Interessante nevenrollen zijn er voor Samuel Le Bihan (Brotherhood of the Wolf, 2001) als de onkreukbare inspecteur Gabriel Marceau die in een uitzichtloze situatie besluit dat het Caplan-team de enige troefkaart is, voor François Levantal (Un Long Dimanche de Fiancailles, 2003) als de stugge kolonel die de weduwen van z'n in Angola gevallen medestanders wil vergoeden met de opbrengst van de verkoop van 500 kg van Vlamingen gestolen goud, voor Annie Mercier (Les Femmes du 6ème Etage, 2010) als de bikkelharde joods Madame Arifa die op een listige manier in het bezit probeert te komen van 500 kg goud, voor Martial Bezot (Transporter 3, 2008) als de onmeedogenloze killer Blitch en voor Ludmila Mikaël (Le Tango des Rashevski, 2003) als Irène Bleuvenne, de op wraak beluste directrice van een wapenfabriek, die de president van Angola wil laten vermoorden.
Sterkhouders van de serie zijn uiteraard ook de leden van het Caplan-team met voorop Jean-Hugues Anglade als de vaak brutale, maar zeer gedreven Eddy Caplan, die geen gevaar uit de weg gaat, die intelligente en vermetele oplossingen verzint voor schijnbaar onoplosbare situaties en die te allen tijde z'n teamleden in bescherming neemt tegen z'n hiërarchische oversten en tegen criminele elementen die hun veiligheid bedreigen. Nicolas Duvauchelle kruipt in de huid van Théo Vachewski, de jongste in het team en vaak een beetje een ongeleid projectiel dat meer voor zichzelf opkomt dan voor de groep, maar die door Caplan in crisissituaties handig op de sporen wordt gehouden. Joseph Malerba speelt de stoere bink Walter Morlighem, maar schijn bedriegt, want als z'n vrouw er met z'n zoon en dochter vandoor gaat, wordt z'n heel zachte kant zichtbaar en is hij aandoenlijk. Voor het vrouwelijk schoon in Braquo zorgt Karole Rocher, maar met haar niet-gewassen haren en leren jack is Roxane Delgado eerder een kwajongen dan een sexy politievrouw en dat is precies wat deze noir-serie beoogt.
Enfin, mocht u op zoek zijn naar een vervolg op The Wire en The Shield, dan is er maar één serie die echt in aanmerking komt: Braquo.
Braquo – Seizoen 2/Season 2
Misdaad/Crime
Philippe Haïm & Eric Valette
Frankrijk/France 2011
416 min. – 1.78:1 PAL – Français DD 5.1
Ondertitels/Subtitles: Nederlands
Extra's: -
William LIÉNARD
13/12/2014
---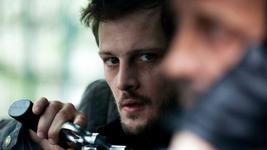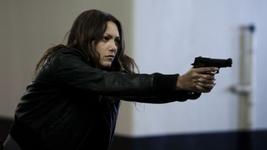 ---