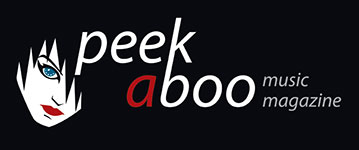 like this tv series review
---
TRUE BLOOD SEASON 7
Movie
•
TV series
Horror
•
TV Series
Warner Home Video
11/12/2014, Didier BECU
---
We already mentioned a few months earlier that the seventh season of True Blood is the definitive end for the adventures of Sookie Stackhouse (Anna Paquin). Harsh words for the fans, but you can't blame the producers for milking out the series, although some find that the quality level dropped with each season. Anyway, that's the opinion of a few individuals, because True Blood, created by Alan Ball (Six Feet Under) and based on The Southern Vampire Mysteries by Charlaine Harris, has been praised by both press and fans as one of the best (if not the best!) vampire series in years.
The vampires live among werewolves and shapeshifters in Bon Temps, a fictional small town in Louisiana. The central figure is Sookie, the handsome waitress with telepathic abilities who had a relationship with vampire Bill Compton (Stephen Moyer). The red line in the last season is the deadly Hep V-virus. This disease makes the vampires in Bon Temps by no means popular, because they murder anyone who crosses their path. The plan of Mayor Sam Merlotte (Sam Trammell ) which states that mortal people should not go on the street without the company of a (good) vampire, has no change to survive. The situation has indeed become more dangerous than ever in Bon Temps. The infected vampires abduct Jane Bode House, Holly Cleary, Arlene Bellefleur, Nicole Wright and Kevin. They detain them in a cellar in Fangtasia. For Tara that will even be fatal as she's killed. All accusing fingers are pointing towards Sookie. Fortunately, there is a solution to erase the virus. Sookie has no rest in this last season, even her love life (because that is also important in True Blood) will once again lead to confusion. She now lives with werewolf Alcide (Joe Manganiello ), but that happiness has a short life.
The seventh season has 10 episodes. It was the intention of the makers to return in the last season to the original roots and forget the many subplots (read soaplike parts). Because this season was a farewell for the cast, all the True Blood-characters have been included, even some from the past. If you do not know it yet, Rutger Hauer also returns in the seventh season.
The seventh season of True Blood is now out on Warner, both on DVD and Blu-ray. Where is that first season so we can start again? Something like that is called addiction!
Didier BECU
11/12/2014
---
We hadden het al een paar maanden eerder vermeld, maar met het zevende seizoen is er definitief een doek gevallen over de avonturen van Sookie Stackhouse (Anna Paquin). Het zijn misschien harde woorden voor de fans, je kan de makers in ieder geval niet verwijten dat ze de reeks nodeloos hebben uitgemolken, ook al vinden sommigen dat het niveau per seizoen is gedaald. Maar goed, dat is de mening van een paar enkelingen, want True Blood, dat is bedacht door Alan Ball (Six Feet Under) en gebaseerd is op Southern Vampire Mysteries van Charlaine Harris, wordt door zowel pers als fans als één van de beste (om niet te zeggen de beste!) vampierreeks sinds jaren beschouwd.
De vampiers leven in deze HBO-reeks, net als de weerwolven en de gedaantewisselaars, in Bon Temps, een fictief stadje in Louisiana. De centrale figuur is Sookie: de knappe serveerster met telepathische gaven die een relatie had met vampier Bill Compton (Stephen Moyer). De rode draad in het laatste seizoen is het dodelijke Hep V-virus. Deze ziekte maakt de vampiers in Bon Temps geenszins populairder, want ze vermoorden iedereen die hun pad kruist. Daardoor heeft het plan van burgemeester Sam Merlotte (Sam Trammell), dat bepaalt dat mensen niet op straat mogen komen zonder het gezelschap van een (goede) vampier, geen kans heeft op slagen. Het is inderdaad gevaarlijker dan ooit in Bon Temps. De geïnfecteerde vampiers ontvoeren Jane Bodehouse, Holly Cleary, Arlene Bellefleur, Nicole Wright en Kevin, die worden vastgehouden in een kelder in Fangtasia. Voor Tara loopt het zelfs fataal af, want zij wordt gedood. Alle beschuldigende vingers wijzen in de richting van Sookie. Gelukkig is er wel een oplossing om het virus de wereld uit te helpen die bij Sarah Newlin (Anna Camp) ligt. Er wordt Sookie geen seconde rust gegund in het laatste seizoen, ook haar liefdesleven (want daar draait het hem in True Blood toch ook om) wordt weeral eens overhoop gegooid. Zij leeft ondertussen met weerwolf Alcide (Joe Manganiello), maar dat geluk is maar van korte duur.
Het zevende seizoen telt 10 afleveringen. Het was de bedoeling van de makers om met het laatste seizoen terug te keren naar het originele uitgangspunt en de subplots (lees soapachtige verwikkelingen) wat achterwege te laten. Omdat dit seizoen ook voor de cast een afscheid van hun geliefde personages betekende (er werd naar verluidt heel wat afgehuild), heeft men True Blood-karakters uit het verleden opgevist. Mocht je het ondertussen nog niet weten, ook Rutger Hauer keert terug in het zevende seizoen. Maar toch, uiteindelijk zijn het mooie woorden die niet meer dan vijgen na Pasen zijn, want wellicht zal niemand fan worden door het zevende seizoen. Zij die dat wel waren (en dat zijn er wereldwijd heel wat!) kunnen de tranen drogen met de gedachte dat de beste vampierreeks ooit een volwaardig slot heeft gekregen.
Het zevende seizoen van True Blood is nu uit op Warner, zowel op dvd als Blu-ray. Waar is dat eerste seizoen zodat we opnieuw kunnen starten? Zoiets noemt men verslaving!
Didier BECU
11/12/2014
---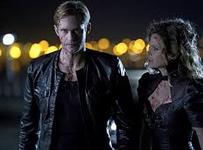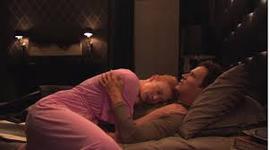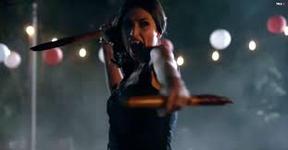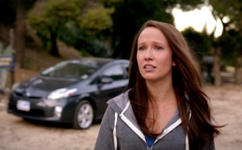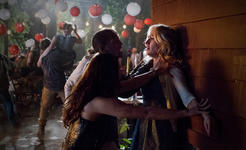 ---