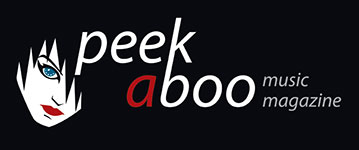 like this concert review
---
PHILIP GLASS
Akhnaten (Antwerpen, Vlaamse Opera, 17/02/2015)
Concert
Classical
•
Minimal
[75/100]

19/02/2015, William LIÉNARD
---
Akhnaten of American composer Philip Glass is perhaps his most prestigious work. It is an opera in three acts with a lot of symphonic music, long and short repetitive fragments on strings and brass, impressive choral passages, surprising tempo changes and gorgeous melodies. What Messiah is for G.F.Haendel and the Johannes Passion for J.S.Bach, is Akhnaten for Philip Glass: the pinnacle of his artistic abilities, the summary of a life full of music, the highlight of his career.
On February, 17, 2015 a large group of performers staged this impressive piece of music for a sold out crowd at the Flemish Opera in Antwerp. We can be brief about the achievement of the orchestra: an excellent performance. The Antwerp Opera House has fantastic acoustics, whereby the deep bass sound of cellos and double basses spreads like a warm glow over the theatre, while flutes, oboes and clarinets have no trouble reaching to the highest seats in the magnificent hall. Moreover, the conductor kept fairly accurate to the score, as he would do when performing a Passion by Bach or a Beethoven symphony.
The choir is very important in Akhnaten and it did a very good job in Antwerp, mostly on stage, sometimes like a distant echo in the backstage of the theatre. The singers in the leading roles were perfect, with an impressive Tim Mead as Akhnaten. The women's choir (the Daughters of Akhnaten) had no more than an small part in the opera, but the performance was visually appealing and the singing was accurate and strong.
That is the good news, because the rest of the show was a little disappointment. For the set design, the Flemish Opera has appealed to the imaginative British director Nigel Lowery (according to the brochure). To be honest: not that much fantasy and/or imagination seem to have been involved in the design of the giant blue-gray structure (that represents the "new town"),which would be more suited for a stage version of Fritz Lang''s Metropolis, and which at least part of the time revolved seemingly purposeless around its axis. For the actors and dancers no more than a narrow strip in front of the structure was available. Of the gigantic Egyptian space and the endless landscape along the Nile - isn't that what we imagine when hearing the name Egypt – nothing remained at the Flemish Opera in Antwerp. Actors and sets were stuck together, leaving little of the grandeur of Pharaoh Akhnaten fairytale royal court. The fact that poet/storyteller Amenthotep, an acceptable role for Geert Van Rampelberg - albeit often barely audible on the balcony - was projected onto a large video screen in black and white, was again, no advantage for the spatial impression of the set design. Minimalist like the music, yes, and repetitive, of course!, but far from the grandeur of Glass' fabulous composition. The stage direction was of the same austerity, but that should not be a surprise, given the limited room for acting. One of the strongest scenes is when the placards, depicting the fallen god, are broken and trampled. While the decor revolves around its axis, two men in German battledress are visible among the crowd. The reference is clear, but do we still need that cliché 80 years after the end of World War II?
Oh yeah, and then there are of course the costumes of Walter Van Beirendonck, discussed endlessly in the Flemish press in the past weeks, and even more than the music and the opera of Philip Glass, for which they are designed. The dresses for the daughters of Akhnaten are absolutely gorgeous: multicolour, lavish and richly decorated and at the same time graceful and appropriate to the court of the 18th dynasty. Akhnaten, Nefertiti, Queen Tye and a number of other leading characters are also wonderfully decorated and the gold-clad choir of Amun priests is quite impressive. For the rest, Mr. Van Beirendonk has clearly had great fun, and perhaps it was not even the intention that he would wonder how it all fits within the Glass concept. Sometimes his design is funny (the mouse, the twins with the giant hand, the spastic woman) and sometimes really gracefully (the sun, the lip). But the man with the inverted soup kettle on his head and the one with the golden helmet in the shape of a fist, they are grotesque. Maybe it is funny, yet it is hardly surprising and bland (if you have to look at it for more than 2 hours). If just for once Mr. Van Beirendonck had done the opposite of what we expect of him, then he would have impressed us in the Vlaamse Opera!
OK, the conclusion: 4.5/5 for the orchestra, the singers and the choir; 2.5/5 for the decor, the direction and costumes. Total: 7.5/10, too little for such a prestigious performance in the biggest opera house of Flanders. If it can not be perfect, a concert version at deSingel would be a better (and less expensive) solution.
William LIÉNARD
19/02/2015
---
Akhnaten van de Amerikaanse componist Philip Glass is misschien wel zijn meest prestigieuze werk. Het is een opera in drie bedrijven met heel veel symfonische muziek, korte en lange repetitieve fragmenten op strijkers en koper, indrukwekkende koorpassages, verrassende tempowisselingen en vooral bloedmooie melodielijnen. Wat Messiah is voor G.F. Haendel en de Johannes-Passion voor J.S. Bach, zou weleens deze Akhnaten voor Philip Glass kunnen zijn, nl. het summum van zijn artistieke kunnen, de samenvatting van een leven vol muziek, het hoogtepunt uit z'n carrière.
In de Vlaamse Opera in Antwerpen trad op 17 februari 2015 een groot gezelschap aan om dit indrukwekkende muziekstuk voor een uitverkochte zaal ten gehore te brengen. Over het orkest kunnen we kort zijn: dat leverde een uitstekende prestatie. Het operagebouw van Antwerpen heeft een fantastische akoestiek, waardoor de diepe tonen van cello's en contrabassen zich als een warme gloed over de zaal verspreidden, terwijl de piccolo's, de fluiten, hobo's en klarinetten geen enkele moeite hadden om tot de hoogste zitjes van de prachtige zaal door te dringen. De dirigent hield zich bovendien vrij nauwkeurig aan de partituur, want voor de hand ligt, want op dezelfde manier zou hij een Passie van Bach of een symfonie van Beethoven uitvoeren.
Het koor neemt in Akhnaten de hoofdmoot van de gezongen fragmenten voor z'n rekening en dat deed het op een voorbeeldige en indrukwekkende manier, soms op het podium, andere keren als een verre echo op de backstage van de toneelruimte. De zangers en zangeressen in de hoofdrollen stonden perfect hun mannetje, met een indrukwekkende Tim Mead als Akhnaten. Het vrouwenkoor (de Dochters van Akhnaten) had in de hele voorstelling niet veel om handen, maar de performance was visueel aantrekkelijk – qua aankleding is er sprake van een perfecte en smaakvolle keuze – terwijl er een sterke zangpartij ten beste werd gegeven.
Tot daar het goede nieuws, want voor de rest was de voorstelling een kleine teleurstelling. Om te beginnen het té sobere decor. Daarvoor had de Vlaamse opera een beroep gedaan op wat in de brochure de fantasierijke Britse theatermaker Nigel Lowery wordt genoemd. Om eerlijk te zijn: van veel fantasie lijkt er niet echt sprake te zijn geweest bij het ontwerpen van de gigantische blauw-grijze constructie die de 'nieuwe stad' moet voorstellen, maar die eerder in een toneelversie van Fritz Langs Metropolis thuishoort, en die regelmatig – en schijnbaar doelloos - een paar rondjes om haar as draaide. Voor de acteurs en dansers bleef er meestal niet veel meer dan een smalle strook vóór het decor om het spektakel op te voeren. Van de gigantische Egyptische ruimte en het eindeloze landschap – zo stellen we ons dat toch voor? – bleef er in de Vlaamse Opera in Antwerpen niets over. Acteurs en decors werden tegen elkaar geplakt, waardoor de grootsheid van farao Akhnaten en z'n koninklijke hofhouding nauwelijks tot z'n recht kwam. Dat dichter/verteller Amenthotep, een acceptabele rol voor Geert Van Rampelberg – overigens vaak nauwelijks verstaanbaar op het balkon - meestentijds in zwart-wit op een groot scherm werd geprojecteerd, kwam de ruimtelijke werking evenmin ten goede. Minimalistisch zoals de muziek, jawel, én repetitief (al dat tollen!), maar dan zonder de grootsheid van Glass' fabelachtige compositie. De toneelregie was trouwens van eenzelfde soberheid, maar gezien de beperkte speelruimte mag dat niet verbazen. Eén van de sterkste scènes is die waarin de plakkaten met de beeltenis van de 'oude' god worden kapotgeslagen en vertrapt. Terwijl het decor nog maar een keer om z'n as draait, blijken er twee mannen in Duitse battle dress tussen de massa te staan. De verwijzing is duidelijk, maar is er nog een groter cliché denkbaar 80 jaar na het einde van de Tweede Wereldoorlog?
Oh ja, en dan is er uiteraard het kostuumontwerp van Walter Van Beirendonck, waar de laatste weken in de media meer om te doen was dan over de muziek van Philip Glass. Zijn toiletten voor de dochters van Akhnaten zijn zondermeer prachtig: veelkleurig, overdadig en rijkelijk versierd en tegelijk gracieus en passend bij de stijl van de 18de dynastie. Akhnaten, Nefertete, koningin Tye en een aantal andere vooraanstaande personages zijn eveneens wondermooi aangekleed en het in goud gehulde koor van Amon-priesters is zonder meer indrukwekkend. Voor de rest heeft Van Beirendonck zich geamuseerd en wellicht was het zelfs niet de bedoeling dat hij zich af zou vragen in hoeverre het allemaal binnen het Glass-concept past. Soms zijn z'n ontwerpen grappig (de muis, de tweeling met de reuzenhand, de spastische vrouw) en soms echt sierlijk (de zon, de lip). Potsierlijk zijn de man met de omgekeerde soepketel op het hoofd en die met de gouden helm in de vorm van een vuist, misschien allebei grappig, maar tegelijk nauwelijks verrassend en flauw (als je er meer dan 2 uur moet tegenaan kijken). Mocht hij voor een keer het omgekeerde hebben gedaan van wat we van hem verwachten, dan had Walter Van Beirendonck in de Vlaamse Opera pas indruk gemaakt!
OK, de afrekening: 4,5/5 voor het orkest, de zangers en het koor; 2.5/5 voor het decor, de regie en de kostuums. Samen: 7,5/10, te weinig voor een opvoering van een dergelijk prestigieus werk in het grootste operahuis van Vlaanderen. Volgende keer graag een concertante versie in de Blauwe Zaal van deSingel!
William LIÉNARD
19/02/2015
---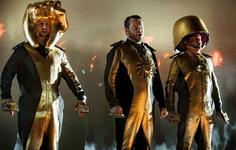 ---