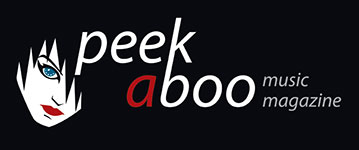 like this tv series review
---
EDGAR REITZ
Die andere Heimat
Movie
•
TV series
Drama
•
TV Series
[83/100]

LumiŤre
29/04/2014, Didier BECU
---
Heimat by Edgar Reitz is probably, along with Berlin Alexanderplatz by Rainer Werner Fassbinder the most prestigious television series that is ever made in Germany. Reitz thought that his successful and highly acclaimed trilogy about the small village Schabbach in the Hunsrück-area would be best ended with a prequel. The first chapter from Heimat starts in 1919, but with this prequel we're turning back to 1842.

We follow the chronicles of a family named Simon in where two brothers Jacob and Gustav and their wives play a central role. Prussia has conquered the land and just introduced the duty to attend school. Jacob (Jan Dieter Schneider) is one of the few inhabitants who can actually read. Everything that he gets his hands on is read by him. One day he finds a very interesting book about the Indians from the Amazon. For him they are the ideal society. He keeps dreaming that he can travel one day to Brazil. In those days it certainly was not an exception that German boys immigrated to South-America as they were in need of experienced farmers and craftsmen. With this in mind, Emperor Peter II from Brazil sent out people to Germany to convince to immigrate to Brazil.


Today it's a very common thing that people seek their luck in other countries, but in the 17th century this automatically meant that it was a definitive farewell as they never would come back. That caused of course a lake of tears and plays a principal part in the 4 hour prequel from Reitz, a director who is one of the key figures of the so called Neuer Deutscher Film-movement.


Maybe it's a coincidence that the universal word "heimat" is a German word, but it definitely has an extra strength here. Heimat is the roots of nationalism, the liaison someone has (or has not) with his country. Somewhere it has a romantic undertone but with all the wars in mind, we know that this could lead to real bloodsheds. You don't see that type of nationalism in Die Andere Heimat, even if the people from Schabbach have understood the message of the French revolution. People revolt against their misery. They don't think it's normal that their children are starving in the cold while the landowners are profiting from their hard labour. Reitz grew up in Hunsrück himself and knows very well how to mix history with romantism. Mind you, you don't have to be aware of German's history to enjoy the beauty of Heimat. Besides, even if those people still have their dreams and ideals, we all know that this nation is on its way to its destruction.

Die andere Heimat is a bit slow. The real star is the excellent black and white-photography, even if we already has the trick in where images of hope get colour seen in Schindler's List by Spielberg. Also watch out for the cameo from Werner Herzog as explorer Alexander von Humboldt.


Die andere Heimat is now out on Lumière, on both DVD and Blu-ray. A tip? You already should be watching!
Didier BECU
29/04/2014
---
Waarschijnlijk is Heimat van Edgar Reitz, naast Berlin Alexanderplatz van Rainer Werner Fassbinder, de meest prestigieuze televisiereeks die ooit door Duitsers is bedacht. Reitz vond dat zijn trilogie over de inwoners van het dorpje Schabbach uit het Hunsrück-laaggebergte waardig moest worden afgesloten met een prequel. Het allereerste deel van Heimat vangt aan in 1919, in deze prequel keren we terug naar 1842.


We volgen het relaas van de familie Simon. Centraal staan de broers Jacob en Gustav en hun respectievelijke vrouwen. Pruisen dat het gebied net had ingelijfd voerde nog maar net de schoolplicht in. Een van de weinige mannen uit het dorp die kan lezen is Jacob (Jan Dieter Schneider). Hij verslindt alles wat in zijn handen komt en op een dag krijgt hij een boek te pakken over de Amazone-indianen. Jakob droomt er luidop van om ooit naar Brazilië te reizen, want voor hem is deze stam een voorbeeld van hoe een ideale samenleving dient te functioneren. Het was in die tijd zeker geen uitzondering dat een Europeaan naar dit oord emigreerde. Keizer Peter II van Brazilië had grote nood aan ervaren landbouwers en bekwame ambachtslieden en stuurde daarom ronselaars naar het Europese vasteland om sukkelaars ervan te overtuigen dat hun toekomst in Zuid-Amerika lag.



Vandaag is het schering en inslag dat een familie naar een ander continent trekt, maar een anderhalf eeuw terug betekende dat meteen ook dat mensen nooit meer zouden terugkomen en hun familie nooit meer zouden terugzien. Dit groot verdriet is één van de hoofdelementen van de bijna vier uur durende film die Reitz heeft gemaakt. Deze cineast is één van de hoofdfiguren van de zogenaamde Neuer Deutscher Film-beweging. Heimat mag zonder meer als zijn juweeltje worden beschouwd.


Het is misschien toeval dat het universele woord "heimat" een Duits woord is. Het is de roots van het nationalisme, de verbondenheid met het eigen land. Het is een eigenschap die de ene mens al weet meer heeft dan de andere, sommige zijn er zelfs bereid voor om er een ander een kopje kleiner voor te maken. Alhoewel Die Andere Heimat ook zijn portie ellende heeft (piepjonge kinderen die sterven van de kou of een rijke baron die plattelandsmensen uitbuit), gaat deze serie niet over nationalisten die een oorlog voeren, ofschoon ze de boodschap van de Franse Revolutie zeer goed hebben begrepen. Reitz die zelf in Hunsrück opgroeide weet op imponerende wijze vaderlandse geschiedenis met romantiek te mengen. Je moet trouwens helemaal niet op de hoogte te zijn van de Duitse historiek, iedereen weet toch dat het om een natie gaat die op weg is naar een allesvernietigende oorlog, maar deze mensen hebben nog steeds hun dromen en vooral, idealen.


Die andere Heimat is een trage reeks. De grote ster is de magnifieke wit-zwartfotografie, ofschoon het procedé waarin beelden met hoop worden ingekleurd zijn afgekeken van Spielberg (Schindler's List). Let trouwens ook op de cameo van Werner Herzog als ontdekkingsreiziger Alexander von Humboldt.


Die andere Heimat is nu uit op Lumière, zowel op dvd als Blu-ray. Een aanrader? U moest al aan het kijken zijn!
Didier BECU
29/04/2014
---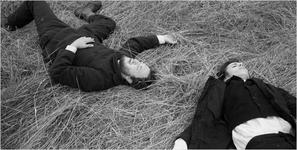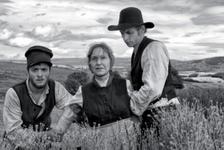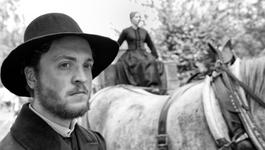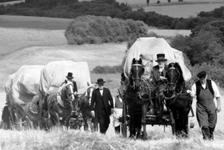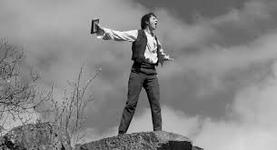 ---