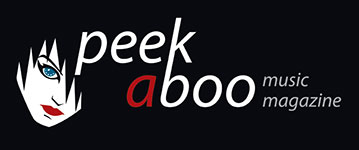 like this cinema review
---
KARIM ANOUIZ
Praia Do Futuro
Movie
•
Cinema
Arthouse
•
Drama
•
Gay
The Match Factory
03/02/2015, Didier BECU
---
Last year, many film critics complained about the fact that the last edition of the prestigious Berliniale had little to offer. However, you always find little gems on every festival and Praia Do Futuro by Karim Ainouz, who previously made Madame Sata and The Silver Cliff, is such a gem. This quirky arthouse film was programmed at the LGBT Pinx-festival in Ghent (Pinx).
The title refers of course to the beautiful Brazilian beach in the early scene of this drama, but the meaning of the Portuguese words play an important role too. A romance on "the beach of the future" arises, but the key question is whether the relationship itself has a future.
The film begins with the uplifting electro beats of Suicide's Ghost Rider. Two bikers have the time of their life, but a few hours later disaster strikes. One of the two is swimming in a dangerous part of the sea and is carried away by the waves. Lifeguard Donato (Wagner Moura) is doing everything to save the young man's life, but it is too late. Konrad (Clemens Schick) collapses mentally and falls (literally and figuratively) in Donato's arms. A tragedy that brings two lovers together, but there is more. Donato likes Konrad, but he is obliged to follow him to the ultramodern Berlin.
There is clearly something happening on two fronts. Cinematographer Ali Olcay Gozcaya has the ability to create beautiful images of both the metropolis Berlin and the exotic Brazilian beach. But of course there is the story itself, that was written by Karim Ainouz and Felipe Braganca. The two not only have to fight against the prejudices of their love, there is also the difference in culture, and especially the fact that Donato has no future in Berlin. And then there is his brother who shows up eight years later at the Alexanderplatz.
Praia Do Futuro is a film with few words. There is no need to, as the emotions and images speak for themselves. When after 90 minutes Heroes by David Bowie blasts out of the speakers, you know that Donato and Konrad are heroes too...
Didier BECU
03/02/2015
---
Vorig jaar klaagden heel wat filmcritici over het feit dat de laatste editie van de prestigieuze Berliniale maar weinig goeds te bieden had. Kleine pareltjes vind je evenwel op ieder festival en Praia Do Futuro van Karim Ainouz, die eerder al opviel met Madame Sata en The Silver Cliff, is er daar ééntje van. Van een cinemarelease is nog geen sprake, wel was deze eigenzinnige arthousefilm op het Gentse holebifilmfestival Pinx geprogrammeerd.
De titel slaat natuurlijk op het prachtige Braziliaanse strand, dat het begindecor van dit drama is, maar ook de betekenis van de Portugese woorden speelt een belangrijke rol. Er ontstaat een romance op "het strand van de toekomst", maar de hamvraag is of de relatie zelf een toekomst heeft.
De film begint met de stomende electrobeats van Ghostrider van Suicide. Twee motocrossers leven zich volop uit in de duinen, maar een paar uur later slaat het noodlot toe. Een van de twee komt in een gevaarlijk gedeelte van de zee terecht en wordt door de golven meegesleurd. Opzichter Donato (Wagner Moura) doet er alles aan om de jongeman te redden, maar het is te laat. Konrad (Clemens Schick) stort mentaal in elkaar en valt (letterlijk en figuurlijk) in Donatos armen. Tragiek die twee geliefden samenbrengt, maar er is meer aan de hand. Donato houdt wel van Konrad, maar wordt verplicht om hem naar het hypermoderne Berlijn te volgen.
Er is duidelijk een wisselwerking op twee fronten. Cinematograaf Ali Olcay Gozcaya kan uitpakken met knappe beelden van zowel de grootstad Berlijn als van het exotische Braziliaanse strand, maar natuurlijk is er ook het verhaal zelf dat door Karim Ainouz en Felipe Braganca is geschreven. De twee moeten niet alleen vechten tegen de vooroordelen i.v.m. hun liefde, ook is er het cultuurverschil en vooral het feit dat Donato geen toekomst heeft in Berlijn. En dan is er nog zijn achtergebleven broer, die acht jaar later op de Alexanderplatz opdaagt.
Praia Do Futuro is een film van weinig woorden. Meer hoeft dat ook niet te zijn, de emoties en beelden spreken voor zich. Alsr na negentig minuten Heroes van David Bowie uit de speakers knalt, weet je dat ook Donato en Konrad helden zijn...
Didier BECU
03/02/2015
---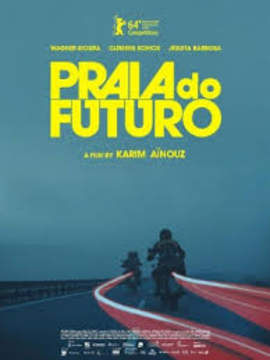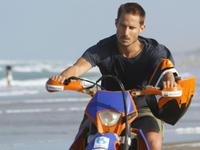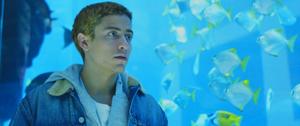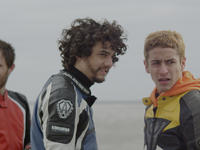 ---