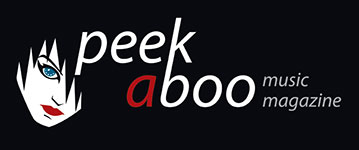 like this concert review
---
KILLING JOKE
Live at Muziek-o-Droom - Hasselt - Belgium 05.12.2016
Concert
Gothic Rock
•
Industrial Rock
•
New wave
[80/100]

11/12/2016, Fred GADGET
---
We have seen Killing Joke many times before, but this time it was a last minute decision as a cold December and Monday night are not the most obvious moments for an hour long drive to see a concert. The fact that Killing Joke plays in our little country almost every year makes it very tempting to say: nah… we will go next time, even when we know that Killing Joke never disappoints. So, after quick check if there were still tickets available at doors, we jumped in the car and raced to the Muziekodroom in Hasselt, respecting the legal speed limits. Upon arrival, the venue was already pretty crowded, but we got the impression that the '100 last tickets available' were never sold. Anyway, we had plenty of time to see the opening band Death Valley High that came to present the new album CVLT (AS FVK). We are not sure if it was the sudden thirsty or the fact that we've heard too many lame Marilyn Manson copies in recent years, but after a few songs we decided to go to the bar. Fortunately, the time passed quickly as Killing Joke gigs are always a sort of meeting of old school 'Die Hards' and friends, people who prefer to share their recent (private) life experience face to face (and not on social media for everyone to see). A lot of people followed our example as a result of the disappointing opening concert. Someone even said that Killing Joke has a patent on bringing bad support band. Perhaps it's a smart tactic to be sure to stand out better without too much effort. But we are straying... meanwhile it was time to return for the Killing joke performance: we chose a tactical position just behind the sound and light mixing tables.

The lights went out and an ominous swelling and electronic sound tapestry filled the hall. Usually a few burning candles are put on the stage during this doomy intro. The stage was packed with instruments, amplifiers and other equipment. When the first shadows moved on stage, the audience started to cheer and shout. Gradually a little bit of coloured light appered in the darkness. And there he was, the charismatic front man and Killing Joke singer Jaz Coleman with his typical scary en fear-inspiring looks and stage poses. 'S.O.36', a song from the very first album 'Killing Joke' (1980) opened the concert with a blast! The previously and only last month recorded live album 'The Great Gathering' suggested that this night was going to be a hell of a party for the fans. While we were still recovering from the strong opening track, Killing Joke decided to throw in its biggest hit ever: "Love Like Blood". Too early, according to some fans, but definitely a smart move because it brought the audience in the right mood after only two songs. An energetic version of 'Eighties' followded. By this time the crowd went crazy!
Unfortunately, this overwhelming good atmosphere was interrupted by 'computer' problems. We had noticed from the start that Jaz Coleman was looking at the keyboard player, but apparently the 'problem' was too much for singer Jaz Coleman. He stopped the concert and headed furiously towards keyboard player Roi Robertson (Mechanical Cabaret) who replaced Reza Udhin (Inertia) on this Killing Joke tour and who was almost invisible for most of the audience due a stack of speakers. The poor man obviously got the full brunt by his chief. Bass player Martin Glover aka Youth tried to distract the audience from this painful incident by making some jokes and excuses like "it's been a long tour for all of us" and just checking our e-mails", and when the audience became restless, he asked not to "put no more pressure on the guys as they try to fix this problem".
Luckily the problem was solved and the discussion closed and the band continued with 'Automous Zone' and 'New Cold War', two tracks taken from the latest and strong studio album 'Pylon', released last year (2015). We know Jaz Coleman likes to make bold political statements and thus he announced the next song of the set as follows: "we have seen on NBC and CNN that Russia wants another war with us... So let's start a 'New Cold War!" The great atmosphere returned and became even more intense when tracks like the majestic 'Exorcism' from the equally majestic album Pandemonium (1994) and the fantastic 'Requiem' for their debute album. These were followed by some older classics like 'Change' and 'Turn to Red', alternated with more recent songs like 'I Am the Virus', according to Jaz dedicated to "the real heroes of our time, Edward Snowden and WikiLeaks founder Julian Assange." 'I Am The Virus' is a very strong song from the lasts album 'Pylon' and in our opinion it was one of the highlights of this concert. Coleman sounded less politicval when he introduced 'Complications' with the following statement: "you know … there is only one thing more depressing than a Sunday morning in the UK … and that is a Monday morning in Belgium". The show passed like a well oiled high speed train when 'Unspeakable,' 'The Wait' and 'Pssyche' were played. Before the band disappeared, frontman Jaz Coleman thanked everyone extensively because this was the last show of this tour. He expressed his gratitude to everyone... but not to the poor keyboardplayer who got yet another public insult, that the audience could not appreciate.
Anyway, its looks like musical heroes can afford more than a mere mortal soul, but after such a blasting performance one tends to be milder. The audience cried and shouted for more and the band came back for a couple of its all-time classics, including a solid ultra tight version of 'Wardance' and an amazing 'Pandemonium', the perfect song to close a perfect night. The band shortly thanked the audience once again and left the stage.
Killing Joke, came, saw and conquered... like it did so many times before!
Fred GADGET
11/12/2016
---
Het was deze keer een lastminutebeslissing aangezien een koude decembermaandagavond niet meteen het meest evidente moment is om meer dan een uur in de auto te zitten om van een concert te gaan genieten. Het feit dat Killing Joke bijna jaarlijks ons landje aandoet maakt het verleidelijk om te zeggen: we gaan volgende keer wel, ware het niet dat we uit ervaring weten dat Killig Joke-concerten haast nooit teleurstellen. Maar hoe meer de uren naar het concert aftelden, hoe groter toch het verlangen werd om deze heren nog eens aan het werk te zien. Dus na even snel gecheckt te hebben of er nog kaarten aan deur beschikbaar waren, sprongen we in de auto en scheurden we, tegen legale snelheden weliswaar, naar de Muziekodroom in Hasselt.
De zaal liep aardig vol, maar naar ons gevoel bleven die zogezegde en aangekondigde laatste 100 kaarten onverkocht. Maar goed, we waren ruim op tijd om het voorprogramma Death Valley High te zien beginnen. het kwam ook zijn een nieuw album CVLT (AS FVK) voorstellen. Was het de plots opkomende dorst of misschien het feit dat we al net iets te veel flauwe Marilyn Manson-afkooksels gehoord en gezien hebben de laatste jaren, maar na enkele nummers bevonden we ons aan de toog van de bar. Gelukkig ging de tijd daar snel voorbij omdat daar Killing Joke-optredens altijd wel een beetje op een meeting van de old school 'Die Hards' lijken die liever hun recente levens face to face uitwisselen dat ze te pas en te onpas te grabbel te gooien op sociale media. En die kwamen met drommen uit de zaal gestroomd tijdens het tegenvallende openingsconcert. Iemand grapte zelfs dat Killing Joke er een patent op heeft om slechte supports mee te brengen. Misschien om er zelf, zonder al te veel moeite, beter uit komen nadien. Goed we dwalen af, het uur was aangebroken om onze posities weer in te nemen, we kozen door de aangename drukte en de tactische positie net achter de geluids- en lichttafel. De lichten doofden waarna een minuten durend, onheilspellend en aanzwellend elektronisch klanktapijt de zaal vulde.
Gewoontegetrouw branden er tijdens die intro hier en daar enkele kaarsen op het podium, dat overigens volgestouwd was met instrumenten, versterkers en andere apparatuur. Tijdens het verschijnen van de eerste schimmen op het podium, begon het publiek meteen te roepen en te juichen en kwam er geleidelijk aan iets meer licht in de duisternis op het podium. En daar stond hij dan, de charismatische Killing Joke-frontman en zanger Jaz Coleman met zijn typische angst inboezemende blik en podiumposes. Killing Joke openende met S.O.36, een song van het aller eerste album 'Killing Joke' uit 1980. Zoals het vorige maand opgenomen en dus persverse live-album 'The Great Gathering'al liet vermoeden, zat er voor de liefhebbers een stevig feestje aan te komen. Men was nog niet bekomen van deze opener of de heren gooiden er meteen hun aller grootste hit ' Love Like Blood' tegen aan! Volgens sommigen iets te vroeg in de set, maar zeker een slimme keuze want na slechts twee knallers waren de fans al goed opgewarmd. En toen het geweldig energieke 'Eighties' door de luisprekers weerklonk, ging het publiek uit zijn bol.
Jammer genoeg werd deze overweldigende ambiance verbroken door computerproblemen. Het was ons al opgevallen dat Jaz al van bij de aanvang van het concert met een dodende blik in de richting van de toetsenist keek, maar tot dan toe zonder duidelijke redenen. Blijkbaar was het 'probleem' voor zanger Jaz Coleman toch te storend en dus legde hij het concert stil en stevende hij af op de bijna aan het zicht onttrokken keyboardspeler Roi Robertson (Mechanical Cabaret) die vaste keyboardspeler Reza Udhin (Inertia) op deze tour moest vervangen. De arme man kreeg duidelijk een hoop verwijten naar het hoofd geslingerd door het opperhoofd. Basspeler Martin Glover aka Youth probeerde de aandacht wat af te leiden van dit pijnlijk voorval door grapjes en excuses te maken zoals 'Het is al een lange tour geweest' en 'eventjes e-mails checken' en toen het publiek wat onrustig werd omdat deze onvoorzien pauze langer duurde dan verwacht, verzocht hij ons om 'niet meer druk te leggen op de jongens'. Gelukkig raakte het euvel toch opgelost en uitgepraat en ging de set strak voort met 'Automous Zone' en 'New Cold War', twee track van het laatste en sterke studioalbum 'Pylon' dat vorig jaar (2015) verscheen.
Jaz Coleman zit niet verlegen om een politieke uitspraak meer of minder en kondigde 'New Cold War' dan ook aan als volgt aan: "We see on NBC and CNN that Russia wants another war with us … So let's start a 'New Cold War!'" De sfeer zat er snel weer in en set vervolgde met het magistrale 'Exorcisme' van het al even magistrale Pandemonium-album uit 1994 en fantastische 'Requiem' van hun debuut album. Dan volgen enkele oude krakers en klassiekers zoals 'Change' en 'Turn To Red', gevolgd door recenter werk zoals 'I Am The Virus', dat volgens Jaz werd opgedragen aan de "echte helden van deze tijd, Edward Snowden en WikiLeaks stichter Julian Assange". Een zeer sterke track en volgens ons ook het hoogtepunt van deze avond (ook op het laatste studioalbum 'Pylon' terug te vinden). Coleman's bindteksten zijn niet altijd politiek getint. Alvorens 'Complications' in te zetten, wist hij ons te vertellen dat "er maar één ding meer deprimerend is dan een zondagmorgen in het Verenigd Koninkrijk en dat is … Een maandagmorgen in België!". In een rot aart denderde de rest van set voorbij met tracks als 'Unspeakable', 'The Wait' en 'Pssyche'. Voor ze in de coulissen verdwenen en omdat dit het laatste optreden van deze tour was, bedankte de frontman iedereen uitvoerig en kreeg de arme toetsenist nogmaals een stevige veeg uit de pan, met het gevolg dat zelf het publiek verontwaardig reageerde op deze toch wel onprofessionele aanpak.
Maar goed, muzikale helden kunnen zich iets meer veroorloven dan een gewone sterveling, zullen we maar denken en bovendien: na zo'n bom van een optreden is men als fan altijd geneigd milder te zijn. Omdat de honger van het publiek eerder aangewakkerd dan gestild was, werd er geroepen om meer. Het verzoek werd ingewilligd en de band keerde terug en gooide er nog enkele knallers tegen aan zoals onder meer een stevige retestrakke versie van 'Wardance' en de immer en nog altijd übergeile afsluiter 'Pandemonium', waarna de handjes in de lucht gingen van de eerste tot de laatste rij …

Killing Joke, kwam zag en overwon… zoals we dat van deze band ondertussen gewoon zijn!
Fred GADGET
11/12/2016
---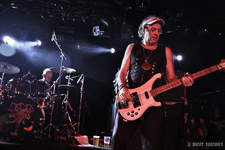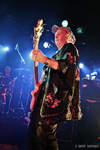 ---