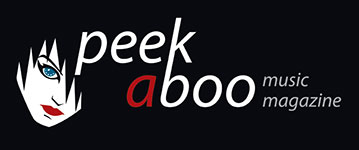 like this tv series review
---
DA VINCI'S DEMONS SEASON 2
Movie
•
TV series
Historical
•
TV Series
E1
09/01/2015, Didier BECU
---
Who ever dared to say that history was boring? In any case, that certainly does not apply to the film and series world that has exploited nearly every historical personage. A dozen years ago, the Italian engineer, artist, inventor and so much more had an unprecedented revival with The Da Vinci Code by Dan Brown and now the prodigy of the renaissance has his own series. However, those who were expecting a true biography of the creator of the Mona Lisa will be disappointed as there are plenty of historical untruths. No, Da Vinci's Demons is pure entertainment, and that is very logical if you know that the author of this adventure series is David S. Goyer who wrote the scenarios of Blade, The Crow, Batman Begins and The Dark Knight. It already starts with Da Vinci himself. In this ten-part series the Italian artist (Tom Riley ) looks like a sex god, which is in contrast with the statue in Florence. You immediately notice that Goyer wanted a very different Da Vinci than the real one. Besides, the Da Vinci in this series looks more like a mixture of Indiana Jones and Sherlock Holmes than the image we normally have of him. No, Da Vinci's Demons is not exactly what you call history.
The Da Vinci that is portrayed here has all the aspects of the homo universalis: the ideal of man according to Renaissance humanists. An ideal tool for the Medici family, because they had to deal with Pope Sixtus IV and his help Girolamo Riario (Blake Ritson), who wanted to incorporate Florence. Da Vinci was an inventor and the canon he invented was a pefect tool for the Medici family against its enemies. A human weapon is Lucrezia Donati (Laura Haddock). Officially, she is the fiancée of Lorenzo de 'Medici (Elliot Cowan), but she regulary ends up in the bed of Da Vinci. And what's more, she is the spy of the pope and Da Vinci is updated in no time when the head of the Vatican comes up with new plans. In the first season we saw how the famous artist was looking for the book of leaves: a book in which a lot of wisdom is stored and is to be found in the Crypt of Heaven, but Count Riario also wants to possess it.
Not everyone will be keen on this BBC series that comes from the creators of Magic City, Boss and Spartacus. The concept is clear: sex and adventure, and very hip (including many, often horrible CGI effects). But those who enjoyed Atlantis (which was historically not very correct either), can try Da Vinci's Demons. The second season is released by E One on both DVD and Blu-ray.
Didier BECU
09/01/2015
---
Wie zei daar ook al weer dat geschiedenis saai was? In ieder geval geldt dat niet voor de film- en seriewereld die tegenwoordig zowat ieder historisch personage uitmelkt. Een tiental jaar geleden leerde iedereen de Italiaanse ingenieur, kunstenaar, uitvinder en nog zo veel meer, kennen dankzij The Da Vinci Code van Dan Brown, een ongekende revival, en nu heeft het wonderkind uit de renaissance zijn eigen serie. Wie zich echter aan een getrouwe biografie van de maker van de Mona Lisa verwacht, is er aan voor de moeite, gewoonweg omdat het nooit de bedoeling is geweest van de makers omdat te doen. Wellicht zullen talloze historici zich onwennig voelen bij het zien van al de geschiedkundige onwaarheden. Neen, Da Vinci's Demons is puur entertainment, en dat is zeer logisch als je weet dat de bedenker van deze avonturenreeks David S. Goyer is, die de scenario's van Blade, The Crow, Batman Begins en The Dark Knight schreef. Het begint al bij Da Vinci zelf. In deze tiendelige serie ziet de Italiaanse kunstenaar (Tom Riley) er als een seksgod uit, maar kijk gewoon eens naar het standbeeld dat in Firenze staat en je merkt meteen dat Goyer een heel andere Da Vinci dan de echte voor ogen had. Trouwens, de Da Vinci in deze serie lijkt meer op een kruising tussen Indiana Jones en Sherlock Holmes dan op het beeld dat wij van hem hebben. Neen jongens, Da Vinci's Demons is geen geschiedenis.
Maar toch, beantwoordt de Da Vinci uit deze reeks aan alle aspecten van de homo universalis: het ideale mensbeeld van de renaissancehumanisten. Ideaal voor de familie de Medici, want zij hadden af te rekenen met paus Sixtus IV en diens hulp Girolamo Riario (Blake Ritson) die Firenze wilde inlijven. Da Vinci was immers ook een uitvinder en het door hem bedachte kanon kwam dan ook goed van pas. Een menselijk wapen is Lucrezia Donati (Laura Haddock). Officieel is zij de verloofde van Lorenzo de' Medici (Elliot Cowan), maar zij belandt ook geregeld tussen de lakens van Da Vinci. En wat meer is, zij is de spionne van de paus en kan Da Vinci op tijd verwittigen als het hoofd van Vaticaanstad met een nieuw plan op de proppen komt. In het eerste seizoen zagen we ook hoe de beroemde kunstenaar op zoek ging naar the book of leaves, een boek waarin zeer veel wijsheden zijn opgeslagen. Dat boek zou in de Crypte van de Hemel te vinden zijn, alleen wil Graaf Riario dat boek ook maar al te graag in zijn handen hebben.
Niet iedereen zal te vinden zijn voor deze BBC-reeks die van de makers van Magic City, Boss en Spartacus is. Het concept is duidelijk: seks en avontuur, en het moet vooral hip zijn (inclusief vele, vaak afschuwelijke CGI-effecten). Maar wie plezier beleefde aan pakweg Atlantis (wat geschiedkundig ook niet al te correct is), kan Da Vinci's Demons eens uitproberen. Wie dat wil, vindt het tweede seizoen vanaf nu in de winkelrekken, het tweede seizoen is immers door E One zowel op dvd als op Blu-ray uitgebracht.
Didier BECU
09/01/2015
---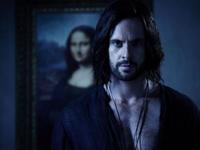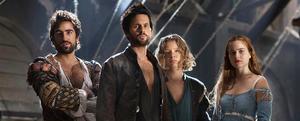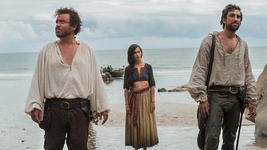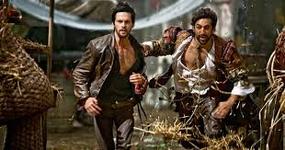 ---