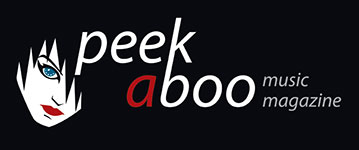 like this digital review
---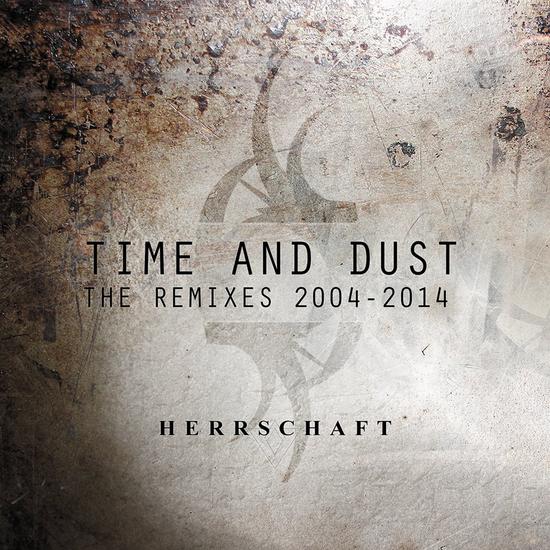 HERRSCHAFT
Time and Dust - The Remixes 2004-2014
Music
•
Digital
Death Metal
•
Electro Rock
•
Heavy Metal
•
Industrial Metal
[97/100]

Self-released
08/01/2015, Filip VAN MUYLEM
---
Herrschaft will finally come to Belgium (Brussels, see coalescaremonium)! Yay! I was happy to review their previous single and full CD, and not so long ago I got this very special one! Time and Dust sounds like a best of France 2014. All kind of genres are passing by: death metal, electro, Industrial and even hiphop! Some tracks are barely recognizable and that is what makes this record so amazing! I can't imagine that this kind of remixing happens so much as on this one and in not more than 23 pieces, each jewels in their genre: so, no fillers and no crap! Of course, if you hate death metal, skip these tracks or if you hate hiphop, well...
For me this was a feast, as I love all different kind of styles andthis way I can listen to new bands and new ideas. I hope they will share this party on stage too! Nice thing is that these are not only people remixing Herrschaft, but as Herrschaft remixing others and that is very much a great thing and a perfect match to keep things interesting! It's also very nice to read all the stories behind the tracks on their Facebook page. So here we go (I keep it short and leave you the soundcloud link, so that you can judge for yourself).
SpineFlesh - Destruktiv Logic (Herrschaft Remix): has a great piano and a classical touch. Sometimes it floates, sometimes its loud. The screaming voice is pretty nicely mixed. it might become a dancefloor hit in this version.
PsychoShop - Spicy (Herrschaft Remix) is a delicious female fronted electro/Industrial/metal track with the perfect catchy sound. It's a very hot track and a must download and play! I absolutely adore the spooky piano. Herrschaft - Human Soul (Tamtrum Remix): is a great electro minded remix, very catchy and perfect for clubland. Aren't you already screaming all along? Start dancing, jumping, shaking, just let yourself go! Herrschaft - Chaostructure (The CNK Orchestral Remix): the name of the remix says it all; add the metal vibe and you get it all! Love the structure and the agressive vocals! Pure adrenaline! Metal fans will absolutely want to download this! Herrschaft - Nemesis (The Temple Of NemesyS Remix): has alos a very interesting paino in it. The tempo is a bit low. Sound wise it's more into electro, with a jazzy undertone and a Marylin Manson & Gary Numan reminding voice. Worth checking out!
Herrschaft - Chaostructure (Digital Puppies PsychoShop Mix): triphop mixed with a screaming voice and metal guitars in the background. It's a pretty strange mix, I'm not sure what to think about it. Sexy Corp_ - Proselytes (Herrschaft [Diezel] Remix) sounds a bit like 32Crash goes metal. It's another great track with a lot of energy and a warm but agressive sound that comes close enough to Rammstein without losing it's originality. Contains great beats/bass too! The CNK - (We Don't Care About) Kommando '96 (Herrschaft Kover): I know that they are pretty close friends, so it's pretty obvious that they would do it someday. It's a great metal anthem, screaming and loud as hell, with lots of energy and hard to stand still whilst you listen to it. Herrschaft - Human Soul (Dexy Corp_FM Remix): is a more drum'n bass and electrofied remix with heavy bass play. Mind your ears, they might start to bleed if you play this too loud. Herrschaft - I Am The One (Arsch DoLLS [Suffocation Of The Forgotten] Mix): death/doom metal with the classical hammering drums and a deep male voice that sometimes sounds like a pig or a big bad wolf shooting with an automatic whilst some heavy guitars are slowly building up the tension.
Herrschaft - Valiant (Vengeance! Mix): more electrofied drum'n bass and techno vibes with a clubland vibe. Somehow I feel like I have heard that little guitar riddle somewhere. Nevermind: it's great stuff! SystR - SuperHeroes (The CNK & Herrschaft Remix): sounds very nostaligic and very catchy, has a great chorus and dito vocals. Another must have with on top fat guitars and a classical touch that enrich the sound even more! P/rn - Love Like War (Herrschaft Remix) is yet another lovely and very catchy track, this time more into electro rock with softer male vocals. Herrschaft - Tesla (Jessy Christ Remix): a screaming but soft track, a bit like Skinny Puppy (if you don't mind the clasical touch and the floating piano: this last one seems to come back in a lot of tracks). Did I hear a harp too? The arabian touch with the female vocals produces a strange touch. Feels like my least favorite track (got a dark bloody feeling after this one). Otargos - Fleshless 2.0 (Herrschaft Remix feat. Jessy Christ): a drak electro rocker with some Nine Inch Nails influences (the voice is harsher, but the music fits). The end is almost extatic with a more metal minded and doomy feeling.
Herrschaft - Über Alles (Zus Remix) sounds very retro wave minded, with a screaming voice and a catchy sound. New Wave lovers might want to listen to it. The french touch is also pretty cool. The sound is very warm and cool. It's pretty hard not to shake your head on it. Die Antwoord - Dis Iz Why I'M Hot (Herrschaftized): yup the hip hop one! Totally not my style, but so funny and catchy. It's hard to stand still on this one and yes, there must be a lot of lovers for this track: catchy electro metal hiphop, yahoo! Herrschaft - The Defenders (Franck Matthieu Remix): again with this piano before exploding and changing into a rock'n roll surfer with 2 screaming voices and a lovely bass. Catchy all the way, baby! Start hopping and dancing! Herrschaft - I Am The One (SyStr Remix): another version of this one. The guitars are hammering, the vocals are great, the beats are tasty: yup! Another clubhitter with a monstruous vibe! Herrschaft - Über Alles (Zus Keygen Remix): electro wave with an old school 80's touch. It's another catchy track with a totally different sound and thus worth it!

Herrschaft - Valiant (Victor Samsa Remix): another way of reconstructing this song; this time with a more floating sound and a touch of Kraftwerk. For retro wave lovers! Totally cool and yet again something totally different of the original! Hersschaft - The Grand Architects (Angel201 Mix): the gunshots are adding a great feeling to this hammering elctro/industrial metal track, giving it the right agressive feel. I'm just not sure if the electro bleeps are ment to be in this song, altough it gives it a totally other vibe. O, yes: there is a piano part in it. Herrschaft - Abyssal wounds (2010 Remix) is already the last track of this very succulent album! Trip hop metal with raging vocals and too much adrenaline making this one very dangerous when you are driving your car (yeah, we get the original Herrschaft vibe in this one). Ouch: the Herrschaft vibe? Yes, they created their own vibe and that means that they built up their own sound and can be proud of it!
I really hope you all give it a shot as I totally loved it! I'm still licking my fingers whilst pushing the repeat function!
Tracklist:
1.SpineFlesh - Destruktiv Logic (Herrschaft Remix) 04:28
2.PsychoShop - Spicy (Herrschaft Remix) 06:09
3.Herrschaft - Human Soul (Tamtrum Remix) 04:10
4.Herrschaft - Chaostructure (The CNK Orchestral Remix) 04:07
5.Herrschaft - Nemesis (The Temple Of NemesyS Remix) 05:09
6.Herrschaft - Chaostructure (Digital Puppies PsychoShop Mix) 04:02
7.Dexy Corp_ - Proselytes (Herrschaft [Diezel] Remix) 03:26
8.The CNK - (We Don't Care About) Kommando '96 (Herrschaft Kover) 04:49
9.Herrschaft - Human Soul (Dexy Corp_FM Remix) 03:31
10.Herrschaft - I Am The One (Arsch DoLLS [Suffocation Of The Forgotten] Mix) 05:59
11.Herrschaft - Valiant (Vengeance! Mix) 04:19
12.SystR - SuperHeroes (The CNK & Herrschaft Remix) 03:36
13.P/rn - Love Like War (Herrschaft Remix) 04:17
14.Herrschaft - Tesla (Jessy Christ Remix) 03:25
15.Otargos - Fleshless 2.0 (Herrschaft Remix feat. Jessy Christ) 05:27
16.Herrschaft - Über Alles (Zus Remix) 05:11
17.Die Antwoord - Dis Iz Why I'M Hot (Herrschaftized) 02:43
18.Herrschaft - The Defenders (Franck Matthieu Remix) 03:52
19.Herrschaft - I Am The One (SyStr Remix) 03:34
20.Herrschaft - Über Alles (Zus Keygen Remix) 04:54
21.Herrschaft - Valiant (Victor Samsa Remix) 05:12
22.Hersschaft - The Grand Architects (Angel201 Mix)
23.Herrschaft - Abyssal wounds (2010 Remix)
https://herrschaft.bandcamp.com/
Filip VAN MUYLEM
08/01/2015
---