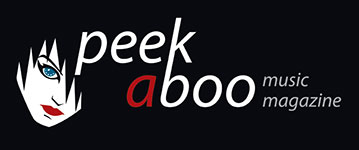 like this tv series review
---
ELEMENTARY SEASON 2
Movie
•
TV series
Detective
•
TV Series
Universal Pictures
08/04/2015, Didier BECU
---
Not everyone will be delighted with Elementary, because in this series, created by Robert Doherty, you meet a Sherlock Holmes at work like you never did before (and perhaps as some never want to see him). Everyone agrees that the creation of Sir Arthur Conan Doyle is in need of modernization. Earlier there were successful movies with Robert Downey Jr. or the BBC series Sherlock with Benedict Cumberbatch, but in this series they go very far. Not only is the detective series set today and does he operate in New York in stead of London, Holmes is also a tormented soul with a severe drug past. Indeed, what would Coyle think of that?
Not that anyone cares, because Elementary scores and the second season is now available on DVD. from the first season we remember how Holmes (Jonny Lee Miller) ended up in the American metropolis. He worked as a consultant at Scotland Yard, but became of his addiction he was sent to New York and start a new life. But that is not the only reason. The detective is a true genius and he thinks that the US crimes are more challenging. His father pays for his trip to the US, but requires from him that he accepts the supervision of Dr. Joan Watson (Lucy Liu). As a former surgeon she is the right person to ensure that the detective stays clean. She manages to do so, and when Holmes notices that she continues to support him when his father no longer pays her, he offers her a job. Just as in the books of Doyle the two are an inseparable duo.
Although the creators have changed the original concept Doyle completely, you can still say that Elementary has some typical Holmes characteristics. Obviously Holmes possesses the gift to unravel the greatest mysteries by deduction, and he only trusts himself. The only one who gets access to his almost impenetrable world, is Watson. His boss Captain Thomas Gregson (Aidan Quinn) honors him for his excellent techniques, but at one stage he describes him as a "pain in the ass." In the second season Sherlock Holmes goes back to his old England and takes Katheryn "Kitty" Winter (Ophelia Lovibond) of MI6 with him. This mysterious woman has a very dark past (she was kidnapped and raped). Not an easy lady, but because of her sleuthing skills, she is an ideal help for Holmes.
Like the first season, the second contains 24 episodes. You really need to be a fervent fan to do binge watching, because despite the nice level, the stories seem to repeat themselves, but they are attractive enough to stay focused for 24 episodes. The second season of Elementary is now out on Universal, only on DVD.
Didier BECU
08/04/2015
---
Niet iedereen zal opgetogen zijn met het opzet van Elementary, want in deze reeks, die werd bedacht door Robert Doherty, zie je een Sherlock Holmes aan het werk zoals je hem nooit zag (en wellicht zoals sommigen hem nooit zullen willen zien). Iedereen is het er wellicht mee eens dat de creatie van Sir Arthur Conan Doyle aan modernisering toe is. Eerder waren er al de succesvolle films met Robert Downey Jr. of de BBC-reeks Sherlock met Benedict Cumberbatch, maar in deze serie gaat men wel zeer ver. Niet alleen speelt de detectiveserie zich vandaag af en werkt hij in New York en niet in Londen, ook is Sherlock Holmes een getormenteerde ziel die een zwaar drugverleden heeft. Inderdaad, wat zou Coyle daar wel van denken?
Niet dat men daar van wakker zal liggen, want Elementary scoort en men is ondertussen al aan het tweede seizoen toe dat vanaf nu op dvd beschikbaar is. Wie het eerste seizoen zag, zal zich wellicht nog herinneren hoe het komt dat Holmes (Jonny Lee Miller) in de Amerikaanse metropool is terechtgekomen. Holmes werkte als adviseur bij Scotland Yard, maar raakte zo aan de drugs verslaafd dat het voor hem beter was om naar New York te verhuizen en daar met een schone lei te beginnen. Dat is echter niet de enige reden. De speurneus is een waar genie en hij vindt dat de Amerikaanse misdaden een grotere uitdaging zijn om op te lossen. Zijn vader zorgt ervoor dat hij naar de VS kan, maar verplicht hem wel om onder het toezicht van Dr. Joan Watson (Lucy Liu) te leven. Als voormalige chirurg is zij de geschikte persoon die ervoor kan zorgen dat de detective van de drugs afblijft. Dat lukt haar aardig, en als Holmes merkt dat zij aan zijn zijde blijft staan als blijkt dat zijn vader haar niet meer betaalt, biedt hij haar een job aan. Net zoals in de boeken van Doyle blijken de twee een onafscheidelijk duo te zijn.
Ofschoon de bedenkers het originele concept van Doyle helemaal onderste boven gooien, kun je toch zeggen dat Elementary typische Holmes-kenmerken heeft. Uiteraard bezit Holmes de gave om door deductie de grootste mysteries te ontrafelen, ook is hij als mens een eenzaat die alleen zichzelf vertrouwt. De enige die toegang krijgt tot zijn bijna ondoordringbaar wereldje, is Watson. Dat merkt ook zijn baas kapitein Thomas Gregson (Aidan Quinn), die hem wel prijst voor zijn excellente speurtechieken, maar hem op een bepaald ogenblik als een "pain in the ass" omschrijft. In het tweede deel keert Sherlock Holmes voor eventjes terug naar zijn oude Engeland en brengt Katheryn "Kitty" Winter (Ophelia Lovibond) van MI6 mee. Deze mysterieuze vrouw heeft een zeer donker en duister verleden (ze is gekidnapt en verkracht). Een gemakkelijke dame is ze niet, maar door haar speurtalent uiterst geschikt om Holmes te helpen.
Net zoals het eerste, telt ook het tweede seizoen 24 afleveringen. Je moet echt een fervente fan zijn om aan bingewatching te doen, want ondanks het leuke niveau, dreigt men wel eens in herhaling te vallen. Erg is dat allemaal niet, omdat de vertolkingen degelijk en de scenario's aantrekkelijk genoeg zijn om 24 afleveringen lang in het gezelschap van de detective en zijn aantrekkelijke partner te vertoeven. Het tweede deel van Elementary is nu uit op Universal, alleen op dvd.
Didier BECU
08/04/2015
---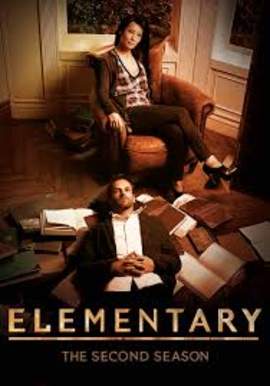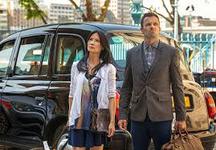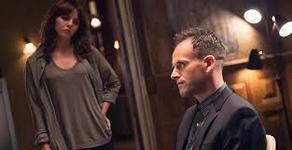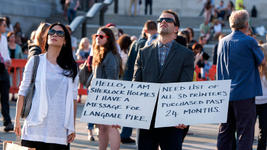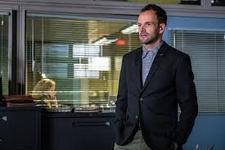 ---