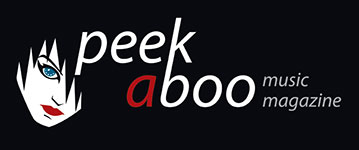 like this cd review
---
DRINKS
Hermits on Holiday
Music
•
CD
Pop
•
Punk
•
Rock
•
Singer Songwriter
[60/100]

Heavenly Recordings
03/09/2015, William LIÉNARD
---
Welsh singer-songwriter Cate Le Bon (Maniac Street Preachers) and American punker Tim Presley (White Fence) have made an album. They call themselves Drinks. Hermits on Holiday is no cooperation, says Cate Le Bon about the album, but a solo project, by which she means that all the tracks are written together and that they are a novelty for both of them. This collaboration is surprising at first sight, because there is an enormous distance between the melodic and warm melodies of the singer-songwriter and the hard-hitting music of the L.A.-punker. Les extremes se touchent, the French say, and in this case that is a great truth.
But Hermits on Holiday is only partially a solo project, because the style of the composition is sometimes too far apart to talk about a harmonious album. It sounds more like a random collection of songs than a finely delineated project. Laying Down the Rock is a good sounding pop song that would do well on an album of The Proclaimers if nice harmonies were added. Focus on the Street sounds like the Belgian entry for the Eurovison Song Contest Rendez-Vous (Pas de Deux, 1983) with a similar provoking and repetitive tune, and only Cannon Mouth is clearly the result of a thoughtful collaboration: a composition, in which the strong vocal work of Le Bon is combined with the musical qualities of Tim Presley.
She Walks so Fast is again of a very different kind: you hear lots of guitars and emphatic drums, with the sparse vocals of Tim Presley on top, rock 'n roll of classic cut, but harmless. Title track Hermits on Holiday sounds like a nursery rhyme, the familiar guitar of Presley serves as a lubricant for the angelic vocals. The best track so far. Split the Beans follows almost seamlessly, although Le Bon's voice sounds higher, a quiet rock ballad with a strong melody and understated guitar accompaniment. Definitely one of the strongest songs on the album. Tim Do I like the Dog is an experimental track with collage-like vocals and a varied guitar sound, supported by a crash of drums. More a musical soundscape than a real song and perhaps the type of material that you would expect more on this album.
Cheerio is again a typical Le Bon composition, magical and dreamy, with the recognizable guitar interventions in the background, distorted and sometimes slightly atonal. A small but well-sounding track. The final song Time Between is a Tim Presley composition, a quiet rock ballad with lingering vocals, abrasive and bell-like guitars and quiet percussion. A nice last track.
Despite the fact that Cate Le Bon and Tim Presley do more on this album than simply play each other's compositions, we are not convinced and that is because a lot of tracks are not strong enough in terms of composition, while the album lacks real innovative ideas. Better luck next time?
Track Listing:
1. Laying Down the Rock
2. Focus on the Street
3. Cannon Mouth
4. She Walks so Fast
5. Hermits on Holiday
6. Spilt the Beans
7. Tim Do I like that Dog
8. Cheerio
9. Time Between

https://www.youtube.com/watch?v=OesLm-b5v50&feature=youtu.be
https://www.youtube.com/watch?v=oDF1JNNc_1k&feature=youtu.be
http://drinksband.bandcamp.com/
William LIÉNARD
03/09/2015
---
De Welshe singer-songwriter Cate Le Bon (Maniac Street Preachers) en de Amerikaanse punker Tim Presley (White Fence) hebben samen een album gemaakt. Ze noemen zich Drinks en het album heet Hermits on Holiday. Geen samenwerking, aldus Cate Le Bon, maar een soloproject, waarmee ze aangeeft dat alle tracks samen zijn geschreven en dat de nieuwe composities voor hen beiden een nieuwigheid zijn. Hun samenwerking is op het eerste gezicht verrassend, want tussen de melodische en warme melodieën van de singer-songwriter en de snoeiharde muziek van de L.A.-punker ligt een hemelsbrede afstand. Les extrèmes se touchent, zeggen de Fransen, en in dit geval is dat een grote waarheid.
Maar Hermits on Holiday klinkt niet echt als een soloproject, want van een echte synergie is er maar gedeeltelijk sprake en de stijl van de composities ligt soms te ver uit elkaar opdat er sprake zou zijn van een harmonieus album. Hermits on Holiday klinkt meer als een toevallige verzameling songs dan als een fijn afgelijnd project. Laying Down the Rock is een goed klinkende popsong die het uitstekend zou doen op een album van The Proclaimers mochten er wat leuke harmonieën aan worden toegevoegd. Focus on the Street klinkt zoals De Belgische inzending Rendez-Vous (Pas de Deux) voor het Eurovisiefestival van 1983, met een gelijksoortig treiterig en repetitief deuntje en in Cannon Mouth hoor je het resultaat van een doordachte samenwerking: een compositie waarin het sterke vocale werk van Le Bon wordt gecombineerd met de muzikale kwaliteiten van Tim Presley.
She Walks so Fast is dan weer van een heel andere soort: u hoort vooral gitaren en nadrukkelijke drums waartussen Tim Presley z'n vocalen perst. Rock 'n roll, indeed, klassiek van snit, maar onschadelijk. Titeltrack Hermits on Holiday klinkt als een aftelversje, krijgt de inmiddels bekende gitaardeun als glijmiddel en ontwikkelt zich in de tweede helft tot een volwaardige popsong met engelachtige vocalen en speelse gitaren. De beste track tot nog toe. Split the Beans sluit bijna naadloos aan, zij het dat Le Bon een octaaf hoger zingt, een rustige rockballade met een stevige melodie en ingehouden gitaarbegeleiding. Beslist één van de sterkste tracks op dit album. Tim Do I like the Dog is experimenteel van karakter, met collageachtige vocalen en gevarieerd gitaargeluid, ondersteund door roffelende drums; eerder een muzikaal soundscape dan een echte song en misschien het soort materiaal dat je meer op dit album had verwacht.
Cheerio is opnieuw een typische Le Bon-compositie, een beetje sprookjesachtig en dromerig, met de herkenbare gitaarinterventies van Presley op de achtergrond, distorted en soms lichtjes atonaal. Een kleine, maar goed klinkende track. Slottrack Time Between is een Tim Presley-compositie, een rustige rockballade met slepende vocalen, schurende en belachtige gitaren en rustige percussie. Een mooie laatste track.
Ondanks het feit dat Cate Le Bon en Tim Presley op dit album meer doen elkaars composities spelen, zijn we niet helemaal overtuigd en dat komt omdat nogal wat tracks niet echt sterk genoeg zijn qua compositie, er sprake is van te weinig vernieuwende ideeën of in het geval van Focus on the Street, een aanpak die 30 jaar geleden misschien voor verontwaardiging zorgde, maar die nu eerder gewoontjes is. Volgende keer beter?
William LIÉNARD
03/09/2015
---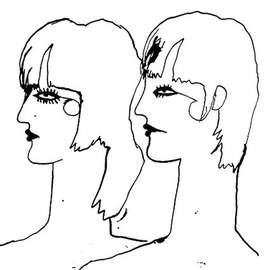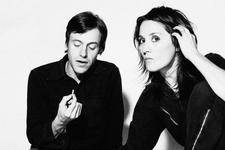 ---