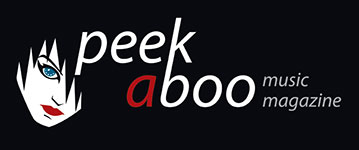 like this cd review
---
MILDREDA
Coward Philosophy
Music
•
CD
Dark Electro
•
EBM
•
Futurepop
•
Harsh
•
Harsh Electro
[94/100]

Alfa-Matrix
09/12/2016, Jurgen BRAECKEVELT
---
Alfa Matrix offers us a a new Belgian gem: the new album by Mildreda. From West Flanders a dark album arrives. As a 16 year old, Jan already composed electronic music, being a devoted fan of The Klinik.

Mildreda died a temporal death. In 2009, a reunion gig resulted in the enthusiasm to make dark electronic music again. The result is Coward Philosophy, a whopper of a disk, containing 13 brand new songs and bonus material from the early days: a remastered version of the tape De Laffe Denker (1996) and a live concert in Bruges in 1998 as the support of Plastic Noise Experience and Terminal Choice. The whole package contains 33 songs.

The impending darkness grabs you from the first song Aborted. A bombastic bone-dry bass gets a classic intro as a companion. After half a minute the number of beats increases and Jan sings with a morbid voice. Erazor follows. The voice is still raw, has the typical progression of a supported rhythm section and some classical elements in the background. Catchy, dark, but still with melodic elements.

This Time starts as if the apocalypse is a fact. You feel the threat, your heart beats faster. There is no eruption, but the melodic rhythm unfolds. We hear some patches of Amgod, there's more distortion in the voice. The track is danceable and requires some volume.

Mildreda regularly played with big names and is able to present all the diversity of styles within one album. Brightside is again melodic and more sophisticated in terms of arrangement (which does not mean that the other songs are not!), The sound of Project Pitchfork peeps in, but it is a Mildreda song. With Anthem of Tomorrow, the style goes more towards Yelworc. The intro is oriental tinted, which again evokes a very different feel in comparison to the previous songs. In terms of melody,Into the Dark Night could be the new Blutengel: danceable electro, but with a distorted voice. Very danceable and a catchy beat! A dancefloor killer in the making? I hope so, because this track deserves it!
Fire fits in the series (then I stop comparing!) of bands like Funker Vogt: hard beats, vocals that come and go, a deep bass drum underneath, danceable from the first to last second. Harsh electro with attitude. How Do We Tell The Kids sounds very alarming as the title suggests. The song is about fear, confusion and suffering, and the song evokes that atmosphere. Flat Earth Theory sounds more spacey, minimalist with an eighties sound in which I recognize the good old new beat. With Stories we make another time jump to 2016: dark hard electro with a contemporary sound, produced with modern equipment. Here, Jan and Gwenny really use everything: harsh elements but melodic, tempo changes, a bombastic atmosphere. Wonderful!
The Parting fits more in the category of harsh electro: the down tempo, the deep beats and the distortion in Jan's voice suggest so many guises that you wonder how he manages to squeeze it all out of one body. Rush is more industrial-like, while Pale Blue Dot tends more toward EBM.
The diversity within the songs is immense. Not a single track sounds the same, all the elements are present on this album: dark beats, rhythhm, harsh electro, EBM, and all equally catchy. Mildreda is back and how!
Jurgen BRAECKEVELT
09/12/2016
---
Alfa Matrix slaat ons om de oren met een nieuw Belgisch pareltje: het nieuwe album van Mildreda. Vanuit het diepe West-Vlaanderen in de koningin der badsteden, bereikt ons een donker album. Jan begon als 16-jarige met elektronische muziek ans fan van bands als The Klinik. Mildreda stierf een tijdelijke dood. In 2009 mondde een reünieoptreden uit in de goesting om weer donkerder elektronische muziek te maken. Het resultaat is Coward Philosophy, een kanjer van een schijf met 13 gloednieuwe songs en bonusmateriaal uit de oerdagen: de remastering van de tape De Laffe Denker (1996) en een liveconcert opgenomen in Brugge (België) in 1998 als voorprogramma van Plastic Noise Experience en Terminal Choice. Het hele pakket is goed voor 33 songs.
De dreigende duisternis pakt je in vanaf song één: Aborted. Een bombastische kurkdroge bas krijgt een klassieke intro als metgezel. Na anderhalve minuut wordt het aantal beats opgedreven en zingt Jan met een morbide stem. Erazor bouwt daarop voort. Het stemgeluid is nog rauwer, het karakteristieke voortschrijden van een ondersteunde ritmesectie en klassieke elementen op de achtergrond. Pakkend, donker, met toch nog melodische elementen.
This Time start alsof de apocalyps een feit is. De dreiging die ervan uitgaat, je hartslag die sneller gaat slaan, terwijl er toch nog geen uitbarsting is, tot het melodieuze ritme zich ontvouwt. We ontwaren flarden Amgod, wat meer oversturing in de stem, en het is vooral dansbaar. Deze track vraagt vooral volume.
Dat Mildreda regelmatig optrad met grote namen en een aantal stichtende voorbeelden had, maar vooral de veelzijdigheid van stijlen binnen één album, het wordt allemaal duidelijk. Bright Side is weer wat afgelijnder, melodieuzer en qua arrangement wat geraffineerder (wat niét wil zeggen dat de andere songs niét mooi en technisch in elkaar zitten!), waardoor de sound van Project Pitchfork in deze wat naderbij komt. Maar het is én blijft een Mildreda-song.
Met Anthem of Tomorrow gaat het qua stijl meer richting Yelworc. De intro is oosters getint, wat alweer een heel ander gevoel oproept dan in de vorige songs. Into the Dark Night zou qua melodie net zo goed de nieuwe Blutengel kunnen zijn: dansbare elektro, maar dan met de overstuurde stem. Heel dansbaar en catchy qua beat, wat stilzitten onmogelijk maakt. Een dancefloorkiller in wording? Ik wens het ze toe want deze track verdient het!
Fire past in hetzelde rijtje en (en dan stop ik met vergelijken!) doet me denken aan bands als Funker Vogt. Snoeiharde beats, vocalen die op én af gaan, diepe basdrum eronder, dansbaar van de eerste tot laatste seconde. Harsh electro met attitude. How Do We Tell The Kids klinkt heel verontrustend als titel. Het nummer gaat ook over angst, en over verwarring en lijden, en dat is ook de sfeer die de song oproept. Een naadloze overgang is het niet: Flat Earth Theory klinkt meer spacy, minimalistischer en heeft een eightiessound, waarin ik de goede oude new beat herken. En hebben we daarop niet stiekem ooit allemaal de beentje gestrekt?! Met Stories maken we opnieuw een tijdsprong naar het jaar des heren (of des duivels...) 2016: donkere harde elektro met een hedendaagse sound, geproducet door hedendaagse apparatuur. Hier halen Jan en Gwenny werkelijk alles uit de kast. Qua opbouw, ondanks de harsh-elementen toch nog melodie, tempowissels, bombastische sfeer. Zalig!
The Parting past dan weer in het rijtje van de harsh electro: donwtempo, diepe beats en distortie in het stemgeluid van Jan dat doorheen het hele album zoveel gedaantes aanneemt dat je je afvraagt of het allemaal uit één lijf kan zijn geperst. Met Rush en zijn meer industrial-getinte klankenspel en wat meer noise en Pale Blue Dot dat weer meer neigt naar EBM, sluit de nieuwe af.
En welk gevoel moeten we hierbij hebben? Dat het enige tijd duurde voor er, na een periode waarin Jan vooral bezig was met Diskonnekted, een nieuwe Mildreda kwam is misschien te betreuren. Die 'misschien' kunnen we schrappen: het had blijkbaar die tijd nodig, want dit is een héél sterke schijf. Het is géén oude wijn in nieuwe zakken, het is geen afkijkwerk en 'pikken' bij de Grote Namen, want dat zijn ze zélf als je dit album beluistert. Jan en Gwenny hebben hier hard aan gewerkt. Dat hoor je, dat voél je, de diversiteit binnen de songs biedt een staalkaart van wat hedendaagse elektro kan bevatten. Géén enkele track klinkt hetzelfde, alle elementen van wat steengoede donkere electro kan zijn, zijn op deze plaat aanwezig: donkere beats, uptempo, harsh electro, EBM, en allemaal even pakkend. Mildreda is terug en zal blijven, want dat verdient deze band!
Jurgen BRAECKEVELT
09/12/2016
---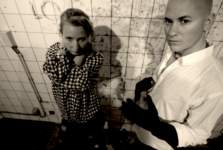 ---