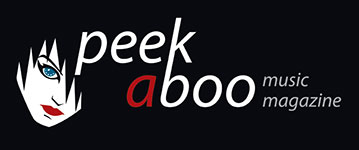 like this movie review
---
ATOM EGOYAN
Devil's Knot
Movie
Drama
•
Thriller
Filmfest Gent
23/10/2014, Didier BECU
---
Almost at the same time that The Captive comes out in the film theatres, Paradiso releases Atom Egoyan's Devil's Knot on DVD. It almost has become a common thing to say if you're reviewing something by this Canadian filmmaker, but once again he chooses a very unusual path and that is not what everybody wants.
Be honest about it. Directing a movie that's been based upon the true story from three American teenage kids who were send to prison is almost like a dream script, not? Egoyan made a whole different portrait about the West Memphis Three as they were called by the media. Despite a star cast (a very good Reese Witherspoon and a Colin Firth like we always know him), Egoyan avoid all the clichés that are so typical for that type of movies. Even in the court room (as a major part of the movie is set there), the Canadian uses a very unusual structure. This leads to a quite confusing story which is hard to follow, but that's not really the point. Egoyan wants to show us how hard it is when someone is judged because of prejudices. Kids who have an interest in Satan without doing anything wrong are nailed to the cross as for the big masses they're humans that deserve no place on this planet. One of the attorneys even asks an accused boy why he's dressed in black, why he can't be normal just like everybody else!
Devil's Knot is surely not the movie that leaves the viewer speechless because of its plot. That's not necessary as a click with the mouse tells you within one minute what really happened. This is all about prejudices and how hard it is to avoid them. No big Hollywoodcinema, but a sad view upon today's society. For that alone, Egoyan has an extra fan!
Technical Specifications:
Genre: Thriller, Drama
Sound DVD: English DTS 5.1, English Dolby Digital 5.1
Subtitles: Dutch
Image: Widescreen 16:9
Didier BECU
23/10/2014
---
Bijna simultaan met de bioscooprelease van The Captive brengt Paradiso ook Atom Egoyan's voorlaatste film Devil's Knot op dvd uit. Het is ondertussen bijna een verplicht nummertje geworden als je een release van deze Canadees wil bespreken, want hij is er wederom in geslaagd om het met deze release bij een heleboel mensen te verknallen.
Want zeg nu zelf, een film die gebaseerd is op waargebeurde feiten waarbij drie onschuldige Amerikaanse tieners de gevangenis worden ingestuurd: zoiets is toch ideaal cinemavoer, niet? Egoyan maakte evenwel een heel ander portret over de West Memphis Three zoals deze drie jongeren door de media worden genoemd. Ondanks een sterrencast (een zeer verdienstelijke Reese Witherspoon en Colin Firth, stoïcijns zoals we hem gewoon zijn) vermijdt Egoyan alle platgetreden clichés uit het genre. Meer zelfs, alhoewel de film zich voor een groot deel in de gerechtszaal afspeelt, gebruikt deze cineast geen enkele keer de structuur die bijna eigen is aan dit soort films. Dat levert weliswaar een misdaadprent op die moeilijk is te volgen, maar daar draait het er hem niet om. Egoyan toont hoe verrot deze maatschappij is en vooral hoe ze zich laat leiden door vooroordelen. Jongens die zich uit pure interesse verdiepen in de satanische wereld worden vals beschuldigd. De advocaat die deze duivelaanbidders in de cel wil doen belanden vraagt hun zelfs luidop waarom ze in het zwart gekleed zijn. Kunnen zij zich niet kleden zoals gewone mensen?
Devil's Knot is zeker niet de film geworden die de kijker met een brok in de keel achterlaat. Dat hoeft ook niet, een klik met de muis en je kent de afloop. Dit gaat over vooroordelen en hoe moeilijk het is om ze te ontlopen. Geen Hollywoodcinema dus voor de grote massa, wel een zeer droeve kijk op de huidige samenleving. Wat dat betreft heeft de Canadees er een fan bij!
Technische gegevens:
Genre: Thriller, Drama
Geluid dvd: Engels DTS 5.1, Engels Dolby Digital 5.1
Ondertitels: Nederlands
Beeld: Widescreen 16:9
Didier BECU
23/10/2014
---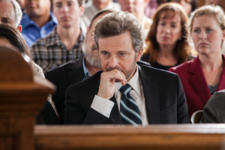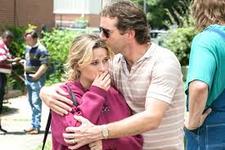 ---