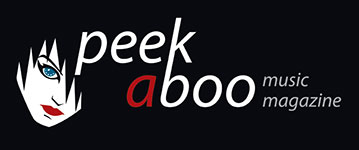 like this tv series review
---
MASTERS OF SEX SEASON 1
Movie
•
TV series
Romantic
•
TV Series
[64/100]

Sony Pictures Releasing
03/09/2014, Didier BECU
---
Please don't tell us that we are dealing with another series that is set in a hospital!, we hear you sigh. Don't panic because Masters Of Sex is totally different from Grey's Anatomy or E.R. The stories might take place in a hospital, but William Master (Michael Sheen) and Virginia Johnson (Lizzly Caplan) have something more exciting to care about then reanimating poor traffic victims. Their name is quite known in the US because those two were one of the pioneers who made sex a science!
We go back to the 50's. In these days everything was quite prudish and all questions concerning the sexual life were as good as nonexistent. At first sight William Master might look holier than the Pope himself, but he was the one who started to investigate sex as a science! The doctor works in the St. Louis-hospital at where he experiments with his human guinea pigs. Volunteers are wired with cables while they having sex, just to see how their body reacts when reaching the climax. Masters is not alone in this investigation. At first he has some serious doubts, but it soon gets clear that the handsome Virginia is his ideal assistant. Masters might pretend he knows everything about it, but who can better a judge a woman than a woman herself? The big question of course is if the doctor will fall for his assistant or not. Because yes, Masters can play the game well in his office, at home he's a Nobody. We won't reveal one spoiler. All we can say is that there are plenty of options left for a second season!
Because of the great 50's-decors you can definitely say that Masters Of Sex has style. And yes, if you really want to know, there are plenty of nude scenes included. Even if the fans from stuff as such are kind of spoiled during the last years, Masters Of Sex is one that puts the sight again a bit higher! The acting is more than decent, especially Lizzy Caplan whom you might know from True Blood and the Boyle-classic 127 Hours could charm us. And no, we're not saying this because of her gorgeous looks (even that it always helps of course!)
The stories are a nice mixture of drama and comedy, even if Masters Of Sex isn't from the same league as House Of Cards or Gomorra (the competition in 2014 was just too big), but still one of the highlights of this year nonetheless.
The first season is made out of 12 episodes and last 50 minutes each. Now out on Sony.
Didier BECU
03/09/2014
---
Toch niet alweer zo'n duffe ziekenhuisreeks horen we je zuchten? Geen nood echter, want Masters Of Sex heeft weinig of niks gemeen met Grey's Anatomy, E.R. of (godbetert) Medisch Centrum West. De serie speelt zich wel grotendeels in de wandelgangen van een hospitaal af, gelukkig houden William Master (Michael Sheen) en Virginia Johnson (Lizzly Caplan) zich met iets meer opwindends bezig dan met het reanimeren van verkeersslachtoffers.
Hun naam heeft in de VS evenveel weerga als in Vlaanderen die van Goedele Liekens, want de twee worden als één van de grondleggers die van seks een wetenschap maakten beschouwd.
We gaan terug naar de jaren 50. In deze tijd ging alles er uiterst preuts aan toe en werden vragen over het seksuele leven angstvallig vermeden. Ook al ziet hij er op het eerste gezicht nog vromer dan de paus uit wil William Master daar verandering in brengen. In het St. Louis-ziekenhuis bond hij allerlei kabeltjes aan zijn proefkonijnen vast waarmee hij wou onderzoeken hoe andere organen tijdens de daad reageren. Hij moet dat onderzoek niet alleen doen. In de eerste episodes twijfelt de seksuoloog nog, maar gaandeweg wordt de knappe Virginia zijn assistente. Masters mag misschien wel pretenderen dat hij er alles over weet, maar wie kent er nu beter de geheimen van een vrouw dan een vrouw zelf? De hamvraag die je natuurlijk de hele serie stelt is of de seksuoloog in de armen van zijn assistente zal vallen of niet. Want jawel, Masters kan het wel allemaal mooi op papier uitleggen, toch bakt hij er thuis niets van. Wij verklappen je geen jota, wel kunnen we stellen dat er genoeg wegen zijn open gehouden om de kijker met een tweede seizoen te trakteren.
Wegens de knappe fifties-decors is Masters Of Sex een uiterst stijlvolle reeks geworden. De makers voelen er zich niet te berooid voor om deze televisieserie met een heleboel blootscènes te voorzien. Ook al zijn we de laatste tijd op televisiegebied al heel wat gewoon is Masters Of Sex er ééntje die de lat alweer een tikkeltje hoger legt. De acteerprestaties zijn van een tamelijk hoog niveau, vooral Lizzy Caplan die al een beetje bekend was door True Blood en de Boyle-klassieker127 Hours. En neen, dat zeggen we niet omdat ze er zo onweerstaanbaar uitziet!
De verhaaltjes bewegen zich tussen drama en komedie en ook al kan de serie niet tippen aan pakweg House Of Cards of Gomorra (de concurrentie is anno 2014 nu eenmaal moordend), is Masters Of Sex toch één van de hoogtepunten op televisievlak.

Het eerste seizoen bestaat uit 12 afleveringen van elk zo'n 50 minuten en uitgebracht door Sony.
Didier BECU
03/09/2014
---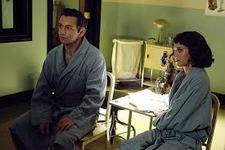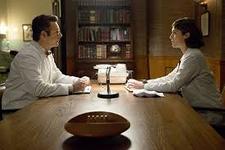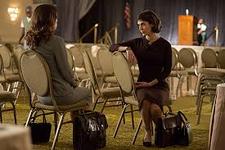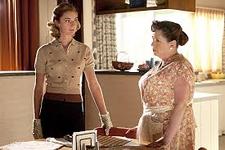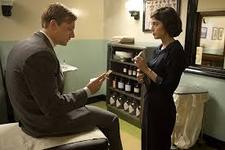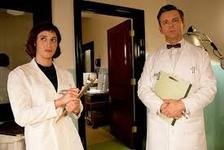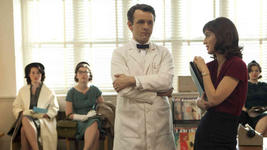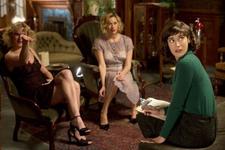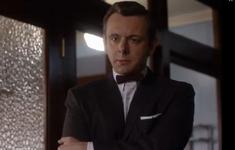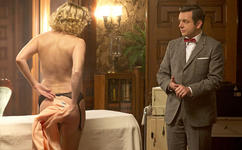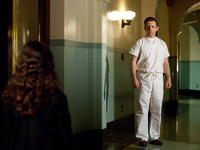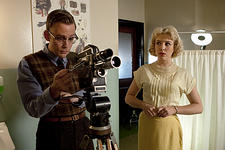 ---