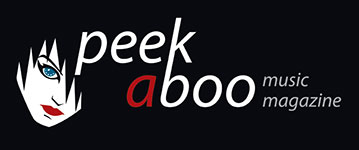 like this cd review
---
GEOMETRIC VISION
Virtual Analog Tears
Music
•
CD
Cold Wave
•
Dark Wave
•
Electro Wave
•
Post Punk
[94/100]

SwissDarkNights
04/08/2015, Pascal VERLOOVE
---
Should the summer months be too hot or too lazy for you, it may be high time to explore the dark side of Naples once more. Getting lost into the catacombs, looking further into your deepest fears, looking for those tears you will never cry, your Virtual Analog Tears…
One fast way to uncover those tears might be to get lost into Geometric Vision's new album, a dark bomb coming from the womb of Naples in Italy, the city you would never have expected to be the nest of so many exciting dark wave bands such as Geometric Vision, Ash Code, Hapax, Dark Door and several others. But, obviously, there is so much more to discover in this city than the nearby ruins of roman cities that were once buried in the ashes of the Vesuvius!
There is indeed an incredibly creative electro / post-punk / dark wave scene that has given birth to some of the most thrilling albums of the last months. Virtual Analog Tears being, obviously, being one of them.
Elegantly dressed in black (there are really no colors around here) this album distills twelve jewels that picture a world made of darkness, fears and anguish, melancholy and regrets. Nonetheless fascinating and yet sometimes danceable. So far away from what you would have expected those three nice guys living in Southern Italy to propose…
Geometric Vision was actually founded a couple of years ago by Ago (on vocals, also playing synthesizers and drum machines) when he asked Roberto (playing guitar) and Gennaro (playing bass) to add some power and intensity to the synthetic melodies he was creating in the loneliness of his room.
Together, they released their first album, Dream, in 2013, and their second opus this year. And the less we can say is that the recipe they created together is one to enjoy with delight.
If you know some of the bands mentioned above, you could easily spot Geometric Vision somewhere between their friends (and Swiss Dark Nights "colleagues") of Hapax, for their black melancholy and coldness of the melodies, and the dark electro-dance wave of Ash Code. Obviously some of the shadows of the eighties cold wave hover around too: sometimes reminiscent of The Cure (period Seventeen Seconds mostly), Sad Lovers and Giants or The Chameleons. Those are references that no one would be ashamed of, and that the three fellows admit and acknowledge as, although they come from different musical backgrounds, their love for the eighties post-punk & and cold wave actually brought them together.
On VAT you can feel how much those guys really work as a band together and how much the bass & the guitar are fundamental to give each song its structure and its soul, even though, in the end, it is Ago's voice that really sculpts the song and give it its ultimate feeling. Starting with the feeling of oppression and fear on Black Heaven, but getting softer and more catchy on Think, then finally nearly relaxed which, mixed with the female backing vocals, give Hills the status of what could have become a "hit single" in times where some teenagers would rather have sold their own grandmother than wear colorful clothes…
Song after song, each tracks develops its own strengths, with a bass line that makes you jump to the dance floor (Panic, Joy), a synth wave that makes you close your eyes and fall into awaken [dark] dreams (In Your Silent Room, Novembre), or with the wailing guitars that give the dark melancholy the sweetest credentials (Think, Another Day Without You).
The title track (Virtual Analog Tears) and its breathtaking Bauhaus-esque intro summarizes in five minutes all the power of Geometric Vision, this fusion of the 1980's romantic despair with shades of 2015 electro sounds which show that GV is not engulfed in nostalgia, but instead keeps what was so good back then and makes it as good, if not even better, today. Discovering this album song by song, you would probably expect this one to mark the end of the journey and it would, indeed, have been a mighty way to end the album but GV did not want to stop here, and there are three more pearls to uncover when you let the CD play.
Then, when a dozen of minutes later, Nenia, a "dance macabre" sung in Italian (never would I have expected a song in Italian to give me goose bumps like that!), beautifully closes the book, you know they were right to choose this one instead. No mistake. No faux-pas.
Virtual Analog Tears could be a reference to some of us crying inside over a world that has gone too far in digital. Would you be missing some concrete objects to touch and feel while (for instance) enjoying the music, you will be spellbound by Elettra Cuivre's artwork for VAT's booklet. Each drawing is a piece of art. Your eyes will be delighted just as much as your ears; did I just say "no faux-pas"?
Should you fall in love with Virtual Analog Tears, the best advice I could give, would be not to stop here and rush to Swiss Dark Nights web site and discover Dream, Geometric Vision's first album that has just been re-issued on CD with some additional live tracks. Enjoy both without limits!
Pascal VERLOOVE
04/08/2015
---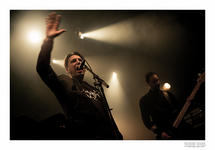 ---