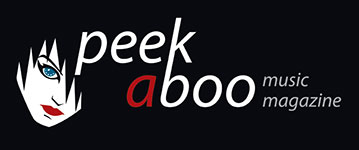 like this cd review
---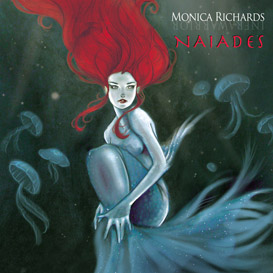 INFRAWARRIOR / MONICA RICHARDS
Naiades
Music
•
CD
Ethereal / Heavenly Voices
•
Folk / Ethnic / Tribal
•
Gothic
[92/100]

Danse Macabre
31/03/2012, Ward DE PRINS
---
Monica Richards latest gift to our scene is Naiades.
According to Greek mythology, Naiades are nymphs that preside fountains, wells, springs, streams, and brooks.

It's not a regular new release but a true Gesamtkunstwerk. Together with a lot of artists, Monica created a fantastic book accompanying the music. It gives you that feeling of discovering new releases 25 years ago. Surrounded by the lovely music you can browse and lose oneself in this beautiful booklet.
In the style of Infra Warrior, we get a nice mixture of electro, tribal, gothic and gothrock. The connection between Woman and Nature remains a prominent theme in Monica's work.
The opener, Naiades, brings us gently in the mood with an atmospheric, ambient like sound. Monica's fantastic voice calls you and makes you wonder in a surreal world. But with the next song she immediate proves her diversity and brings us straight back to earth: Pride is powerful gothrock that remains me of the best Faith & The Muse compositions.
A bit further we listen to more tribal based songs like Scylla & Charybdis, a song purely based on her voice and some percussion, or The Mighty. Both songs could be perfectly on a film score.
All songs are really great and diverse, but two songs touched me immediately.
Lureinlay : Monica's fragile voice melts the glaciers down, accompanied by fantastic classical arrangments.
We Go On: a storytelling about a broken heart, a broken future , gently starting with a desperate voice and some acoustic guitar, but building up to a powerful statement (both music and lyrics), marvelous.
If we may believe the rumors, Monica had to conquer some demons from the past. And interpreting the texts, I guess writing these songs was also a kind of cure for her. Focusing on this compositions and all other facets of the actual release must have taken a lot of time, but must also have given her a lot of joyful moments. Now, it's our time to enjoy Naiades.
If you buy this piece of Art directly from her website, you'll get a signed copy.
After that, you just have to listen to this masterpiece and wait for the accompanying tour.
(Stealing & mixing some of her own lyrics)
No one knows how to love anymore.
But join me in this moment, Let it come. And let it go. We are right here.
But you are my harmer, I can feel your strength
Keep your heart alive, I'm almost there.
You & I will go on.
Ward DE PRINS
31/03/2012
---
Naiades is de laatste boreling van Monica Richards (in de Griekse mythologie zijn Naiades waternymfen. Ze personifieerden en bewaakten alle rivieren, meren, moerassen, fonteinen en bronnen.) Het is geen gewone release geworden maar een echt Gesamtkunstwerk. Samen met een heel deel artiesten creëerde Monica een prachtig boek die de CD begeleidt, omhult. Het geeft me zo een beetje het gevoel dat ik 25 jaren geleden had als ik nieuwe muziek ontdekte. Muziek als een geluidsbehang rond me en snuisteren in de hoezen en inserts om zo meer te ontdekken.
In de stijl van InfraWarrior krijgen we ook hier een mix van electro, tribal, goth & gothrock, waarbij de connectie tussen Vrouw en Natuur ook hier weer een voorname rol speelt.
De opener, Naiades, brengt je rusitg in te sfeer met een atmosferisch, ambient achtig nummer. Monica's prachtige stem spreekt je rechtstreeks aan en doet je verdwalen in een surreële fantasiewereld. Maar met het volgende nummer toont ze ineens haar diversiteit aan en brengt je zo ook terug met beide voeten op de grond: Pride is een krachtig gothrock nummer dat me doet denken aan de stevigere nummers van Faith & The Muse.
Een beetje verderop luisteren we naar meer tribal gebaseerde songs zoals Scylla & Charybdis, dat enkel en alleen op haar stem en enige percussie is gebaseerd, of ook nog The Mighty. Beide songs zouden zo op een soundtrack kunnen staan.
Alle composities zijn prachtig én divers. Twee ervan raakten me vanaf de eerste luisterbeurt onmiddellijk (en intussen een dertigtal luisterbeurten verder blijft dit nog steeds zo. In Lureinlay wordt Monica's fragiele stem begeleidt door een heerlijke klassieke compositie met strijkersn en in We Go On verhaalt ze over een gebroken hart, een gebroken toekomst. Dit laatste nummer start rustig met een haast wanhopige stem en akoestische gitaar, doch bouwt uit tot een powerful statement (muziek & lyrics), heerlijk.
Als we de geruchten mogen geloven heeft Monica het laatste jaar enige demonen moeten verdrijven of overwinnen. Als ik luister naar de teksten, vermoed ik dat het creëren van Naiades ook een methodiek was om deze overwinning te boeken. Het focussen op deze composities en alle facetten van het hele traject om deze release te voltooien moet haar ontzetten veel tij hebben gekost, maar allicht ook veel vreugdevolle momenten hebben gegeven. En nu is het onze beurt om te genieten van Naiades.
Trouwens, als je dit kunstwerk rechtstreeks via haar website koopt, krijg je Naiades gesigneerd in je postbus !
En daarna is het enkel nog wachten op de tournee die deze CD release mag begeleiden…
(Brutaal als ik ben heb ik enkele van haar lyrics gestolen en terug samengesteld)
No one knows how to love anymore.
But join me in this moment, Let it come. And let it go. We are right here.
But you are my harmer, I can feel your strength
Keep your heart alive, I'm almost there.
You & I will go on.
Ward DE PRINS
31/03/2012
---