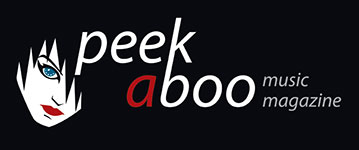 like this movie review
---
STEVEN SODERBERGH
Behind The Candelabra
Movie
Biography
•
Drama
[78/100]

Dutch FilmWorks
11/12/2013, Didier BECU
---
Steven Soderbergh is not the greatest director in today's American cinema, but he's definitely one of the most original ones. He really tried everything out you can imagine, even if the success wasn't always at the same level. If money is the factor then you can say Ocean's Eleven was a godsend, but for his career it felt more like a curse. From then on the producers were expecting that his forthcoming movies would gain as much money as the heist-trilogy brought in. This surely wasn't the case and Hollywood understood that it had lost its golden child. Soderbergh could convince critics with pictures like Magic Mike or Haywire, but the public stayed home. With big consequences as Soderbergh stood before shut doors when he was revealing his latest project. Not only there was the personal disaster from leading actor Michael Douglas who had to start a battle against throat cancer which made assurance companies ringing the alarm bell, there was also the hard fact that the studios considered his new project as too gay.
Not one studio was interested in the filming of the biography of the flamboyant Wladziu Valentino Liberace (1919-1987). At the end of the day Soderbergh succeeded in convincing HBO. The television company gave its green light, with one condition though: the film should be having its premiere on television in the US. So all by all by all it's rather painful noticing that one of the best pictures of 2013 is a sort of television movie! In Europe it was a different matter. As critics were praising the newest Soderbergh-movie in Cannes, the producers decided to show the picture in Europe in the theatres. Soderbergh couldn't care less. He was so disappointed that he already said goodbye to the movies.
Over here Liberace is a lesser god, but in Las Vegas he was during the 70's the ultimate star. Due to his glamorous clothes he made it to any cover of every magazine. His foxdress alone is estimated to have a worth of 300.000 dollars! He had a silver piano. Also in private, Liberace was nothing but stardom. Everyone knew that he was gay, but the singer always hided his sexual preferences. The extravagant pianist was fond of blond guys. One of his lovers used to be Scott Thorson. It's on his book Behind The Candelabra: My Life with Liberace the movie is based upon.
Already during Traffic Douglas told Soderbergh that he found himself the ideal person to perform Liberace. The director didn't put that many attention to his words, but decades later it seemed like the husband from Catherina-Zeta Jones was absolutely right. His performance as Liberace could be the best one from Douglas ever. Michael Douglas is just Liberace, an incredible tour de force from the now 68-year old actor. The same can be said about Matt Damon. Even those who dislike the actor must confess that Damon is doing a splendid job. And that counts for Rob Lowe as the plastic (butt hilarious) surgeon as well.
On this Blu-ray you get as bonus the 15 minutes long documentary The Making Of Behind The Candelabra. Perhaps a bad title as this short feature shows you more than the usual peep behind the scenes. You see some archive footages from the real Liberace that shows you how resembling Douglas is with him. There's also some info about the Liberace Foundation, the fanclub that takes care of his longings. At the end you end up thinking: Liberace was insane, but what a genius as well!
Behind The Candelabra is one of the highlights of 2013. The movie is out on both Blu-ray and DVD on Dutch Filmworks. To quote Matt Damon: wow!!!!
Didier BECU
11/12/2013
---
Steven Soderbergh is misschien niet de grootste cineast uit de hedendaagse Amerikaanse cinema, wel zonder twijfel één van de origineelste. Hij heeft zo wat alles geprobeerd wat maar uit te proberen valt, weliswaar met afwisselend succes. Ocean's Eleven was financieel bekeken misschien wel een zegen, voor zijn carrière was het eerder een vloek. Vanaf dan wilden de studiobonzen immers dat zijn opvolgers evenveel geld zouden binnenrijven als de kraaktrilogie, helaas bleek dat niet het geval. Met films als Magic Mike of Haywire kon Soderbergh wel critici paaien, toch besefte Hollywood dat ze haar gouden haantje kwijt was. Met grote gevolgen, want toen Soderbergh aanklopte met zijn nieuwste project kreeg hij het deksel op de neus. Niet alleen raakte op dat moment bekend dat hoofdrolspeler Michael Douglas een gevecht tegen keelkanker moest aangaan waardoor de verzekeringsmaatschappijen alarm sloegen, ook vonden de studio's het verhaal veel te nichterig.

Geen enkele studio zag het zitten om geld te steken in het levensverhaal van de flamboyante Wladziu Valentino Liberace (1919-1987). Ten einde raad trok Soderbergh naar de televisiezender HBO die hem wel groen licht gaf.De studio stelde evenwel een voorwaarde: de film zou in de VS op televisie in première moeten gaan. Het is dan ook pijnlijk om vast te stellen dat één van de beste prenten van het afgelopen jaar uiteindelijk maar een soort van televisiefilm is geworden. Ten minste in de VS, gelukkig merkten Europese critici de prent wel op. Wegens de lovende woorden op Cannes werd dan ook besloten om Behind The Candelabra in Europa wel in de bioscoopzalen te vertonen. Soderbergh zelf kon het al lang geen moer meer schelen, want de cineast had inmiddels al zijn afscheid aan de filmwereld had aangekondigd.

Bij ons is Liberace een minder bekende god, maar in Las Vegas was hij tijdens de jaren 70 de ultieme ster. De pianist haalde alle voorpagina's door zijn overdreven kitschkledij, zo wordt de waarde van zijn vossenjasje op zo'n 300.000 dollar geschat. Hij liet bijv. zijn piano verzilveren en ook privé was hij een onverbeterlijke ijdeltuit. Iedereen wist wel dat Liberace in feite homo was, toch hield de ster tot aan zijn dood zijn seksuele voorkeur angstvallig geheim. De extravagante pianist had een voorliefde voor mooie blonde jongens. Een van zijn adonissen was Scott Thorson. Het is op zijn boek Behind The Candelabra: My Life with Liberace dat deze film is gebaseerd.

Al van tijdens de opnames van Traffic vertelde Douglas aan Soderbergh dat hij zichzelf de ideale persoon vond om Liberace te vertolken. De cineast hechtte destijds maar weinig belang aan Michaels woorden, toch lijkt de echtgenoot van Catherina-Zeta Jones decennia later groot gelijk te hebben: de rol van Liberace zou namelijk wel eens Douglas beste vertolking ooit kunnen zijn! Je hebt geen seconde het gevoel dat je naar Douglas kijkt. Michael Douglas is gewoon Liberace, een fenomenale tour de force van de nu 68-jarige acteur. Datzelfde geldt ook voor Matt Damon die de rol van Scott op zich neemt. Zelfs de grootste tegenstander van Damon zal met knarsende tanden moeten toegeven dat hij op een fenomenaal hoog niveau acteert, net zoals Rob Lowe overigens die als plastische (zeg maar hilarische) chirurg tevens overtuigt
Op deze Blu-ray krijg je ook nog een leuke extra. Eerlijkheidshalve is de naam The Making Of Behind The Candelabra wat verkeerd gekozen. Ofschoon deze extra slechts een vijftiental minuten duurt, valt er namelijk heel wat meer te zien dan het gewone kijkje achter de schermen. Er zijn een aantal beelden over de echte Liberace in deze bonus waardoor het opvalt hoe sterk de gelijkenis tussen hem en Douglas wel is. Voorts kom je ook het en ander te weten over de Liberace Foundation, de fanclub die erover waakt dat alle bezittingen van Liberace mooi ongeschonden blijven. Op het einde blijft maar één gedachte overeind: Liberace was een krankzinnige (briljante)gek.

Behind The Candelabra is één van de hoogtepunten uit 2013 en is nu uit op Blu-ray en dvd. In de Benelux vind je die via Dutch Filmworks.
Didier BECU
11/12/2013
---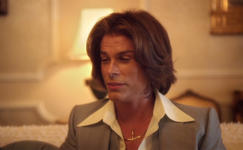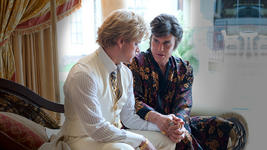 ---