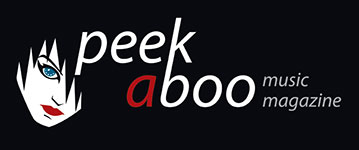 like this tv series review
---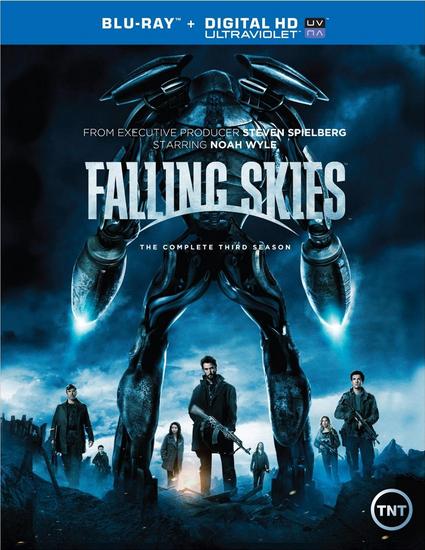 FALLING SKIES SEASON 3
Movie
•
TV series
Science Fiction
•
TV Series
Warner Home Video
07/12/2014, Didier BECU
---
For more than a year now Peek- A-Boo follows what is happening in the world of film and TV series. One of the first series we reviewed was Falling Skies, the hit series of the TNT-channel which you may see as the science fiction version of The Walking Dead. The handful survivors (they call themselves the Second Massachusetts, abbreviated: the 2nd Mass) are not on the run for bloodthirsty zombies, but for aliens who have completely destroyed the world. There are the Mechs (mechanical drones), Skitters (green monsters with six legs) and the Overlords (also known as the Espheni, who are using harnesses to control both people and Skitters; they also invented the Mechs). The Skitters have as much reason as the humans to hate the Overlords, because they enslaved them. If two kinds of aliens aren't enough, then there is still a third one: the Volm. This species were attacked by the Espheni and their planet was destroyed, since then they live in space ships. The leader of the Volm (Cochise)proposes the human race to fight together. But can people trust aliens?
Yes, there are still some humans involved in this series. Those who saw the second season, will probably remember that the 2nd Mass reached Charleston (a town in South Carolina that is now the new capital of the United States). Tom Mason (Noah Wyle) became the new president, in better times he was a professor in history at Boston University.
Things are going better with Hal Mason (Drew Roy). He is paralyzed, but the parasite that is injected in his body by the aliens is removed. The parasite came in his body through a kiss of his former lover Karen (Jessy Schram) who choose the side of the Overlords. And then of course there is John Pope (Colin Cunningham), who was once a prisoner of the 2nd Mass, but who gained himself a place in the group after helping Tom during an attack of the Mechs. Pope amuses himself in Charleston, just like Dan Weaver (Will Patton), who has become colonel. Everything seems quiet in Charleston, but this will quickly change in the next 10 episodes.
In all fairness, we are surprised that Falling Skies is not better known over here. It is rare in a series that the special effects equal that of a blockbuster, but in this Spielberg-production they certainly do. There's plenty of action, the performances are quite nice and the storylines are interesting enough to follow everything with enthusiasm. Falling Skies is obviously an American product (what happens with the rest of the world is less important). For the rest, we aren't complaining, because Falling Skies is one of the best science fiction series 2014 has to offer.
The third season of Falling Skies is now out on Warner, both on DVD and Blu-ray.
Didier BECU
07/12/2014
---
Ondertussen volgen we op Peek-A-Boo al meer dan een jaar het reilen en zeilen van alles wat er zich in de film- en seriewereld afspeelt. Een van de allereerste series die we bespraken was Falling Skies, de hitserie van de TNT-zender, die je eigenlijk gerust als de sciencefiction-versie van The Walking Dead mag beschouwen. Het handjevol overlevenden (ze noemen zichzelf de Second Massachusetts, afgekort de 2nd Mass) zijn niet op de loop voor bloeddorstige zombies, wel voor aliens die de wereld bijna volledig hebben vernietigd. Er zijn de Mechs (mechanische drones), Skitters (groene monsters met zes poten) en de Overlords (ook bekend als de Espheni, die harnassen gebruiken om zowel mensen als skitters te controleren, en die ook de Mechs hebben uitgevonden). De Skitters hebben even veel reden als de mensen om de Overlords te haten, want zij worden door hun als slaven gebruikt. En tja, mocht u niet genoeg hebben aan twee soorten uit de ruimte, is er ook nog en derde in het spel: de Volm. Deze soort is door de Espheni aangevallen waardoor hun planeet is vernietigd. Sindsdien leven ze in ruimteschepen. De leider van de Volm (Cochise) stelt de mensheid voor om zij aan zij te vechten. Maar kunnen mensen aliens wel vertrouwen?
Want jawel, het zijn er niet bijster veel, maar in deze serie lopen er ook nog mensen rond. Wie het tweede seizoen zag, zal zich wellicht herinneren dat de 2nd Mass in Charleston (een stad in Zuid-Carolina die nu dienst doet als de nieuwe hoofdstad van de Verenigde Staten) is geraakt. Tom Mason (Noah Wyle) is de nieu­we pre­si­dent, die in betere tijden gewoon geschiedenis doceerde aan de universiteit van Boston.
Met Hal Mason (Drew Roy) gaat het beter. Hij is nog altijdl verlamd, maar men is erin geslaagd om de parasiet uit zijn lichaam te halen die hem door de buitenaardse wezens was geïnjecteerd via een kus van zijn vroegere geliefde Karen (Jessy Schram) die de kant van de Overlords koos. En dan is er natuurlijk nog John Pope (Colin Cunningham) die een tijdje de gevangene was van de 2nd Mass, maar sinds hij Tom hielp om een aanval van de Mechs af te slaan heeft hij een vaste plek in de groep gekregen. Pope amuseert zich goed in Charleston, net als Dan Weaver (Will Patton), die ondertussen kolonel is geworden. Alles lijkt rustig in Charleston, maar dat zal natuurlijk in de komende 10 episodes snel veranderen.
Eerlijkheidshalve zijn we er een beetje verbaasd over dat Falling Skies geen grotere bekendheid heeft. Het gebeurt maar zelden in een serie dat de special effects die van een blockbuster evenaren, en dat is in deze Spielberg-productie zeker het geval. Er is voldoende actie, de vertolkingen zijn best aardig en ook de verhaallijnen zijn interessant genoeg om deze tien afleveringen met het nodige enthousiasme uit te zitten. Falling Skies is natuurlijk wel op en top Amerikaans (wat er met de rest van de wereld gebeurt is dus van ondergeschikt belang). Maar goed, we zullen dat maar als een bijzaak beschouwen. Voor de rest hoor je ons niet klagen, want Falling Skies behoort tot het beste wat 2014 qua sciencefictionreeksen te bieden heeft.
Het derde seizoen van Falling Skies is nu uit op Warner, zowel op dvd als Blu-ray.
Didier BECU
07/12/2014
---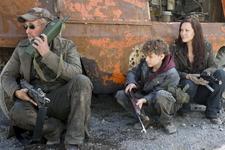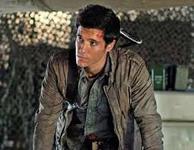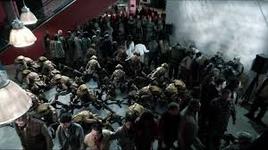 ---