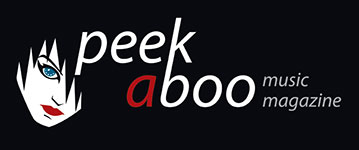 like this cd review
---
KISSING PARTY
Looking Back it was Romantic but at the Time I was Suffocating
Music
•
CD
Alternative Rock
•
Glamrock
•
Indie Rock
•
Rock
[80/100]

Hot Congress Records
06/12/2015, William LIÉNARD
---
Kissing Party is a band from Denver (USA). In 2006, the debut album Hold Your Hour and Have Another was released. Meanwhile we received a copy of the band's fifth album Looking Back it was Romantic but at the Time I was Suffocating, released by Hot Congress Records. It contains 15 short compositions about love, peace and reflection. They are well-crafted little powerhouses of pop music that even the most cynical and jaded music fan can love, the Denver Post reported following the release of the album, and that's enough to make us curious!
The least you can say about Looking Back Romantic but it was at the Time I was Suffocating is that it is a very diverse album, caught between rock, punk and pop. The intros are very original and the punkish songs are played on guitars and drums. In Tomorrow and Tomorrow and Tomorrow we hear the soft voice of Deirdre Sage, while in Right Out of Real Life Gregory Dolan is the singer. The Swimming Pool has the same pace, but the vocals are sung by both vocalists, supported by whining guitars and heavy drums. The track sounds less hectic, while the bell-like guitars in Justine, coupled with less emphatic vocals, push the material in the direction of pop music. A beautiful song. New Glue and Michigan Madonna are similar compositions, in which the voices of Deirdre and Gregory temper the violence of the guitars quite a bit. Sometimes we hear the English punk band Shopping, but Gregory Dolan's voice very often takes us to the land of The Smiths as well.
You Can't Have Everyone is the first ballad on this album. Gregory Dolan's voice sounds wonderful and touching. The guitars have stowed their punk sound and are humming along in a soft way, while the bass guitar is painting a dark canvas on the background. A Vain Victory grows effortlessly into a beautiful pop song, starring Deirdre and Gregory, and bell-like guitars that create a light and cheerful atmosphere. In Skinhead Jen the pace is raised, but Gregory's rather quiet vocals, combined with wonderful buzzing guitars, make it a nice mid-tempo ballad. A favorite. Stabs and Happiness is of the same kind. Deirdre Sage sounds fragile and innocent, and she leaves room for the instrumental interpretation of minimalist electric and acoustic guitars. Very nice.
Trash gets emphatic dark guitars, making the track develop into the first real rock ballad on the album. In Two Boys Gregory Dolan sounds like Morrissey, while his voice has a different tone in the enigmatic I Live with the Mystery. A nice track, but unfortunately too short, though it is completed with a beautiful and extended outro. Night of the Pigs sounds subdued and dreamy, with melodic guitars and beautiful harmonies, while Deirde Sage finishes the album in a wonderful way: You're Gonna Wonder is an acoustic track full of warmth and melancholy, supported by buzzing synths (violins?). Very nice.
Kissing Party uses a very diverse route between Tomorrow and Tomorrow and Tomorrow and You're Gonna Wonder, but after a few spins it all seems to fit together perfectly, and indeed, it all sounds irresistible.
Tracklisting:
1 Tomorrow and Tomorrow and Tomorrow
2 Right Out of Real Life
3 The Swimming Pool
4 Justine
5 New Glue
6 Michigan Madonna
7 You Can't have everyone
8 A Vain Victory
9 Skinhead Jen
0 Stabs and Happiness
1 Trash
2 Two Boys
3 I Live with the Mystery
4 Night of the Pigs
5 You're Gonna Wonder
http://kissingparty.bandcamp.com/album/looking-back-it-was-romantic-but-at-the-time-i-was-suffocating
William LIÉNARD
06/12/2015
---
Kissing Party is een band uit Denver (USA). In 2006 debuteerde het gezelschap met Hold Your Hour and Have Another, en ondertussen is het vijfde album door Hot Congress Records uitgebracht. Het bevat 15 korte composities over liefde, vrede en reflectie, die zich situeren tussen rock, punk en pop. Het zijn goed gemaakte kleine krachtpatsers van de popmuziek waarvan zelfs de meest cynische muziekliefhebber kan houden, schreef de Denver Post naar aanleiding van de release van het album en dat is voldoende om ons nieuwsgierig te maken!
Het minste wat je van Looking Back it was Romantic but at the Time I was Suffocating kan zeggen is dat het een zeer gevarieerd album. De intro's zijn meestal zeer origineel, de punkachtige songs hebben eenvoudige bezetting van gitaren en drums. In Tomorrow and Tomorrow and Tomorrow horen we de eerder zachte stem Deirdre Sage, in Right Out of Real Life neemt Gregory Dolan de vocalen voor z'n rekening. The Swimming Pool gaat op hetzelfde tempo door, maar de vocalen worden door beide vocalisten gezongen. Opnieuw zijn jengelden gitaren en heftig drumwerk van de partij, maar de song klinkt minder hectisch, terwijl de belachtige gitaren in Justine, gekoppeld aan minder nadrukkelijke vocalen, het materiaal al een flink stuk in de richting van popmuziek duwen. Mooie song overigens. New Glue en Michigan Madonna zijn gelijksoortige composities, waarbij het opvalt dat de stemmen van Deirdre en Gregory het geweld van de gitaren een flink stuk temperen. De Engelse band Shopping komt ons voor de geest, maar Gregory Dolans stem voert ons ook in hoge mate mee naar het land van The Smiths.
You Can't Have Everyone is de eerste ballade op dit album. Gregory Dolans stem klinkt wondermooi en ontwapenend, terwijl de gitaren hun punkgeluid hebben opgeborgen en bijna zachtjes mee neuriën, terwijl de basgitaar een donker canvas schildert op de achtergrond. A Vain Victory groeit moeiteloos uit tot een mooie popsong met Deirdre en Gregory in de hoofdrol, en bel-achtige gitaren die een vederlichte en opgewekte sfeer creëren. Met een titel zoals Skinhead Jen moet het tempo uiteraard omhoog, maar Gregory's eerder rustige vocalen, gecombineerd met prachtig zoemende gitaren, maken er een mooie mid-tempo ballade van. Een favoriet. Stabs and Happiness is van hetzelfde soort. Deirdre Sage klinkt breekbaar en onschuldig en laat ruimte voor de instrumentale invulling van minimalistische elektrische en akoestische gitaar. Heel erg mooi.
Trash krijgt nadrukkelijke donkere gitaren, waardoor de track uitgroeit tot de eerste echte rockballade op dit album, terwijl Gregory Dolan in Two Boys meer dan ooit als Morrissey klinkt, en weer heel anders in I Live with the Mystery. Een mooie track, maar jammer genoeg te kort naar onze smaak, al breidt hij er wel een mooi uitro aan. Night of the Pigs klinkt ingetogen en dromerig met melodieuze gitaren en een mooie samenzang, en met You're Gonna Wonder sluit Deirdre Sage dit album op een prachtige manier af: een akoestische track vol warmte en weemoed met zoemende synths (of zijn het violen?) ter ondersteuning. Heel mooi.

Kissing Party legt een heel divers traject af tussen Tomorrow and Tomorrow and Tomorrow en You're Gonna Wonder, maar na meerdere beluisteringen blijkt het allemaal perfect bij elkaar te passen, en het klinkt inderdaad allemaal onweerstaanbaar.
William LIÉNARD
06/12/2015
---
---