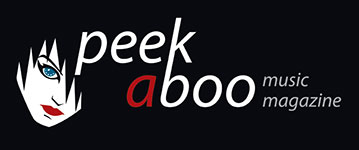 like this vinyl review
---
XARAH DION
Le Mal Nécessaire
Music
•
Vinyl
Dark Electro
•
Minimal
•
Singer Songwriter
•
Synth Wave
[94/100]

Zodiaque Musique
19/11/2014, Pascal VERLOOVE
---
Let's make things clear at once, so you don't turn away, but instead quickly dive into Xarah Dion's debut album: yes, Xarah is Canadian and she sings in French, but this is where all similarities with one of Xarah's famous homonymous compatriot stop. This is not a Las Vegas show, but this album is stunning nonetheless.
Le Mal Nécessaire is Xarah's first full length album, but she is not really a newcomer on the Quebec underground music scene. In 2006, she created the artistic loft La brique and, amongst many other collaborations and projects, she is, with Marie Davidson, half of the electronic-experimental duo Les Momies de Palerme. She has also released her first EP Nouveau Zodiaque under her own name last year, but for now let's focus on her fascinating album.
First of all, don't let the album cover fool you. The picture of Xarah, enjoying the sun through venetian blinds, may remind you of the poster of the movie American Gigolo, but inside it's a completely different story, and this album is much darker, complex and intriguing than the cover might suggest.
Le Mal Nécessaire could be seen as an electronic album, but, because of its world music influences, Xarah's vocal repertoire, from lyrical chant to spoken words, and her focus on the melodies and atmospheres, she creates ambiances that appear to be much more important than the instruments she uses. Each track has its own identity but nevertheless the album has a real coherence and, when you start playing it, you are embarking on a journey that will lead you through eight different lands and moments of one long dream.
The album opens up with Fait Divers, a swirling lullaby, which reminded me of some of David Lynch soundtracks, like when Julee Cruise was singing in Twin Peaks. It's sweet, kind of innocent, but that is because you don't know what is coming next. When L'Asphalte Chaude that follows starts, you immediately feel this one is huge and would deserve to become an underground club classic. The beat and the synths lines remind of some of Anne Clark's finest dance hits (Your Darkness), however, the ethereal singing of Xarah makes it very different. After two minutes the track further develops itself, adding even deeper bass whereas Xarah's ethereal singing turns into a poppy French tune. A creative DJ should definitely pick this one out!
But the night truly falls with XXX. The rhythm becomes much slower, the beat harder, the synths become colder and the whole atmosphere somehow turns industrial, which again completely contrasts with Xarah's ethereal and sensual singing. As she uses her voice to create a texture of sounds, you can hardly understand the lyrics, and the result is like Elisabeth Frazer singing on some of Depeche Mode's experimental instrumentals, quite an intriguing combination, you will admit.
Now close your eyes, you are listening to Le fruit de Siam. So, picture Frodo, the hero in Lords of the Rings, lost, alone, walking in a dark and hostile land. Xarah being the elf, guiding him and leading us through the song. Her voice is sweet and calm, which is actually adding to the fright. Let the cold sweat run on your back … until you fall into Du Désert au Jardin, where things become even more complex. This song starts with an extremely repetitive, hypnotic synth loop and you're wondering where Xarah wants to lead us, until the track slowly but surely turns into a minimalist electro-oriental ballad. As much as L'Asphalte Chaude is immediate, this one is unsettling and requires some time to be fully appreciated.
"Do what thou wilt shall be the whole of the Law" – this is Thélème, an experimental playground for Xarah, blending minimal synths loops and rhythms with industrial sounds, overlaid with different variations of her singing. I suspect the song hides a message, but this one is like in The Da Vinci Code: don't expect the enigma to be resolved anytime soon!
Before the journey ends, we will still voyage though Le Mal Nécessaire, an eponymous instrumental that reminded me of Simple Minds' Theme for Great Cities. As Jim would have said, some instrumentals are so strong by themselves that they do not require vocals. This is an hymn that slowly grows in intensity and shows you that, unfortunately, the dream is nearly over. And the trip ends with Sottises, a superb ballad in French, half spoken words, half singing. This is typically the type of song that you wish would never end, and long after it has ended, you will find yourself, half dreaming, humming the word "Sottises". And this is when you realize that the journey was too short and that you start playing Fait Divers again …
To conclude, Le Mal Nécessaire is the album of someone who opened up her heart and let her emotions flow into her music. It leads you to different places and times. There is candor, honesty and raw emotions inside. In one word: it has a soul.
The album can be ordered or downloaded on Xarah's site directly (http://xarahdion.com/) and is also available on all major music platforms (iTunes, Amazon,...), hopefully a CD release will follow so … don't miss it!
Pascal VERLOOVE
19/11/2014
---

---