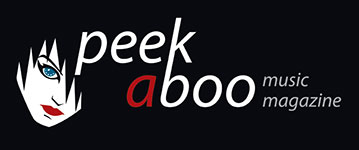 like this tv series review
---
PEAKY BLINDERS
Movie
•
TV series
Crime
•
TV Series
E1
25/12/2014, Didier BECU
---
A series that is compared to Boardwalk Empire has to be given a chance, right? The rave about this BBC series still goes on and in the second season even Tom Hardy (yes, from The Drop) will strengthen the cast. Directors Otto Bathurst and Tom Harper have created the ultimate British gangster epic!
The Peaky Blinders is a street gang from Birmingham, led by the Shelby family. Their strange name comes from the sharp razor blades that they hide under their caps. The leader is Thomas Shelby (Cillian Murphy), who has just returned from the front of the First World War. What he saw there is unbelievable. Emotionally he is a wreck, he grabs the bottle and becomes addicted to opium. During his service, the gang dealt with illegal betting on horses, but Tommy sees it bigger and wants to be the boss of the Small Heath district. When an arms factory is raided, Tommy immediately is in trouble. It's actually Winston Churchill himself who sends Superintendent Chester Campbell (Sam Neill) to Birmingham to stop the Peaky Blinders, as the British minister indeed feasr that the weapons will be sold to the IRA. In a style reminiscent of The Untouchables Campbell tries, along with some honest agents who still believe in their job, to have the law respected, but the Birmingham cops are easy to bribe. And then there's the IRA! When one of their members is murdered, IRA leader Byrne comes to Birmingham.
This (rather violent) six-part crime series is written by Steven Knigh, who made earlier this year his superb directing debut Locke ( with, yes, again Tom Hardy). Peaky Blinders may not have the budget of an HBO series, but certainly the talent. Cillian Murphy (an actor who we have always had doubts about) probably plays the role of his life as Thomas Shelby, and Sam Neill is (again) superb.
Peaky Blinders was released on E One, both on DVD and Blu-ray. Supertip !
Didier BECU
25/12/2014
---
Een serie die door iedereen in één adem met Boardwalk Empire wordt vergeleken moet je sowieso een kans geven, niet? De lovende woorden over deze BBC-reeks zijn nauwelijks bij te houden en in het tweede seizoen komt zelfs Tom Hardy (ja, die uit The Drop) de cast versterken. Regisseurs Otto Bathurst en Tom Harper mogen gerust stellen dat ze met Peaky Blinders een Brits gangsterepos hebben gecreëerd om u tegen te zeggen!
De Peaky Blinders is een straatbende uit Birmingham die geleid wordt door de familie Shelby. Hun vreemde naam hebben ze te danken aan de vlijmscherpe scheermesjes die ze in hun petten verstoppen. De leider is Thomas Shelby (Cillian Murphy), die net terug is van het front uit de Eerste Wereldoorlog. Wat hij daar heeft gezien grenst aan het ongelofelijke. Emotioneel is hij volledig van de kaart, grijpt naar de fles en raakt verslaafd aan opium. Tijdens zijn dienstjaren heeft de gangsterbende zich beziggehouden met illegale weddenschappen op paarden, maar Tommy ziet het veel grootser en wil de baas van de Small Heath-wijk worden. Als een wapenfabriek wordt overvallen, raakt Tommy meteen in nesten. Het is zowaar Winston Churchill zelf die Inspecteur Chester Campbell (Sam Neill) naar Birmingham stuurt om de Peaky Blinders te stoppen, de Britse minister is immers bang dat de wapens zullen worden doorverkocht aan de IRA. In een stijl die doet denken aan die van The Untouchables probeert Campbell samen met agenten die nog in hun vak geloven de wet te doen respecteren, maar net zoals bij Nucky Thompson in Atlantic City zijn ook de flikken van Birmingham gemakkelijk om te kopen. En dan is er nog het IRA! Als één van hun leden wordt gedood, komt IRA-leider Byrne naar Birmingham.
Deze (vrij gewelddadige) zesdelige misdaadreeks is geschreven door Steven Knight, die eerder dit jaar opviel door zijn subliem regiedebuut Locke (met jawel, alweer die Tom Hardy). Peaky Blinders heeft misschien niet het budget van een HBO-reeks, maar zeker het talent. Cillian Murphy (een acteur over wie we altijd twijfels hebben gehad) speelt als Thomas Shelby waarschijnlijk de rol van zijn leven, en ook Sam Neill schittert opnieuw.
Peaky Blinders is uitgebracht op E One, zowel op dvd als Blu-ray. Supertip!
Didier BECU
25/12/2014
---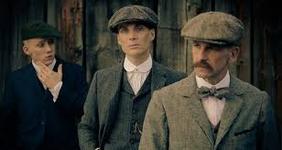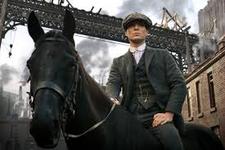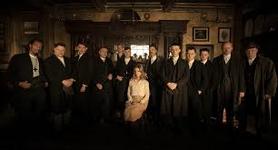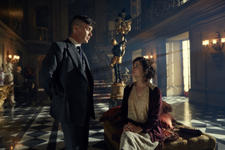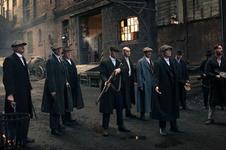 ---