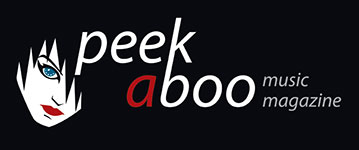 like this cd review
---
THIS SIDE OF JORDAN
Set The Record Straight
Music
•
CD
Abstract
•
Alternative Rock
•
Electronics
•
Experimental
•
Trip Hop
[85/100]

Atypeek Music
20/05/2015, William LIÉNARD
---
This Side of Jordan is the solo project of Philipp Thiphaine, guitarist of the Parisian noise-rock band Heliogabale (founded in 1992). He wrote all the compositions and invited a number of singers for the vocals, including Sasha Andrès (Heliogabale), Aidan Craik (guest singer at Heliogabale), Eugene S. Robinson (Oxbow) and Alexandra Pontvianne. Thiphaine sounds surprisingly melodic on this album, with electronics and industrial ingredients never becoming pure noise. On the contrary, it all sounds very melodious and original without losing tits experimental nature.
The album starts with good sounding synths, gently abrasive noise and varied percussion to which bluesy vocals are added, allowing The Great Outdoors to grow into a dreamy, lingering and intoxicating R & B-style track. The perfect opener! On I Am The Fence Guard and Tsunami, Aidan Craick sings the jazzy vocals, for which he uses a declamatory style over buzzing and later thumping drones, and particularly Tsunami sounds very cinematic. These are excellent alternative rock ballads on which patches of noise, a varied palette of synth sounds and emphatic percussion determine the overall sound.
Alexandra Pontvianne can be heard on four tracks. Inside Productions begins with industrial sounds, gently plucking guitars and abrasive noise over which the singers smears crumbly Björk-like vocals, cooing and yearning and then relaxed as a peaceful sounding Björk in Electric Love, for which creamy synths are introduced, supported by repetitive noise and emphatic percussion. A New Kind of Clothe has an echoing sound of machine-like percussion and glockenspiel through which a web of beautiful and fragile vocals is woven. La Piste Neuve floats on a heavy disco beat, rustling noise, noise-like percussion and French vocals, and grows in no time into a thumping dancefloor pestle!
Spirale is the only instrumental track on the album and starts with noise that sounds like a rain shower, to which percussion and bouncing synths are added and then echoing noise impacts, flitting snatches of singing, croaking and squeaking electroshocks: atmospheric, rhythmic and never overdone. Salo slides past on the sound of a fairground organ, gets dark drones and a deep whispering male voice, which is then combined with a female voice and evolves into an impressive hymn, thanks to the addition of organ sounds. Very very nice.
Set The Record Straight is a versatile, tuneful and melodic album. Philipp Thiphaine has called on various singers for the vocals and that is an excellent choice. In addition, the nine tracks are equipped with electronics that sometimes sound like industrial and noise, other times like an organ or a glockenspiel, with a lot of varied percussion as a support. As a result it never gets boring, nor noisy. This Side of Jordan is the right side!
Tracklist:
1. The Great Outdoors
2. I Am The Fence Guard
3. Inside Productions
4. Electric Love
5. Salo
6. Spirale
7. Tsunami
8. A New Kind of Clothe
9. La Piste Neuve
William LIÉNARD
20/05/2015
---
This Side of Jordan is het soloproject van Philipp Thiphaine, gitarist van de Parijse noise-rockband Heliogabale (opgericht in 1992). Hij schreef alle composities zelf en deed een beroep op een aantal zangers om het project vorm te geven, o.a. Sasha Andrès (Heliogabale), Aidan Craik (gastzanger bij Heliogabale), Eugene S. Robinson (Oxbow) en Alexandra Pontvianne. Wat Thiphaine op dit album doet klinkt verrassend genoeg heel erg melodieus, waarbij de electronics, de industriële ingrediënten en de noise nooit vervallen tot het niveau van pure herrie, integendeel, het klinkt allemaal heel welluidend en origineel, zonder dat aan het experimentele karakter afbreuk wordt gedaan.

Het album begint met goed klinkende synths, zachtjes schurende noise en gevarieerde percussie waaraan een bluesy zangpartij is toegevoegd, waardoor The Great Outdoors uitgroeit tot een dromerige, slepende en bedwelmende r&b-achtige track. De perfecte opener! In I Am The Fence Guard neemt Aidan Craick de jazzy vocals voor z'n rekening, die hij net als in Tsunami op een declamerende toon tussen de zoemende en later bonkende drones wurmt, waarbij vooral Tsunami heel erg filmisch klinkt. Het zijn uitstekende alternatieve rockballades waarin nauwelijks gitaren te horen zijn, maar hoofdzakelijk flarden noise, een gevarieerd palet van synthgeluiden en nadrukkelijke percussie.
Alexandra Pontvianne neemt vier tracks voor haar rekening. Inside Productions krijgt een industrial intro, zacht tokkelende gitaren en schurende noise waarover de zangeres brokkelige Björk-achtige vocalen uitsmeert, kirrend en smachtend en dan weer ontspannen als een rustig klinkende Björk in Electric Love, waarvoor ze op de steun kan rekenen van romige synths, repetitieve noise en nadrukkelijk slagwerk. A New Kind of Clothe baadt in het geluid van een echoënd glockenspiel en machineachtige percussie waarover een web van prachtige en breekbare vocalen is geweven. La Piste Neuve dobbert op een stevige discobeat, ruisende noise, dito percussie en Franse vocalen, en groeit in een mum van tijd uit tot een bonkende dancefloorstamper!
Spirale is de enige instrumentale track op het album en begint met ruis die klinkt als een regenbui waaraan percussie en stuiterende synths worden toegevoegd, vervolgens echoënde noise en voorbijflitsende flarden van fluitende, kwakende en piepende elektroshocks: atmosferisch, ritmisch en nooit overdone. Salo schuift voorbij op de tonen van een kermisorgel, krijgt donkere drones en een diepe fluisterende mannenstem, die vervolgens wordt gecombineerd met een vrouwenstem en via de toevoeging van orgelgeluid evolueert tot een indrukwekkende hymne. Heel erg mooi.
Set The Record Straight is een veelzijdig, welluidend en melodieus album. Philipp Thiphaine heeft voor de vocalen een beroep gedaan op verschillende zangers en dat blijkt een uitstekende keuze en het komt de variatie ten goede. Bovendien zijn de negen tracks voorzien van elektro die de ene keer klinkt als industrial en noise, andere keren als een orgel of een glockenspiel, met flink wat gevarieerde percussieondersteuning, waardoor het nooit saai wordt, maar ook nooit lawaaierig. This Side of Jordan is de goeie kant!
William LIÉNARD
20/05/2015
---