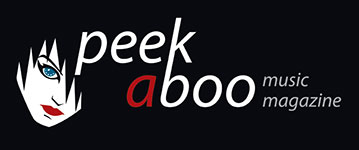 like this concert review
---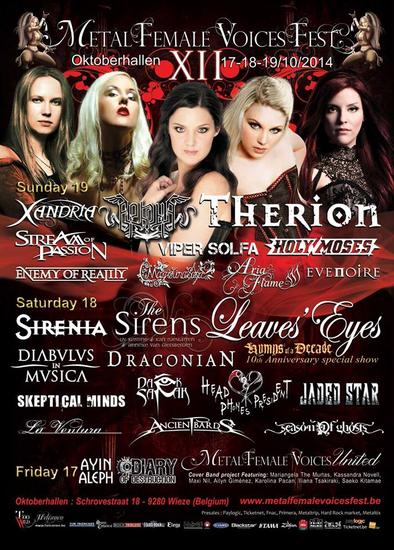 METAL FEMALE VOICES FEST
Day 2, 18/10/2014

Leaves' Eyes, Sirenia, The Sirens and more...
Concert
Combat Power Metal
•
Dream Metal
•
Epic Metal
•
Female Fronted Metal
•
Hard Rock
•
Heavy Metal
•
Industrial Metal
[99/100]

27/10/2014, Filip VAN MUYLEM
---
Day 2, lots of sun and already more people on the parking lot than yesterday. It all feels like one big happy family.
Opening band is La Ventura from The Netherlands and it is from the start a nice surprise! I can see and hear some influences coming from 'Ice Queen' Sharon (Within Temptation). The two gigantic Japanese drums are not used often; it feels more like a nice eye catcher and opener. The cool thing is that they know how to hit you with their hardcore and sweeten you with their softer and more melodic side. They woke up the audience pretty fast and that is always a great thing!
Season of Ghosts had some troubles with the lead vocals (quote from the band: 'Sadly, we were not allowed to do a soundcheck at all, so it was impossible to hear what we were playing on stage. I'm glad we got away with just a few vocal problems and not more') and it's good that they got some extra backing vocals on tape. Some electronic bleeps also enrich their sound, just as the piano synthesizer. There are a lot of echo-effects on the vocals and that is a bit annoying when you want to thank the audience. If you forget that little downside you can see that the audience likes it: arms are rising and people clap with enthusiasm. The band wants their public to get some early morning aerobics and that is what we get, driven on some female fronted metal. There was also something that caught some men's eyes. It was a nice time and with lots of positive vibes.
Dark Sarah presents the first "wow"-moment and is the biggest surprise! Vocals that hit the right spot, a stage act that is just perfect and musicians who know what they have to do to conquer the crowd! It's not only dress wise (a black one with white stripes) but also musically that this band appeals to the atmosphere from a circus or even a musical. I was mesmerized and bewitched! It's really unbelievable that this was their sole first international live performance! To make the dream even better Diabulus in Musica (Zuberoa Aznárez) gave this band during two tracks some vocal support and turned it into a magical duet! A highlight!
Ancient Bards confirmed all high expectations! Their last CD is a pearl and what we get on stage makes it even better! Their symphonic power metal is there to rule over us all! Of course the older tracks are also worth checking out. I feel like being overrun by their live performance, as it was simply brilliant! The live show was just perfect and well balanced! Vocal wise: better than a nightingale! I can't say it enough: the vocal powers are simply outrunning the others! Ok, they also have male vocals from their brilliant guitar player, but a female fronted festival can and may use some male help too, not? After their show I checked out the CD sales and they went away pretty fast! These are some tracks to remember for sure: 'Flaming heart', The birth of Evil' & 'The last resort' (in no particular order).
I must admit that it must have been hard for Jaded Star to get on stage after them! Another side-note is that they still haven't launched their debut album, but as they state themselves: rushing in will not give a good result and sometimes it's wiser to take your time and grow! Well, that is what I saw on stage! This band is a slow grower that will reach a higher ground, sooner or later! I hear enough potential and their front woman is really working hard to conquer a bigger audience! They know how to bind loyal fans: as they organized an event so that they could pick out 30 fans to join them on stage during Wake up! I like their hard rock style and their stylish guitar play! It was a nice surprise!
Head Phones President is a Japanese band and I know that they are here because of Val Helcanen's love for everything that comes from Japan. I can see that they are new for a lot of people and not all react in the most positive way. One thing that is for sure is that they work really hard and play as if driven or pursued by a tsunami! They bring J-rock with metal influences. Vocal wise it's between screaming and singing very tenderly. Every corner of the stage has been run over by them, looking to engage more people into their power play. The least thing you can say is that they really did their best!
Skeptical Minds is for me already one of the headliners. Already yesterday it was very clear that it feels like playing in their own backgarden, having fun and making everybody very happy and overenthusiastic! I don't know how they do it: but they simply over classed every other band so far and the crowd digs every note! Note after note the arms went up, the crowd was clapping and yelling, this is fun time! It has become very clear why this band plays so often here! They even dared to play their own version of the classic track Ace Of Spades and turn it into a bigger party time! Another conclusion is that old and new tracks (Fear for example) sound really great on stage! Their industrial metal combined with the marvelous voice of Karolina is simply the best! I feel already that their last track has become a classic one to end with and will be hunting a lot of heads afterwards (Living in a movie). The roof was on fire and it even looked as if this place was too tiny for them, so I hope they will be booked at other festivals pretty soon!
Diabulus in Musica: 3 women and 2 men on backings and the great Zuberoa Aznárez on the lead vocals. Gorka Elso (synths) also sings, giving in an extra boost! It's clear that strong vocals are very important to this band, just as the melodic and symphonic sound! We also get some live flute, making it very interesting and sound wise a bit wider. As everybody knows: this is the festival with lots of special guest and special duets. We get a great one too, this time. It was a remarkable and mind-blowing duet (with the beauty from Sirenia: Ailyn)! Xandria will be heavenly, that we know by now, for sure. Yes, our Spanish friends indeed delivered a great gig!
Draconian is not really female fronted, see it more as a band with 2 singers. I know: it's again this male versus female duality (the beauty versus the beast), but I loved it and so did the crowd. I must say that it must have been nerve wrecking for Heike Langhans as she has to prove that she is a good replacement for the previous girl! Well, I can confess that she's a beauty in all ways! I know that lots of die-hard fans wanted to know if she would stand up and be the one they all wanted; well this mission has been accomplished with the biggest possible success! It was even impossible to say that they did not fit in as a duo; it felt more like as if they were already working and performing together for years! Not only the newer ('Dishearten' for example) but also the older songs smashed any doubt! I can't be more lyrical about this one than with these words! It was magical and powerful! The fans loved it and showed it in any way they could show it! So thank you for this great gig!
The Sirens is the next band. Basically it's one of the finest trio's: Kari, Anneke and Liv! I don't think one need to tell their background stories! They all have a great voice and sing as the best. They have proven themselves in the past and this joint venture is just the best you can get! It's sweet, magical, charming, powerful, dancing on the vocal cords... and a must see! I hope that one day they bring out something altogether or a live CD from this gig! For me Kari is the only one I have never seen on stage and thus a nice discovery, however I know that she has a great CV. Anneke is the one I saw the most in the past with The Gathering and I really hoped that she could achieve the great commercial break through as she deserved it very hard! Every concert was always both vocal and musically a feast! I think that a lot of people know 'Broken Glass', 'Saturnine' and 'Strange Machines'! Liv has the best CV and knows how to rock and walk on the vocal cords as if it was a walk in the park! She has a lot of fans (closely followed by Anneke). It's nice to see that each of them get their own tracks, switching from singing together (all 3 or as a duo) and then switching back to solo. It all happens very fast and smoothly! It was so magical that I forgot to take note of the tracks, so feel free to send them in, I was too much bewitched by these 3 pearls of the Metal arena!
Sirenia is once again one of these male versus female bands, but Aylin is a perfect hangout for the band! I saw her on the first day with MFV United and enjoyed her performance! Today it's with her own work. I loved the melodic sound and the well driven guitar play! It's very clear why they are almost headliner and according to lots of fans it was worth it! I enjoyed it too and that's the most important thing!
Leaves' Eyes: 10 years and party time! Opening track was 'Farewell proud men'. I noticed that the stage has been rebuilt into something worth watching for and all along the show comes the pyrotechnics! Don't get burned like Thomas from Cesair did (it was close). Liv is here to stay and party with us! She really enjoys her stay here and there is no trace of being tired (as it is her second performance of the night). I must admit that her endurance is better than mine (and I'm younger)! I love this bitter sweet and melancholic medieval metal! It's time to invite more people on stage (it's a habit of this festival)! As told in the first lines Thomas Biesmeijer and co play two songs with her ('Galswintha' and 'Meredead' with Zuberoa Aznárez ). Check out the last CD of Leaves' Eyes! Aylin sung with her 'Into your light'. Vic Anselmo also jumped in (man what a voice)! Christian Roch was there too and played Ulean Pipes and flute. check out the new track 'Halvdan the black'! A marvelous headliner confirming everything that the fans expected!
It was a magical end of a magical day! This is what I have been looking forward to! It's great to see lots of good things getting realized! I simply loved! Thank you Val!
Hope to see you all in 2016!
Review of day 1
Pictures: Filip Van Muylem
Filip VAN MUYLEM
27/10/2014
---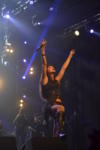 ---