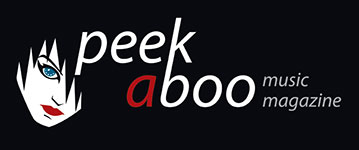 like this cd review
---
LOVE?
Electronically Yours
Music
•
CD
Avant-garde
•
Dark Electro
•
Dark Pop
•
Dark Wave
•
Dreampop
•
Electro Pop
•
Experimental
•
Future Pop
•
Minimal
•
New wave
[85/100]

Emmo.biz
22/02/2014, Filip VAN MUYLEM
---
As you can here they like analog sounds, their first album was produced by german Synthpoppers CAMOUFLAGE...and this one was produced by Olaf..who produces Mesh and And One...
Love? is an electro-pop group from Germany and a child of the 80's. Love?'s musical styles have been called synth-pop, dark electronic and electronic pop. Love? loves working with old analog instruments, quality and chance are important. Love? loves fragile vibes as much as thundering beats. Love? is open for new influences, one can find 80's inspired songs aside rhythm-driven "4 to the floor", drum and bass or big beat reminiscent rhythms, catchy hooks alongside unusual song structures...

Love? is Wonderboy (vocals, electronics and rhythms), Miss Violett (electronics, rhythms and noise), TI (language translator, just being himself) and electronic friends. Love? is undoubtedly influenced by artists such as Stockhausen, Kraftwerk, early Depeche Mode, Camouflage, The Art of Noise, I Start Counting, Clock DVA...

Love? Formation: Love? was formed in 1997, evolving as a result of the success of the song "In Your Hands" by the group "OVERGAMENT" (Vocalist OVM01 aka Wonderboy). Following a TV appearance in Stefan Raab's show, the response was so big, that it was decided to continue production in this direction. Love?'s Discography: 1997 the first EP "Soundz for Lovers" (Produced by Carlos Peron) was released. Accompanied by live performances with Beborn Beton and De/Vision amongst others, recording began for the debut album "Unique", which was produced by Heiko Maile (Camouflage) and released in 1998.

Love?'s "Unique" is still appreciated by electronic music enthusiasts today. Love? in Turbulent Times: During the following years more songs were written, the music business / label landscape collapsed. In spite of having several release options, Love? decided against further releases, opting for occasional live performances until starting to work with producer Olaf Wollschläger (production for Mesh, And One, etc.) on new Love? Songs in 2008. The 12 new songs were mastered on a double of the legendary Abbey Road Mastering by mastering guru John Cremer, sounding warm and authentic, just as expected. Fact is: The main driving force behind Love? is the consideration of the question "Love?...does true love exist?" Love? is and remains, "Electronically Yours".
The music business is going through a crisis and needs any support, knowing that Emmo Bizz is a great company... This album reached the 3rd place in the DAC when I started reviewing it... So here we go...
'This city' is a great opening track, a funky tune, very catchy minimal wave sound and a great chorus. On this one you want to dance and forget about the craziness of your life. One almost screams it out! This song can reach unpredicted heights! A bit more on a serious note is 'I walk alone', getting a more nostalgia and more modern sound.

Again, I think people will dance on this one. 'I want you' is some kind of a sad love story, love the melancholia and the bittersweet music. This one sounds like the retro '80 version of Silke Bischoff and that's one of my all-time heroes! 'I need my baby' contains even some drum'n bass and a nice retro minimal wave influence with again a great melancholic twist! 'Like Back in the 80's' is all in the title, a nice poppy song, true melancholia, with a nice Silk touch! 'Mein Taschenrechner und ich' sounds a bit like Kraftwerk versus Telex, nice, poppy and very funny. 'Shivering Skin' has a more guitar minded sound, somehow colder than the other songs. Still it has a very nice melancholic sound. At least as melancholic is 'The Sign'. Once again a very poppy sound, well mixed! I can say that I love this song, getting a positive vibe from it! 'Sex Me, I'm A Robot' is a very funny song, love the drums and the robot voice, sounds very Kraftwerk! Very poppy and happy is 'In Your hands (The Complete Story). Gives you a ray of light! 'No Love' sounds a bit like the soft side of Mesh, the anger and rage has been contained, but still: it lives underneath the skin of this song and keeps a very melancholic angle. 'Monochild' has a more dreamy kinda sound, with cool electronics. 'In Your Memory (Love? version)" is a great version, perfect end song, making you hit the repeat function!
A nice one!
And here's the compilation that made the contact:
http://www.peek-a-boo-magazine.be/en/reviews/various-arists-cultural-differences-vol-1/
link to the full album:
https://emmobizrecords.bandcamp.com/album/love-electronically-yours-2
Filip VAN MUYLEM
22/02/2014
---